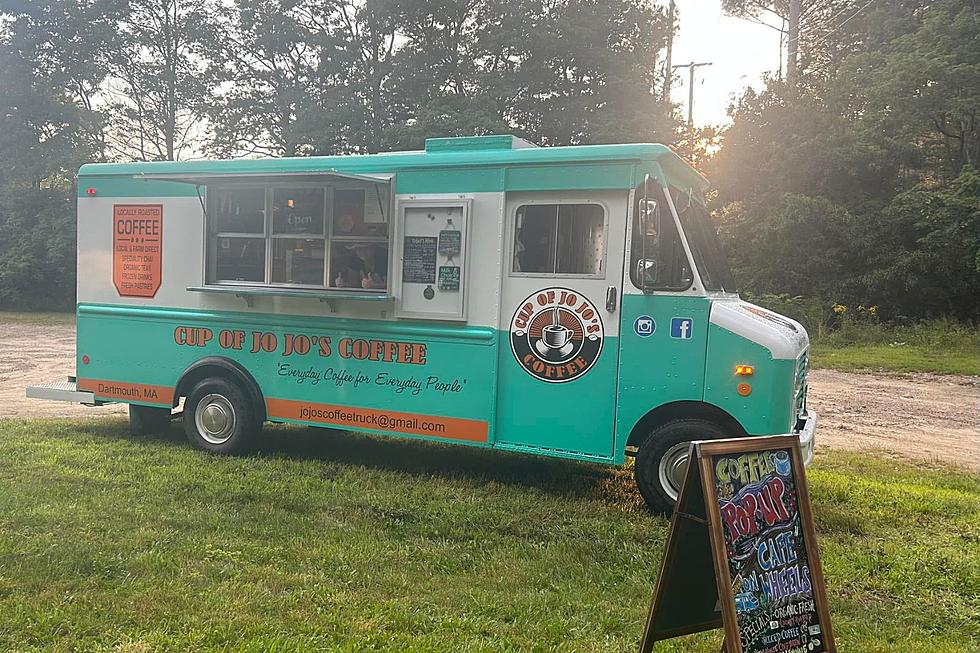 New Dartmouth Coffee Truck Looks Strangely Familiar for a Good Reason
Cup of Jo Jo's Coffee Facebook
A Dartmouth family has brought the SouthCoast a new coffee truck but the real story here is where they got the truck.
It doesn't seem like too long ago that we got the amazing smells of fresh bread baking at the Sunbeam bakery in New Bedford's North End. You might be asking why I'm bringing up bread when we are talking about coffee, but hear me out.
If the Cup of Jo Jo's Coffee truck looks familiar, that's because it is a 1983 Grumman Sunbeam Bread truck that Jeremy and Joanne Smith purchased just over a year and a half ago. They worked their day jobs as a teacher and a Dartmouth police officer and then spent their nights working on the truck to get it exactly how they wanted it.
"We spent a lot of time researching and visiting other food trucks but it was hard to find a coffee truck," Joanne said. "We really wanted to capture a cafe vibe but on wheels."
The truck has been spotted at Dartmouth Mall a few times and the couple intends to keep doing Thursday and Friday pop-ups there, then jump to Home Depot on Saturday at least for the next few weeks. They do a neat feature on their social media called "Where Is Jo Jo this week" where you can keep up.
How did they curate their menu? Joanne credits her teen boys and their friends for testing out the menu items and taking the temperature on what should be for sale. That leads to the all-important question: Will the truck carry pumpkin spice and when?
"As soon as September 1, we will offer the pumpkin flavors but holding on to summer flavors for another week," Joanne said, noting fall is her favorite season and pumpkin her favorite flavor.
The owners do their best to source ingredients locally, including coffee syrup, and have learned the most popular item on the menu is the frozen coffee.
It sounds like the Smiths are on to something here and I have a feeling us coffee lovers are going to flock over to try this coffee, which, by the way, is already getting really good reviews.
As far as turning this coffee truck into a brick-and-mortar, Joanne said: "We actually like the idea of having the freedom to move around, making it more convenient for our customers in all parts of town. We have plans to have another small truck and do local deliveries around town as well."
The Smiths said they are grateful for the support from family, friends, Dartmouth Police Department and the community in general.
"This has really been a team effort that we couldn't have done on our own," Joanne said.
Where to Find the Best Coffee on the SouthCoast
Whether you like it hot or iced, flavored or straight up, chances are you have a favorite place for coffee. Lucky enough for us, there are a bunch of high-quality java spots to choose from. Here is a map of the best coffee shops in town, as voted by you.
Top Coffee Shops in Each State According to Reader's Digest
Whenever I am traveling, I am always on the hunt for a coffee shop. Next time you are touring the U.S. or just out for a road trip in your own state, go grab a cup of coffee from the top shops in the United States according to Reader's Digest.
How did they pick the best in each state? According to their story, they checked out "customer reviews and roasting reputation". The story has more insight on each place and you can find that at
readersdigest.com.
More From WFHN-FM/FUN 107