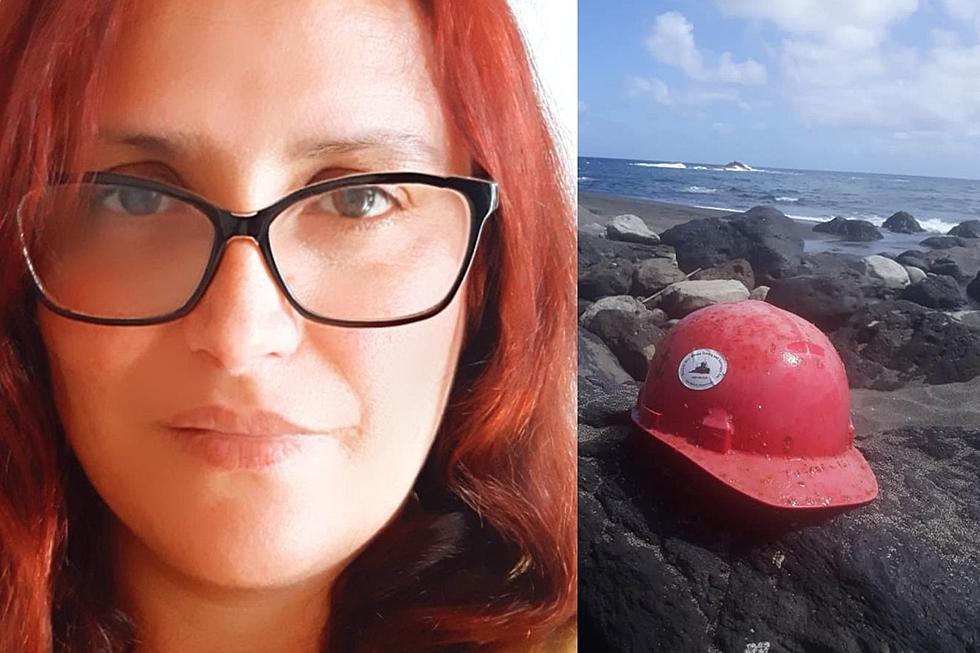 Azorean Woman Shares Her Side of the Conrad Roy Hard Hat Story
Sandra Machado via Facebook
Sandra Machado lives on the largest island in the Azores, Sao Miguel. She was enjoying a Sunday at the beach with her two children when she saw something red bobbing in the ocean. She never would have imagined it would be the hard hat of Conrad Roy, Jr, the grieving father of Conrad Roy III, the young man who was coerced into taking his own life behind a Fairhaven shopping center nearly seven years ago. The elder Roy lost the helmet in the ocean while on a job site with his son shortly before the younger Roy passed away.
Machado said when she found the hard hat this past Sunday – Father's Day – she snapped a photo of it and posted it up on Facebook. Machado recognized the white stickers on the hard hat. She was very familiar with New Bedford because she has known a number of people that have left her island, Sao Miguel, to come to make a life here in the Whaling City. She was thinking some of her Facebook friends that lived here on the SouthCoast might get a kick out of seeing what she had discovered.
"My internet connection was not too good," Machado said. "So I wasn't aware of the notifications I was getting on Facebook. When I walked back home, the notifications started popping up like crazy."
Was This a Miracle?
"People ask me if I think it was a miracle. I don't know," she said. "I am still shocked. It is inexplicable." She explained that she didn't immediately put together that it was Father's Day in the United States because Father's Day in Portugal was on March 19.
Feeling Emotional for Conrad Roy's Family
"I do feel bad that I made him cry, I didn't want that," she said. "I'm sorry and happy at the same time. I think it's a message that his son doesn't want to be forgotten. It stinks that after the shock (people start analyzing) it's indisputable, it's not real, it's supernatural, it's incredible, it's a miracle...we just don't know."
Listen to Sandra Machado's interview with Michael and Maddie:
The SouthCoast's Sweetest Swimming Pools
There is water of all kinds all over the SouthCoast, but having a cool pool of your very own to jump into on a hot summer day can definitely make home sweet home a little bit sweeter. These are some of the sweetest swimming pools we found available on the SouthCoast.
Wareham's Charming Old Red Farm Inn for Sale
This 1703 farmhouse has been carefully updated and has been used as an inn for many years.
More From WFHN-FM/FUN 107