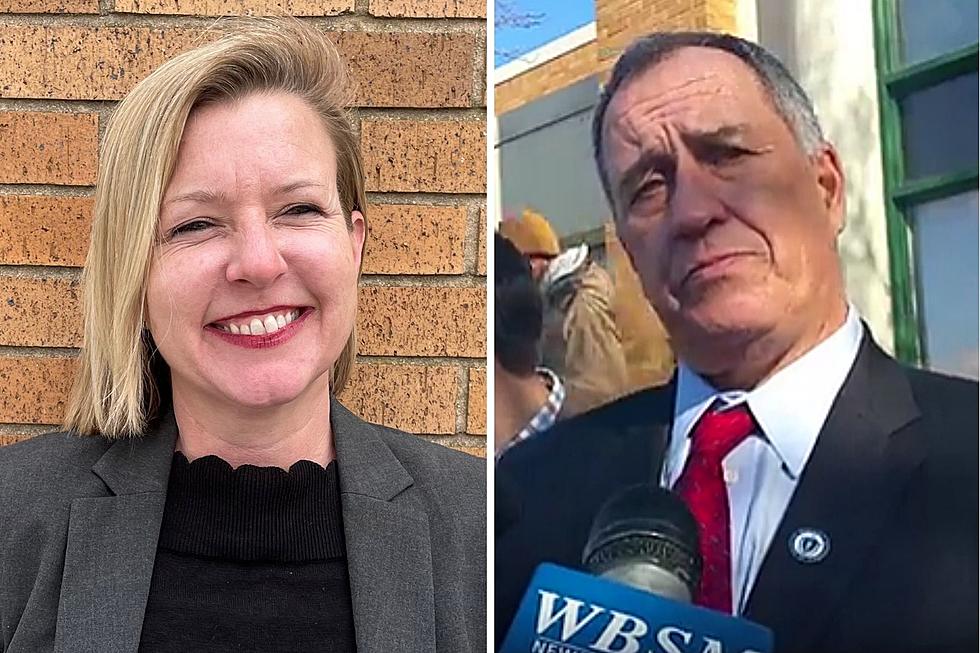 Bristol County District Attorney Race Contested
Courtesy Shannon McMahon/WBSM
For the first time in more than a decade, Bristol County voters will see two names on the ballot in the District Attorney race this fall.
On Wednesday, former Assistant District Attorney Shannon McMahon announced her intention to challenge incumbent D.A. Thomas Quinn III in the Democratic primary on Sept. 6.
Quinn has held the position since he was appointed by outgoing Governor Deval Patrick and Governor Charlie Baker in 2015, and has since won the seat twice — both uncontested elections.
He had taken over from outgoing county D.A. Sam Sutter, who himself ran unopposed twice. The last time the seat was contested was in 2006.
Last month, Quinn announced he would be running for a third term as Bristol County's top prosecutor.
Now a senior trial attorney, McMahon worked as an Assistant District Attorney first for previous D.A. Sam Sutter, and later for Quinn.
She said Quinn represents the status quo, but the community is changing.
"It's just a different time," said McMahon. "It's time for a change."
Quinn stated in a campaign press release that his top accomplishments over the past seven years include securing convictions in the high profile cases of Aaron Hernandez and Michelle Carter.
During his tenure, he said, Bristol County has seen 95% of its homicide cases solved, well above the national average.
Quinn also founded an Elder Fraud Unit to protect seniors from abuse and created a Cold Case Unit to review unsolved homicides and rapes, helping solve two cold murder cases and putting away a serial rapist who violently assaulted four women in the late 90s.
And he said he's helped speed up the court process by securing a third trial session for the county's Superior Court.
For her part, McMahon said she plans to work more closely with police, correctional officers, and the community at large to reduce recidivism.
"The majority of cases that the Bristol County District Attorney's Office sees are in the district courts," she noted. "Statutorily, the most you can ask for with those crimes when you prosecute them is two and a half years."
But what usually happens, she said, is that offenders get out of jail in "significantly less time" than that, and then it repeats.
"It's just a vicious cycle," McMahon said. "Why aren't we doing something to make sure when they get out the same thing isn't gonna happen again?"
She proposes "thinking outside the box" by implementing more programs to help those incarcerated deal with drug or mental health problems.
This includes increasing funding to the Recovery Court, a special court designed to prosecute drug-related offenses — which she said are the majority of crimes in Bristol County — while helping offenders recover from addiction.
McMahon also proposed a similar Mental Health Court to help deal with what she described as "a huge mental health crisis" in the county right now.
"We're gonna have a problem with this, because if there's no place to get help, left unattended, these things can lead to crimes," she noted.
As for going up against a three-term incumbent, McMahon said, "I like my chances. No one's run against him."
Massachusetts Unresolved Cases Playing Cards
Playing cards are being distributed to inmates in Massachusetts correctional facilities depicting the victims of unsolved murders and disappearances in the hopes that some inmates may recognize them and help bring closure to their cases.
Check Out Some of the Worst Parking Jobs in Massachusetts
We all know that Massachusetts drivers are among the worst in the U.S. (and proud of it!), but some of us are evidently really bad at parking, too. In fact, there's
a whole Facebook group dedicated to the subject
. Here are some of the best (worst) pahked cahs from Ma--hole drivers on their list.
More From WFHN-FM/FUN 107