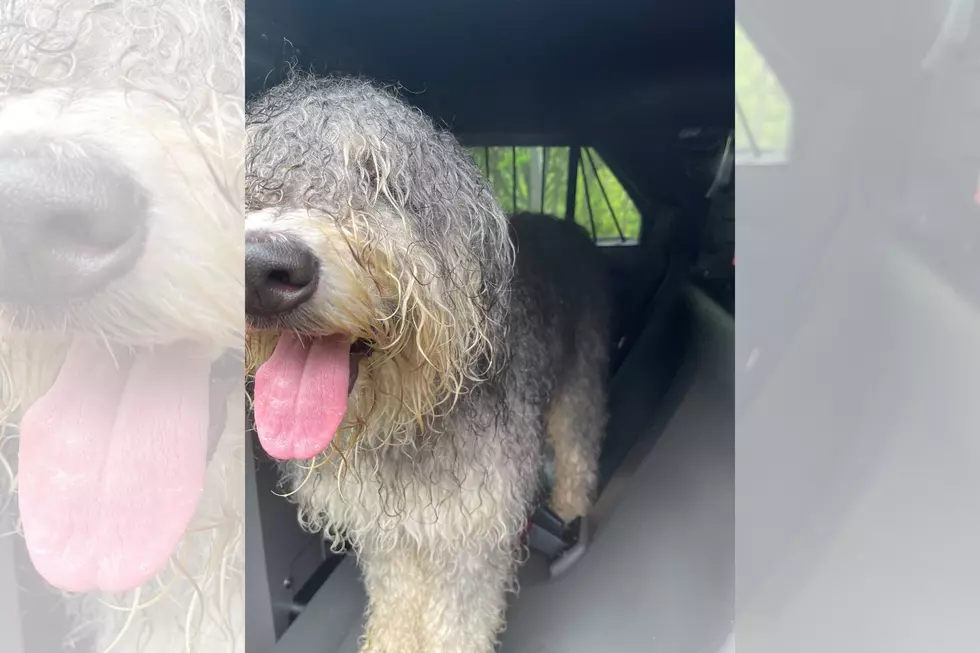 Floof on the Loose: Bourne Police Hoping to Reunite Lost Dog With Owners
Bourne Police Department
Can you say FLOOF?! This absolute floofster was picked up by Bourne Police and is hoping to find their way back home soon.
Officer Anthony with the Bourne Police Department found this pup wandering around the area of Peaked Cliff Road in Bourne on Thursday afternoon. Unfortunately, the dog didn't have any form of identification, tags or a collar to help connect them with their family, and officers still have little information about where the dog came from. But that didn't stop Officer Anthony, who snapped this adorable photo of the pup in the back of the patrol car. The Bourne Police Department then shared the photo on its Facebook page in hopes of reuniting this escapee with their rightful owner.
No one described this dog's mischievous look better than Marie Donlan, who commented on the department's post.
"I don't know where he was or what he did but he looks like he had a really good time," Donlan posted.
Sure does! With their coat looking pretty damp from being outside, fur all in front of their eyes and that adorable tongue hanging out of its their mouth, this looks like one satisfied pup. Nevertheless, these owners must be worried sick and searching endlessly for their beloved pup, who's bound to get a talking to when he gets home. Let's help spread the word and hopefully, with the help of folks in Bourne and across the SouthCoast, we can get this pup back home.
If this pup is yours or you know who they may belong to, contact Bourne Police at 508-759-4451.
LOOK: The least obedient dog breeds
OH NO WE DIDN'T: 12 Photos That Prove That Alpacas Are Cuter Than Llamas
LOOK: Here Are 30 Foods That Are Poisonous to Dogs
To prepare yourself for a potential incident, always keep your vet's phone number handy, along with an after-hours clinic you can call in an emergency. The ASPCA Animal Poison Control Center also has a hotline you can call at (888) 426-4435 for advice.
Even with all of these resources, however, the best cure for food poisoning is preventing it in the first place. To give you an idea of what human foods can be dangerous, Stacker has put together a slideshow of 30 common foods to avoid. Take a look to see if there are any that surprise you.
More From WFHN-FM/FUN 107