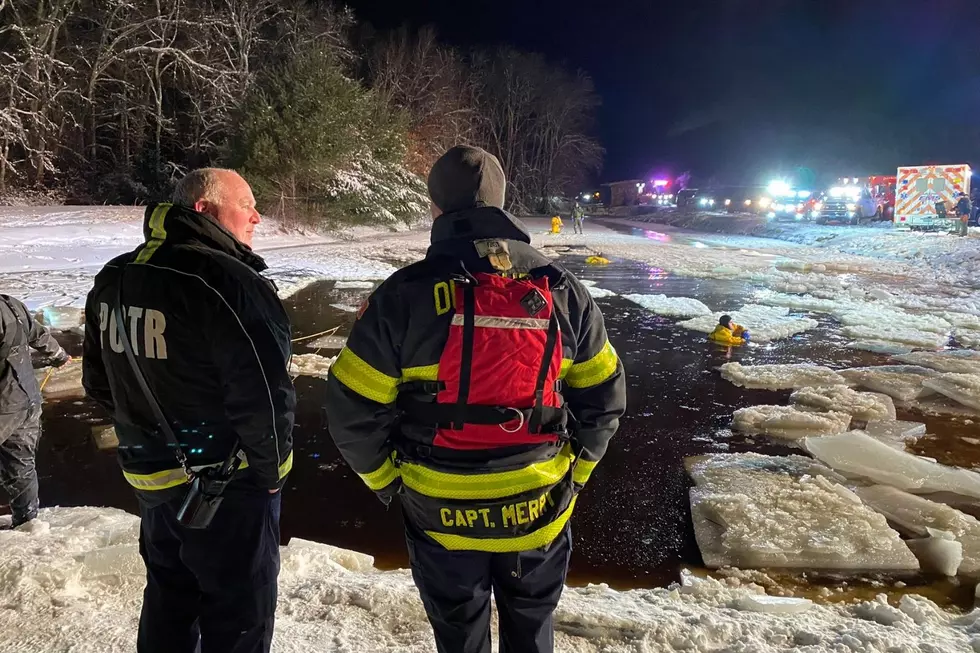 Body Recovered from Icy Water in Wareham
Duxbury Fire PIO via Twitter
UPDATE: The Plymouth County District Attorney's Office has identified the victim as Thomas Barthlomew, 44, of Wareham. No foul play is suspected and the medical examiner will determine the exact cause of death.
WAREHAM — The body of the male who was the subject of a rescue attempt at a Wareham bog reservoir on Sunday has been recovered.
According to authorities, the body of the male was recovered by members of the Wareham Fire Department and the Plymouth County Technical Rescue Dive Team at about 12:30 p.m. this afternoon.
"Obvious, this was not the outcome we were looking for," Wareham Police Chief John Walcek said. "But we did recover the body of a male that had jumped into the water."
Walcek stood before the media just after 2 p.m. today to update the situation along with Wareham Fire Department Assistant Chiefs Pat Haskell and John Kelley, as well as Wareham Police Executive Officer John Gerard.
Although the incident remains under investigation, it appears as though the male was with two friends when he decided to jump into the water of the reservoir that feeds into cranberry bogs located in the area of 786 County Road on Sunday afternoon. The other two individuals remained on the shore.
"It sounds like some friends were with him, but weren't planning on swimming at all," Gerard said.
At around 4:30 p.m., rescue crews responded to the scene and attempted to locate the male under the water, but the murky water and ice hampered the rescue efforts. The rescue effort then transitioned into a recovery effort, and the victim's next of kin was notified.
The recovery effort continued until just before 11 p.m. Sunday night, and then resumed at around 8:30 this morning.
Haskell said the male's body has been turned over to Massachusetts State Police, the Plymouth County District Attorney's Office and the Office of the Medical Examiner.
"It's been a cold winter, and we do have ice, but we always say no ice is safe ice, we don't recommend anyone goes on any open water pond," Haskell said. "If you really feel the need to go skating or be on ice, go to a local ice arena or something like that."
The Plymouth County District Attorney's Office has not yet released the male's identity. We will update this story with more information when it becomes available.
LOOK: 50 essential civil rights speeches
Many of the speakers had a lifetime commitment to human rights, but one tried to silence an activist lobbying for voting rights, before later signing off on major civil rights legislation. Several fought for freedom for more than one oppressed group.
Keep reading to discover 50 essential civil rights speeches.
More From WFHN-FM/FUN 107