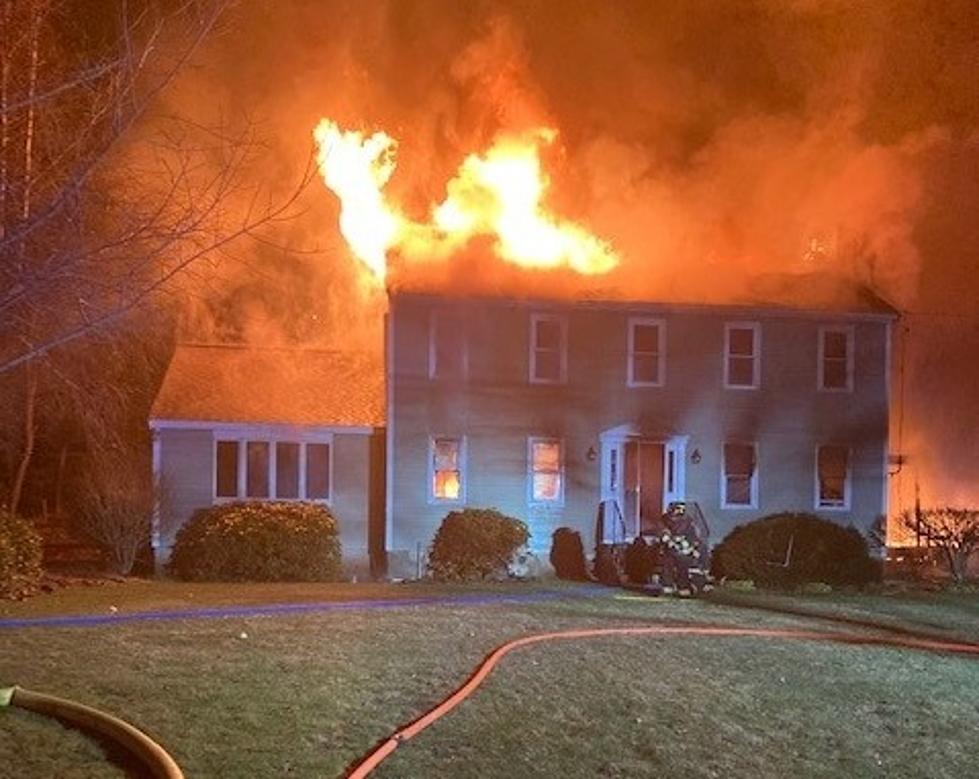 Berkley Home Destroyed in Chemical Combustion Fire
Courtesy State Fire Marshal's Office
BERKLEY — Combusting polyurethane staining products started a two-alarm fire that destroyed a Berkley home this weekend, fire officials said Tuesday.
Fire crews were called to a reported fire at a David Way home just before 4 a.m. on Sunday, according to the State Fire Marshal's office.
A loud noise followed by smoke alarms woke residents up, and they safely evacuated the home, with no injuries reported.
Berkley firefighters arrived to find the two-story home fully engulfed in flames.
They battled the blaze for nearly an hour and a half before bringing it under control with help from 10 area fire departments, the office stated.
All of the residents have been displaced and are being helped by the Red Cross.
Dighton, Swansea, and Taunton firefighters assisted at the scene, with tankers from Dartmouth, Freetown, Lakeville, Raynham, Rehoboth, Middleboro, and Westport helping too.
Investigators with Berkley Fire Rescue and State Police assigned to the State Fire Marshal's office found that the fire was caused by the combustion of polyurethane and a lamb's wool applicator.
The items were used to stain an object and then thrown into the trash on a screened-in porch between the home and the garage on Saturday evening.
Berkley Fire Rescue Chief Scott Fournier said that oils in some chemicals used in DIY projects can combust on their own.
"When working on a home improvement project, it's important to remember that the oils in some paints, stains, and varnishes produce heat as they dry," he said.
"If staining rags are left in a pile or contained in a box or bucket, this heat can cause them to ignite. To prevent a fire, always dry oily rags and applicators outside individually."
State Fire Marshal Peter Ostroskey said there have been several fires caused by oily rags in Massachusetts over the past few weeks — including one that was fatal.
Last week in Ludlow, oily rags caused a fire that injured a resident, and a fire in Agawam claimed a teenager's life last month.
Meanwhile six firefighters were injured in a similar fire in Lexington last year, Ostroskey noted.
Oily rags should be put in a closed metal container with water and detergent, and kept away from heat or direct sunlight, according to the state fire marshal.
The container can be tossed at a hazardous waste collection event.
7 Rules You Should Follow if You Plan On Grilling in Massachusetts
Firing up the grill is a welcome sign of warm weather. But if you live in Massachusetts, you should read these rules before you get cooking.
It's Illegal to Spark a Bonfire in These 22 Massachusetts Communities
There's nothing better than lighting up a nice bonfire on a warm summer night. But depending on where you live in Massachusetts, it actually could be illegal to do just that. Naturally, there are exceptions to every rule, and bonfires being used for outdoor cooking are allowed, but exceptions aside, 22 cities and towns across the Bay State have prohibited open burning year-round because they're just too densely-built and populated for burning to be considered safe. Is your community on the list?
More From WFHN-FM/FUN 107