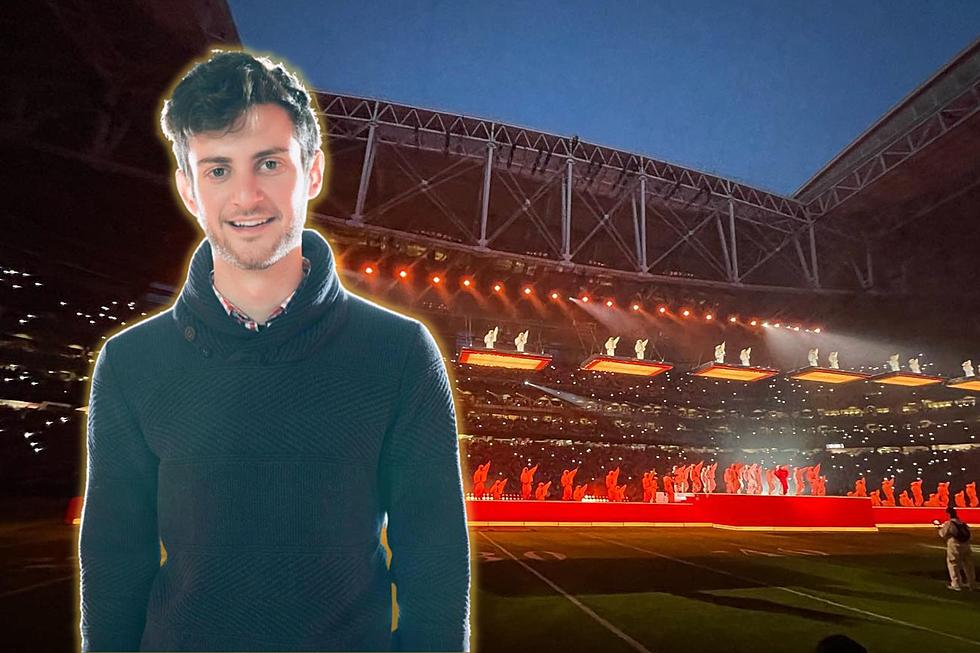 Meet the Rhode Island Native Who Lit the Super Bowl Halftime Show
Courtesy of Ben Green
When Rihanna took center field for the Super Bowl LVII Halftime Show, 118.7 million people were tuned in. The production was 13 minutes of Rih Rih busting out her greatest hits, and before the first beat dropped, there was one Rhode Island native at the helm of the lighting production for the most-viewed halftime show in NFL history.
Meet Ben Green
Ben Green grew up in North Kingstown, Rhode Island, and is now a lighting designer and lighting director based in Portland, Oregon. His love for the business blossomed in high school when he would design the lighting for theatre productions. After high school, he went to school for theatre at the State University of New York at Purchase College, followed by a year-and-a-half of working on Broadway.
So, how does a theatre major find themselves coordinating the halftime show?
If you ask Green, it was all about timing.
"I was at the right place at the right time, honestly," he said. "I met a few people working for an LA-based company and I became their New York connection. Two or three years later, they convinced me to work for them in LA, so I packed up all my stuff into a Honda Fit and moved across the country."
Green is behind the lighting for prestigious productions like the Oscars, music award shows, and political events from the last election cycle. When it comes to the big leagues, Green is no stranger, but the halftime show may be his greatest feat to date.
Lighting Up Super Bowl LVII
Three years ago, a new designer was brought in to produce the Super Bowl halftime shows, and that producer brought on Green.
"(The Super Bowl) might be the most fulfilling," he said. "There is a lot of planning and logistics and late nights. We have an awesome team, our lighting team alone is somewhere around 20 people, and then there are 30-40 local electricians…it takes an army."
Here's Something You Definitely Didn't Know
Green shared some of the intricate planning that takes place when it comes to planning the perfect halftime show.
"The NFL collects data based on hot pressure points on the field and keeps track to let us know if there is too much damage to the field," he shared. "Every night, we would have these carts that weigh one thousand to three thousand pounds on the field, and I think there was a big push for fewer carts, so the flying platforms helped mitigate that."
Green is the person standing on the field that is the last person to say, "lighting is ready." Then, the performer hits the field and Green watches his and his team's work unfold.
"I feel about 20 pounds lighter when it's done," he joked. "It definitely keeps the serotonin going."
While New England football fans may not always have their Patriots to cheer for on football's biggest night, we can tip our hat in knowing that a Rhode Island native is behind the spectacle that attracts millions of viewers every year.
20 Celebrities Who Love the New England Patriots As Much As You
Patriots Nation is strong with or without Tom Brady and these celebrities count themselves among the those who love New England's football team.
More From WFHN-FM/FUN 107