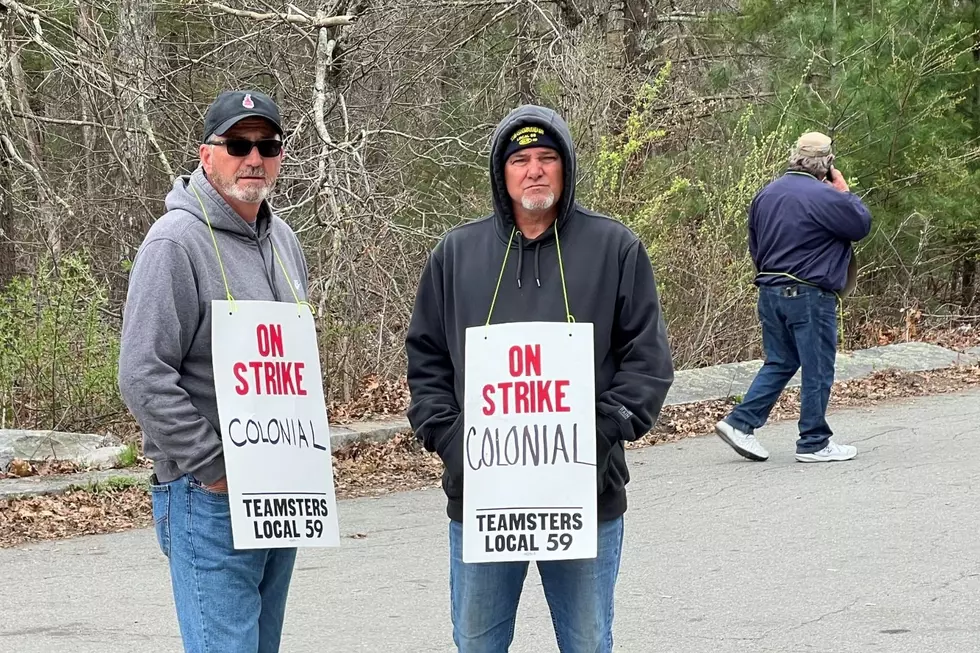 Beer Delivery Drivers Strike Deal with Dartmouth Colonial Beverage
Michael Rock/Townsquare Media
You may not know Colonial Beverage by name, but you definitely know the beer brands the local company distributes from its Dartmouth headquarters, including Miller, Coors and White Claw.
In what may have been one of the quietest strikes in the history of labor disputes, Colonial Beverage is announcing that a contract has been reached with their unionized delivery drivers.
The dispute has been brewing at the beer distributor since Easter weekend. Members of Teamsters Local 59, who distribute the products to businesses, felt that ownership waited until the last minute to offer an undesirable contract.
While negotiations were reportedly ongoing, "On Strike" picket signs were planted at the Old Reed Road entrance to Colonial Beverage on Tuesday.
Roughly 15-20 picketers were lined up outside of Colonial Beverage headquarters. That was at 1 p.m.  By the end of the day, however, there was massive progress.
As Tuesday afternoon drew on, word reached Fun 107 that both parties were close to an agreement.
That agreement was struck shortly after 3 on Tuesday afternoon.
Colonial reached out to Fun 107 immediately to share the news that both sides have been hoping to hear.
"We have settled on a contract today at 3 p.m.," said Kevin Oliveira, a spokesperson for Colonial Beverage. "We have worked out a fair and comprehensive contract and we look forward on continuing to service our customers."
The company added: "We currently employ over 130 employees with good-paying jobs and a full benefits package.  As a family-run business, we understand the value of providing good wages and benefits to our employees, so they can support their own families."
Colonial delivers to liquor stores, bars and restaurants all across the SouthCoast, the Cape and Islands, and beyond, up to the Foxboro area.
LOOK: Best Beers From Every State
To find the best beer in each state and Washington D.C., Stacker
analyzed January 2020 data from BeerAdvocate
, a website that gathers user scores for beer in real-time. BeerAdvocate makes its determinations by compiling consumer ratings for all 50 states and Washington D.C. and applying a weighted rank to each. The weighted rank pulls the beer toward the list's average based on the number of ratings it has and aims to allow lesser-known beers to increase in rank. Only beers with at least 10 rankings to be considered; we took it a step further to only include beers with at least 100 user rankings in our gallery. Keep reading to find out what the best beer is in each of the 50 states and Washington D.C.
More From WFHN-FM/FUN 107