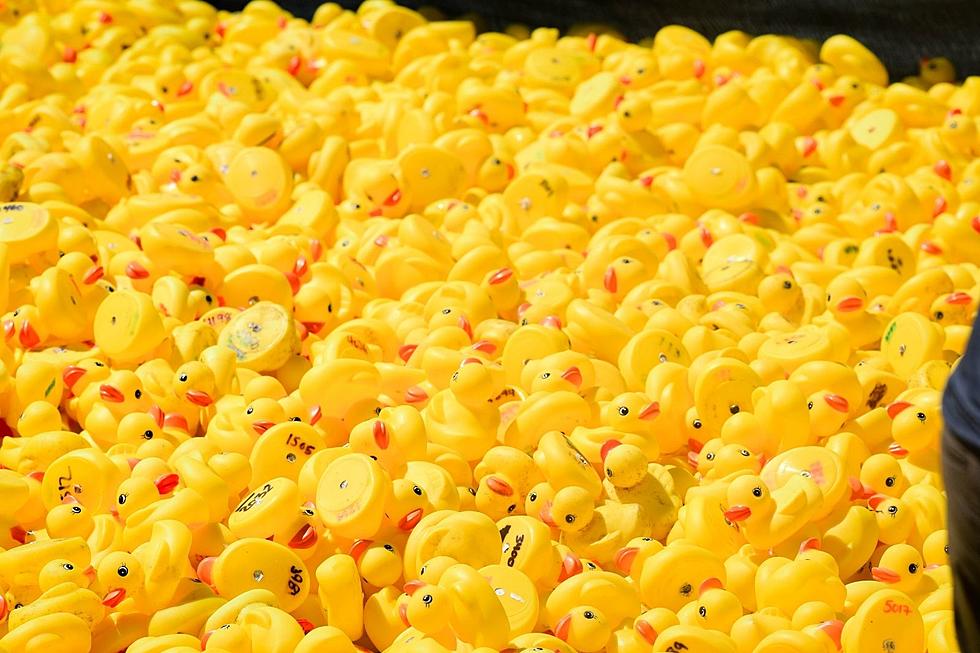 One 'Lucky Duck' Will Take Home $5,000 in the Annual Allen's Pond Duck Derby
Mass Audubon/Briana Wingate
It's that time of year again when thousands of rubber ducks, Dozens of spectators, and one grand prize winner come together to help support the Mass Audubon.
The annual Allen's Pond Duck Derby has arrived and on Friday, August 25th, one "lucky duck" will be going home with $5,000 richer. Thousands of rubber ducks are ready to take on the incoming tides of Allen's Pond Wildlife Sanctuary for the 19th year and the money raised helps and supports Mass Audubon's ecological and outreach projects. It also promotes "climate-resilient habitats, strengthens our ecological management programs, and provides access to nature for all".
Approximately 7,000 ducks will be released in the waters of 1280 Horseneck Road in Westport for an epic race from Buzzards Bay into Allens Pond.
Among the $5,000 prize, there will also be other prizes handed out to second and third place as well as the slowest duck to cross the finish line. This particular duck is known as the "Slacker Quacker" and will also be awarded.
At 10:00 AM sharp, the thousands of yellow rubber ducks will be released from a special net carefully and volunteers will be standing by the ensure a smooth and clean race. You don't have to be present at the race or any race-related events to win.
Rain or shine, this event is ready to go, unless "extreme events" occur such as lightning or any weather that could cause harm. Registration to watch this event is officially closed off, but results will be posted shortly after via Mass Audubon's social media.
The full set of rules can be found here.
Here's a look at the 18th annual duck derby event back in 2021.
Dartmouth Hosts Mass Audubon's 18th Annual Allen's Pond Duck Derby
A play-by-play of the Duck Derby on Allen's Pond in Dartmouth that helps support Mass Audubon's ecological and outreach programs. One "lucky duck" went home with $5,000 for finishing first in the race.
40 Picturesque Reasons to Never Want to Leave Westport, Massachusetts
From the grape vines of Westport Vineyards to the vast meadows and farm lands, Westport's Shara Grant captured the true beauty and essence of her town.
More From WFHN-FM/FUN 107