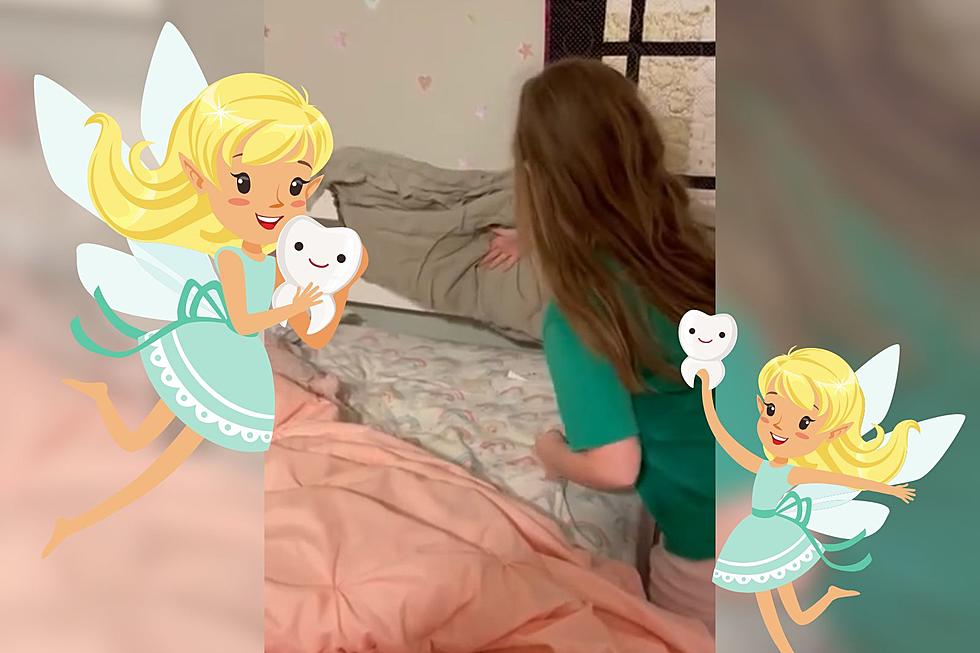 Acushnet Girl Has Adorable Yet Costly Demand for the Tooth Fairy
Courtesy Sarah Desmarais
I never thought I'd be in the position where I'd have beef with the Tooth Fairy, yet here we are.
When 8-year-old Adelynn Desmarais of Acushnet lost her tooth, she was overjoyed. There's nothing that compares to the happiness of a child who knows their bank account is about to increase and that's exactly what Adelynn had in mind.
Little did she know that she was about to get swindled by the Tooth Fairy and it was all my fault.
A few weeks back on Michael and Maddie, I made the mistake of suggesting that with the inflation of everything else in the world, why doesn't the Tooth Fairy pay out a little more? I'm not sure if you're aware, but groceries are expensive, gas is through the roof, and the housing market is straight-up ridiculous. Thankfully, children like Adelynn don't have to worry much about that stuff.
Even so, I'm not the only one wondering about the Tooth Fairy stock market. According to Axios, the average payout from the Tooth Fairy has nearly sextupled (increased six times) since 2000. Welcome to 2023, parents, where the average winnings a kidgets every time they lose a tooth is $6.23.
Doesn't seem too bad, right? Wrong.
A child will lose 20 baby teeth by age 13. Do the math. That's $124.60 for every mouth in the house.
Before you know it, the Tooth Fairy could be filing for bankruptcy.
Back to Adelynn, who listens to Fun 107 every morning.
She overheard me suggesting $20 per tooth and now I'm in trouble with the Tooth Fairy. This was the note she left under her pillow:
It reads: "Can I keep the tooth and get a $20 bill?"
Oops.
This made the Tooth Fairy a little salty because her reply was not subtle at all.
The silver lining is knowing that the Tooth Fairy listens to Fun 107 and that's a win in my book.
To Adelynn, I'm sorry I let you and your piggy bank down. The Tooth Fairy is right in that $20 really is a lot for one tooth, but if you remain patient, a payday is coming soon.
Where to Find the Best Brunch on Mother's Day
Let this be the year you plan out Mother's Day with time to spare. Take the time to find the perfect Southcoast brunch spot and let her know how much you love her...through pancakes and mimosas.
More From WFHN-FM/FUN 107