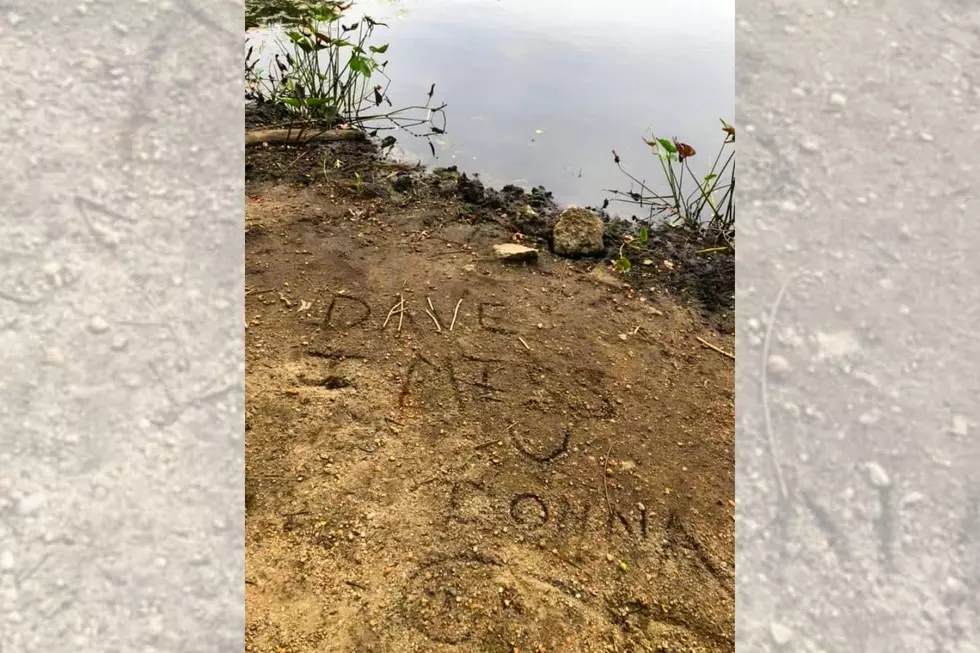 A New Bedford Man Found a Peculiar Note in Sand Behind Mikey B's
Courtesy Torell Strawn
Enter your number to get our free mobile app
If you told me going into 2020 that a handful of coded and mysterious signs would be scattered across the SouthCoast, I probably wouldn't believe you.
Somewhere between G&S Pizza and Mikey B's restaurant, if you turn onto Victoria Street, there's a narrow path that leads down to a random pond in the middle of the North End that's supposedly open to the public for fishing.
At the end of Victoria Street is room for at least one car to park, so when New Bedford's Torell Strawn took his three kids for a little fishing trip, he had a good chuckle at what he found by the pond's edge.
In the sand was a message, apparently written with a stick, from a "Donna" to a "Dave."
"I've been fishing there my entire life," Strawn told Fun 107. "I used to go all the time with my uncle and now I take my kids with me, they love it. That's when I stumbled upon this weird note."
Strawn discovered Donna's message on Tuesday evening, and from the looks of the photo, it was freshly drawn in the sand.
I'm sorry, but like always, I have so many questions:
Who is Dave?
Who is Donna?
Is this a simple love note yearning for attention?
Is Donna in the doghouse with Dave and she knows that's where Dave fishes?
Has Dave sadly passed on and this is a grievance message for Dave at his favorite fishing spot?
Perhaps it's all nonsense and I'm being played. Maybe it's just innocent kids who were just drawing in the sand for fun. For all I know, Dave was right on the side of Donna when she did it. Kids are strange like that these days.
Anyways, if you are Donna or Dave or know who this may pertain to, please shoot me an email at Gazelle@Fun107.com.
Oh, the things that keep my mind occupied.
Identify These SouthCoast Locations From 1500 Feet
More From WFHN-FM/FUN 107