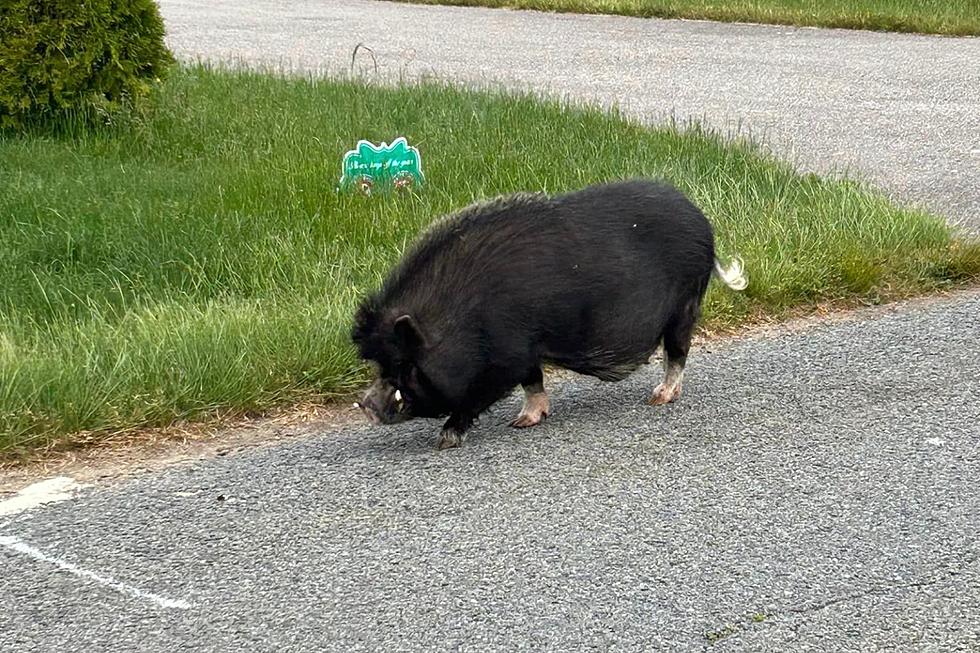 Westport Hog and Rooster Escape for the Day & Take a Morning Stroll
Courtesy of Brianna Medeiros
So, a hog and a rooster crossed the road…
This may seem like the lead-up to a silly joke, but this actually happened this morning in Westport, leaving people wondering where the unlikely duo is off to.
Brianna Medeiros was on her way to work this morning when she spotted the peculiar sight on Robert Street.
"Hog and rooster located on Robert Street walking in the middle of the road," she said online.
"Sounds like the beginning of a nursery rhyme," said one online user.
"Or a bad joke," added another. "Oh wait, that would be walking into a bar."
But the truth is, this hairy hog and its bird friend must have gotten out of its home and are most likely lost.
Gazelle, a Westport native, realized the duo was spotted on the road his parents reside on.
"They are most likely from Tripps Farm," he said. "It's the closest farm to that road, but it may be a personal pig and rooster that got out of its enclosure."
From horses to cows and every animal in between, this seems to be the norm in Westport, but hopefully, these two find their way back home.
So, if you are a farm owner near Robert Street or you are missing your pet hog and rooster, your animals are having quite the day and may need your help finding their way back to their pen.
Check Out This 3.5 Million Dollar Westport Home With a Priceless View
Spend summertime in your very own beach house. Cherry and Webb Lane in Westport is home to some of the most beautiful seaside homes in the area, and this gem just hit the market for $3.5 million. Let's take a look inside.
40 Picturesque Reasons to Never Want to Leave Westport, Massachusetts
From the grape vines of Westport Vineyards to the vast meadows and farm lands, Westport's Shara Grant captured the true beauty and essence of her town.
More From WFHN-FM/FUN 107