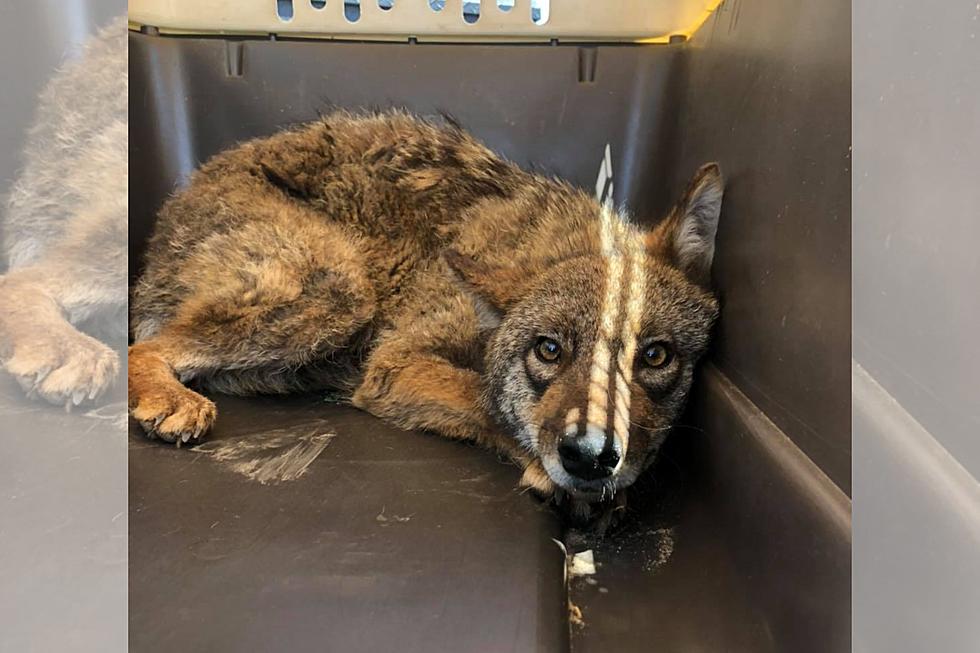 Wareham Officials Release Rehabilitated Coyote Back Into the Wild
Wareham Department of Natural Resources
Thursday was certainly a lucky day for one very special coyote here on the SouthCoast.
Last November, officers with the Wareham Department of Natural Resources captured a coyote that, for all intents and purposes, was not doing too hot. The coyote, who had often been spotted eating apples at Decas School and visiting the parking lot at Wareham Crossing Plaza, was malnourished and covered in mange. Officers waited until it was sleeping to capture it with a net and transport it to the New England Wildlife Center's Cape Branch in Barnstable for rehabilitation.
For the last six months, the coyote has been receiving treatment at the center for mange caused by a scarcoptic mite that had burrowed in, causing fur loss, severe itching and secondary bacterial infections. NEWC Cape Branch's Executive Director Zak Mertz said that mange is not only unhealthy and dangerous for animals, as fur loss limits the animals' ability to thermoregulate, but it also is "wildly uncomfortable," as is imaginable.
Mertz said that between the center's two branches in Barnstable and Weymouth, they get anywhere from 200 to 500 calls about mange in coyotes and foxes alone each year, and so far, 2021 is already turning out to be a busy and important one.
"We are having our busiest year ever," Mertz said. "This is peak season for us. The cusp of June is when all the little animals who are just starting out in the world start getting into trouble."
That mixed with the influx of people heading out to the Cape for the nice weather, there begins to be more people in Massachusetts interacting with animals, and therefore, more animals that require help from wildlife centers.
So what can you do to help if you spot an animal in need of assistance, specifically with mange? It's a little trickier than you may think. Mertz said it's illegal to trap in Massachusetts, so you have to get approval from the state and can only catch by hand or using a net. Your best bet will be to contact a wildlife center or animal control officer to help, but Mertz said that, despite what you may read online, it's not smart to throw medication into your yard in an attempt to help, even if it's the correct medicine. Not only is this method illegal, but Mertz said it can also be toxic to pets and doesn't really work.
Learn more about the New England Wildlife Center and how to support their mission on their website.
LOOK: Here Are 30 Foods That Are Poisonous to Dogs
To prepare yourself for a potential incident, always keep your vet's phone number handy, along with an after-hours clinic you can call in an emergency. The ASPCA Animal Poison Control Center also has a hotline you can call at (888) 426-4435 for advice.
Even with all of these resources, however, the best cure for food poisoning is preventing it in the first place. To give you an idea of what human foods can be dangerous, Stacker has put together a slideshow of 30 common foods to avoid. Take a look to see if there are any that surprise you.
LOOK: Stunning animal photos from around the world
From grazing Tibetan antelope to migrating monarch butterflies, these 50 photos of wildlife around the world capture the staggering grace of the animal kingdom. The forthcoming gallery runs sequentially from air to land to water, and focuses on birds, land mammals, aquatic life, and insects as they work in pairs or groups, or sometimes all on their own.
LOOK: 30 fascinating facts about sleep in the animal kingdom
More From WFHN-FM/FUN 107