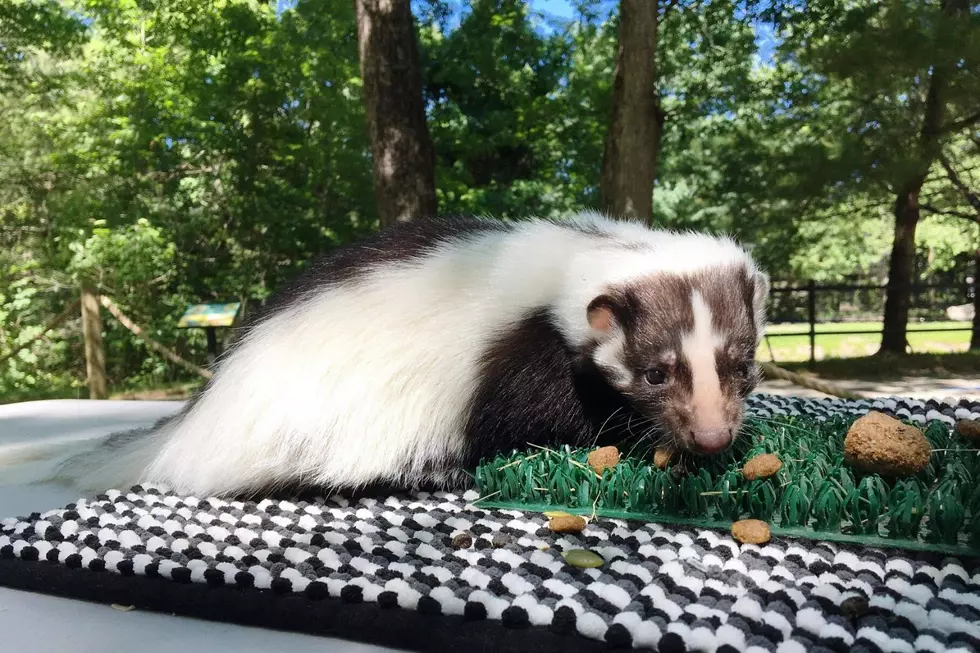 This Adorable Zoo Experience Will Not Stink
Buttonwood Park Zoo via Facebook
The Buttonwood Park Zoo temporarily moved the Animal Ambassador Encounter Space to the back part of the Zoo. The photo they posted on the Facebook page featured the sweetest looking skunk I have ever seen. Usually, the skunks I see do not look, or smell, sweet at all.
Carrie Hawthorne is the Education Curator at Buttonwood Park Zoo and she shared some information about Lavender, the skunk Animal Ambassador.
"Lavender, and her brother Hamilton, arrived at BPZOO on Thursday, January 30, 2020, from the Academy of Natural Sciences in Philadelphia," said Hawthorne. "She was born on Monday, May 1, 2017. They have a 10-year life expectancy in captivity. They are omnivores and at BPZOO are fed primarily fruits, veggies, grain and browse."
Many animals in the Zoo are non-releasable rehabilitated animals. In 2014, BPZOO created the "Animal Ambassador" program to provide a safe haven for them while they serve as "Ambassadors" of their species for public programs. The environmental education-based program introduces children and adults to wildlife through up-close exposure to animals. These Animal Ambassadors are an effective tool to teach children and adults about the risks animals face, both in their natural habitats and from humans. In 2019 alone, there were over 26,000 participants in the program at Buttonwood Park Zoo.
Visitors can see these animals in BPZOO's encounter space, which is a large space that allows guests to practice social distancing. The Animal Ambassador Encounter Space is now located between Charlie's Nature Play and the Lynx Habitat.
Check out these 50 fascinating facts about dogs:
Enter your number to get our free mobile app
More From WFHN-FM/FUN 107