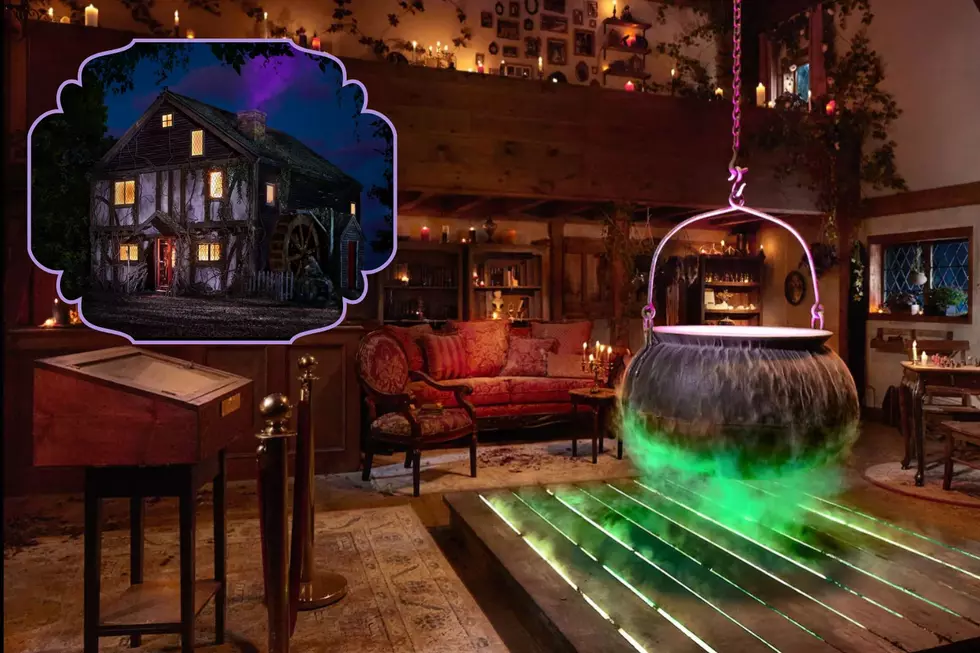 Stay the Night in Salem at the Enchanted Cottage of the 'Hocus Pocus' Sanderson Sisters
Helynn Ospina/airbnb
We may not get a chance to ever hang out with the real Sanderson Sisters, but staying a night in their enchanted cottage may be the next best thing.
Not only do the beloved witches from Hocus Pocus return to Salem for Hocus Pocus 2, but they have also graciously listed their cottage on Airbnb for one night only for anyone looking to see how a witch truly lives.
However, I would leave the kids at home. History shows that children may not survive around Sanderson Sisters.
Spend a Night in the Sanderson Sister's Cottage
The resurrection of the witches is drawing closer with Hocus Pocus 2 premiering on Sept. 30, and the witches wanted to share the excitement by offering up their "land of enchantment." On Thursday, Oct. 20, guests can stay one night at a recreation of their cottage in Danvers, a town minutes away from Salem.
From the black flame candle to a bubbling cauldron, this cottage perfectly mirrors the film and allows fans to step into the world of the Sanderson sisters by experiencing their favorite movie in a tangible, magical way.
What to Expect
Guests can flip through the ancient spell book and conjure up their own enchantments, explore the history of Salem with visits to some of the town's most haunted properties, and view a special screening of Hocus Pocus 2 on Disney+.
"To support the next generation of the historic city, Airbnb will make a one-time donation to the Boys & Girls Club of Greater Salem, which aims to ensure that success is within reach of every young person who walks through their doors," the cottage hosts said.
How to Book The Cottage
The hosts insist that this one-night stay is not a contest. Booking will open at 1 p.m. on Wednesday, Oct. 12, to everyone for an exclusive stay on Thursday, Oct. 20.
The Sanderson sisters are hungry for eternal youth, so be warned if you are lucky enough to land the Airbnb reservation.
Dark magic, broomsticks, potions and more await. Want to take a look inside? Keep scrolling. And if you want another spooky place to stay, check out the nearby Warlock House. 
The Best Halloween Costume Ideas From 2022 TV Shows
Spend an Enchanting Night at The Hocus Pocus Cottage in Salem
On October 12th, the booking will open on Airbnb for one lucky group of guests that will spend a magical evening in the Sanderson sister's cottage. Grab your broomstick and fly through this virtual tour of the iconic house from Hocus Pocus.
More From WFHN-FM/FUN 107