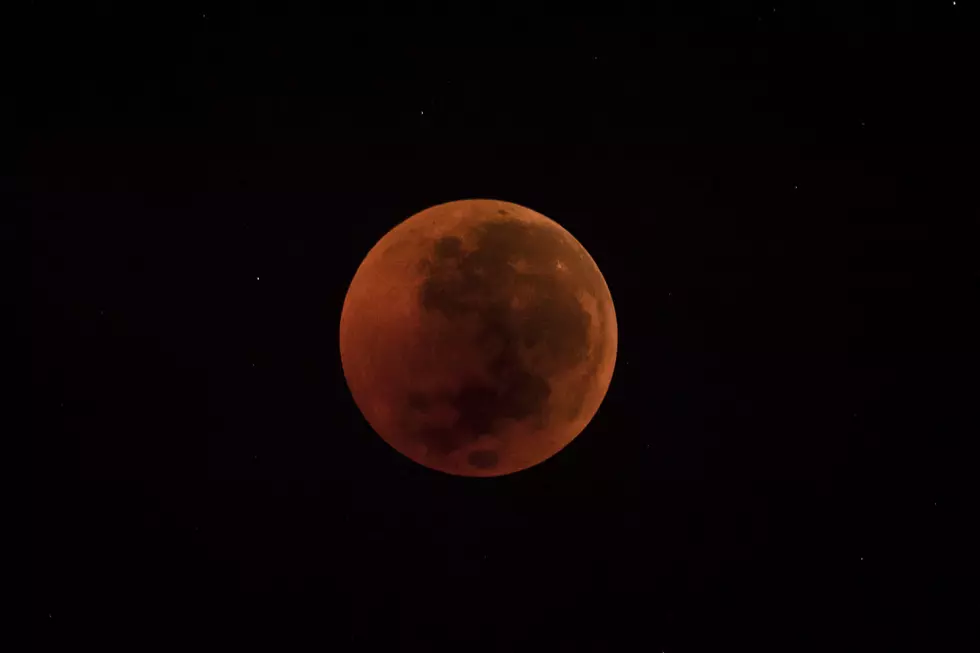 Blood Moon Rising Over the SouthCoast This Sunday
Ulet Ifansasti/Getty Images
A total lunar eclipse is on its way this weekend and the SouthCoast is a perfect spot to see it.
Moon events are my favorite types of celestial events for two simple reasons: You don't have to wake up crazy early to see them and they do not require a telescope. This weekend's total lunar eclipse checks both of those boxes.
As early as 10:27 p.m., on Sunday, May 15, those looking up at the night sky will be able to see the lunar eclipse begin and the moon start to turn red.
Yes, a total lunar eclipse (also known as a Blood Moon) makes the moon appear red. That's because the Earth, sun and moon all line up, causing the moon to fall in the Earth's shadow created by the sun. That shadow appears red on the moon and for this weekend's lunar eclipse, it will stay red for nearly two hours.
At exactly 11:29 p.m., on Sunday, May 15, the total lunar eclipse will begin and the moon will be completely red. The maximum eclipse is reached at 12:11 a.m. on Monday, May 16, and by 12:53 a.m., the eclipse is over. Plenty of time to snap photos of the night sky and share them all over social media.
Best part of all, the SouthCoast (along with the entire eastern side of the country) is right in the "path of totality." That means we will see the entire moon turn red, not just a portion of it. Plus, there will be a full moon on May 16, so Sunday night's moon is going to be huge.
It's all falling into place to be a truly amazing event that our part of the country hasn't seen since 2019. Just think about how much has changed since 2019. It's definitely time for another total lunar eclipse and perhaps some sort of reset to the last few years we've had.
Mother Nature just needs to be on our side for this. As of this writing, the weekend weather looks cloudy with clearing not coming until early Monday morning. Fingers crossed the clouds move a little quicker and at least mostly clear out by midnight.
See the Must-Drive Roads in Every State
RANKED: Here are the most popular national parks
To determine the most popular national parks in the United States, 
Stacker
 compiled data from the 
National Park Service
 on the number of recreational visits each site had in 2020. Keep reading to discover the 50 most popular national parks in the United States, in reverse order from #50 to #1. And be sure to check with individuals parks before you visit to find out about ongoing, pandemic-related safety precautions at 
www.nps.gov/coronavirus
.
More From WFHN-FM/FUN 107