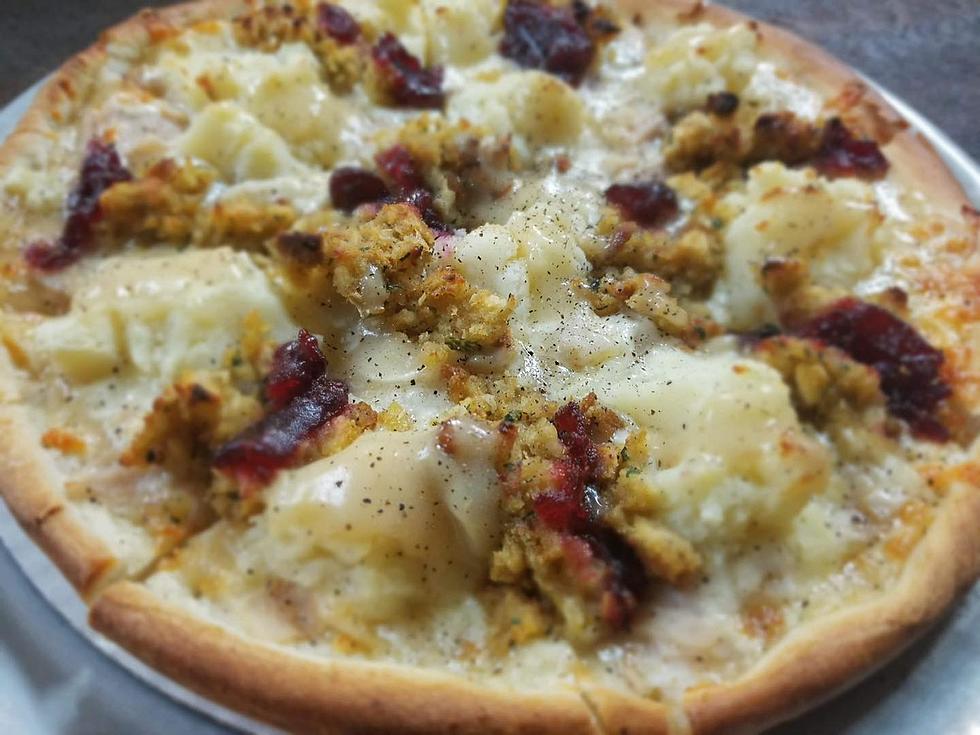 SouthCoast Spots Where You Can Find Thanksgiving Pizza
Monte Christos Restaurant via Facebook
Pictures of Thanksgiving pizza have been all over the internet, dividing diners on whether it is delicious or disgusting. If the thought of all your turkey day favorites cooked on top of pizza dough does sound like a treat worth trying, here is where you need to go on the SouthCoast.
Right on Route 6 in Swansea, some seriously tasty Thanksgiving pizza is being made from now through the end of the year. The One Horse version adds turkey, stuffing and cranberry sauce to the pie and people rave about it every year.
Monte Christos is only making its Thanksgiving pizza leading up to the holiday next week, so it is in very high demand right now. Since this spot is known for its South Shore Bar Pizzas, this turkey day pie is tinier than the others, but packs on more toppings. Monte Christos adds turkey, gravy, mashed potatoes, stuffing and cranberry sauce – plus the cheese, of course.
Fellini's Thanksgiving pizza might be the most famous of those served up locally. Yes, it is a bit of a drive to get one and you can only order them on certain days, but reviews of this one say it is completely worth it. Fellini's will be making Thanksgiving pizzas by pre-order only through the day before Thanksgiving and they typically sell out fast. If you get one, you'll enjoy a pizza piled high with turkey, mashed potatoes, stuffing and gravy.
Sadly, only the Bridgewater location of Barrett's Alehouse has Thanksgiving pizza on the menu. It is currently on the specials list and can be ordered any day of the week, though. Barrett's makes its turkey day pies with gravy, turkey, stuffing and top it with cranberry sauce, though apparently no one took any photos of it for social media.
Honestly, if there is one thing that never ceases to amaze me, it's how almost anything can taste good on a pizza. So maybe it's not the actual holiday meal, but a Thanksgiving pizza sounds like a great idea for dinner the night before.
If those pizzas aren't your thing, maybe these delicious pies will make your mouth water.
There's pizza, and then there's South Shore Bar Pizza. Birthed in Brockton (and to this writer, perfected in Randolph – Lynwood Café is the true G.O.A.T.), it must meet certain qualifications to be considered "SSBP," which include: it's a 10-inch pie; it has a thin, cracker-like crust with minimal "flop;" the cheese is a blend that features more cheddar than mozzarella; and bonus points if you take it home between two carboard-type plates wrapped in flat brown paper bag. They also usually come with "laced" or "burnt" edges (terminology depends on where you are ordering), which is when the sauce and cheese are extended all the way to the edge of the pan, creating a crispy, flavorful coating to the crust. We reached out to the hugely popular
South Shore Bar Pizza Social Club Facebook group
to ask the experts to share the best of the best (in no particular order).
More From WFHN-FM/FUN 107