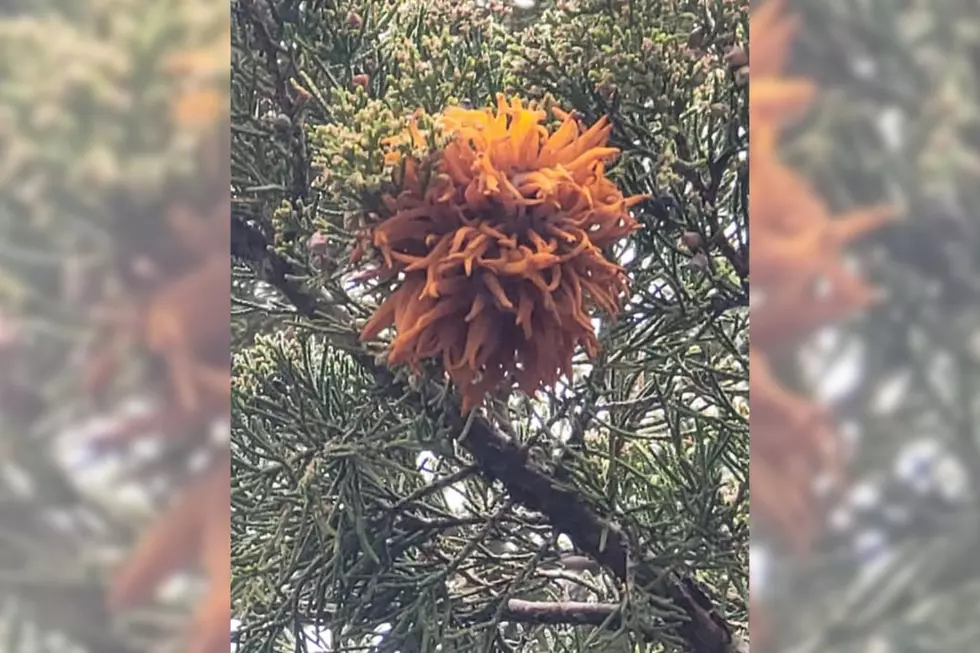 Slimy Alien-Looking Polyp Discovered in Dartmouth Tree
Photo Courtesy of Jenn Ferreira
Growing up in the boondocks of Westport, I thought I've seen it all – until today.
A friend of mine who also lives in the sticks of the SouthCoast, Jenn Ferreira, has brought something to my attention that has left me at a loss for words. In North Dartmouth on Old Fall River Road, there is an old cemetery that's surrounded by cedar trees. One tree in particular has been consuming my thoughts for the past three hours as I was boggled by the sight of a small, slimy, orange polyp-looking thing resembling a sea urchin that was attached to one of the branches of the cedar.
Bright eerie tentacles sprouted from a round bulbous core that resembled the shape of the COVID-19 virus, but with longer arms protruding from it. I needed to find out more about this alienesque life form that was randomly chilling about 10 feet from the ground, surrounded by juniper berries.
I slid on some black rubber medical gloves and climbed the tree, carefully removing the fungal-looking slimeball from the cedar. It was soft but had a dense core, and I was curious to see what it was made of.
With my pocket knife and a strong case of curiosity, I buried the blade into the pit and split it into two pieces. The texture and the inside were very similar to the innards of a walnut or an acorn but still didn't give me any answers.
Finally, I typed in "Orange Cedar Tree Fungus" into Google and ended up finding the true nature of this mysterious and creepy-looking apple-sized creature. It's called "Cedar Apple Rust" and just as I suspected, it's a fungal bacteria that only grows on cedar trees. It had a natural beauty in its own way and was most certainly like nothing I've ever encountered before.
According to Purdue University, these little balls of slime are a fungal disease typically known as Gymnosporangium juniperi-virginianae. The fungi thrive off of the juniper berries and usually are seen around the spring season during the more rainy months. Between the warmer New England weather and the amount of rain we've received lately, it's the perfect combination and recipe for this fungus that clearly looks like it came from out of this world.
We left it soaking in a small puddle to see if it will absorb and soak up the water and possibly regenerate itself after being split in two. This is just a theory, of course, and hardly scientific, but it's an experiment nonetheless, and we will check back in soon.
Welcome to the Jungle: Meet Kari's House Plants
I may not have any kids or even any pets, so my plants are my babies. I'm certainly learning as I go, and as you'll see, some of them struggle from time to time, but with my boyfriend's blessing, I'm slowly turning our apartment into a green oasis. Keep in mind that I only name the real guys and gals that you're about to meet, but that I also have a handful of fake plants scattered around our apartment to liven up the place.
Seven Things I Already Love as a SouthCoast Newcomer
Being the new girl in town is always a little intimidating, but it's always easier when you can find little comforts and things that remind you of home. Here are just seven of the many things I already love about the SouthCoast as a newcomer to the area.
More From WFHN-FM/FUN 107