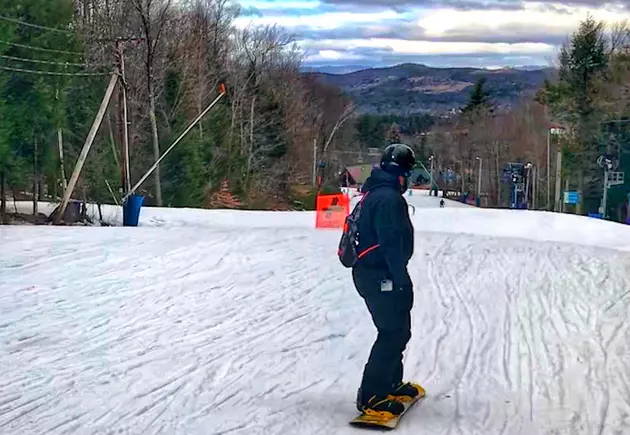 'Road Trip Worthy'- Gazelle's New Hampshire Ski Trip
Photo Credit: Chantel Souza
Last call! Last call for ski and snowboarding!
Looking to get away this month before Spring takes over New England? From Concord to Contoocook, here are the hot spots in the area that are a must visit.
My original plans to hit the slopes of Wachusett Mountain were a bit thrown off thanks to the recent storm we received on Friday, March 2nd, 2018, so I had to turn elsewhere. Basically, the goal was to go north of the storm and stay as far west as possible without hitting the Canadian border (if I could help it). With the help of ABC 6's Meteorologist Chelsea Priest, she directed me in the right direction to a fun little ski area called 'Pat's Peak'.
Located 20 minutes West of Concord, Pat's Peak was both convenient and family friendly. Before heading to the slopes, I decided to explore the main village of Concord to see where the hot spots and good eats were at. While in town, I stayed at the Fairfield Inn which was only 2 minutes from town center. Hands down, if you're going to go anywhere for food or spirits, make sure your one-stop destination is 'The Draft Sports Bar & Grill'. Located at 67 South Main St, you'll find the home of some of the BEST baked chicken wings, veggie pizzas, fried haddock, savory veggie nachos and of course some pretty talented bartenders who simply "get you" and know just what to make if you're indecisive or looking to try something new.
Once you reach Pats Peak, you're going to notice right away that it's kind of a small mountain, but man did I have a great time. There were 27 trails to ride, 5 lifts and 3 terrain parks for the more adventures riders. Choose between the green, blue and black trails that ranged from beginner to intermediate to advanced. For the most part, your downhill departure will only take you about 10-15 minutes up, but it's only about 10-15 minutes up. So if you're into quick lift trips and multiple rides to the base, this is the mountain for you.
On the way home, hunger settled in and instead of stopping at a fast food burger joint, I was craving a location with a little bit more "Homey" feeling. That's when the 'Everyday Cafe & Pub'  popped up with 5 stars on Yelp, only 15 minutes from the mountain and it was worth every mile! Not only was the scenery incredible on the route, the element of surprise was that much sweeter once you see the location.
Upon arriving in the quaint little town of Contoocook, New Hampshire, I could tell right away from the busy parking lot that this restaurant was going to be one for the books. As you enter the establishment, you have the choice of either sitting at their bar or in one of their nifty little ski-lift booths.
In a "nutshell", three characteristics describe this place: Delicious grub, ice cold local raft beer and a dessert/bakery menu that will melt your taste buds. Looking for something a little more "wild"? Take a chance at their infused homemade spirits! May I suggest the Mango/Pineapple Tequila? Bottoms up!
Like I mentioned earlier, this is a great couples/family getaway that should be on everyone's bucket list. If you're an avid skier/snowboarder and food enthusiast, then follow the descriptive adventure above and you're guaranteed to have a wonderful time, weather permitting of course.
More From WFHN-FM/FUN 107