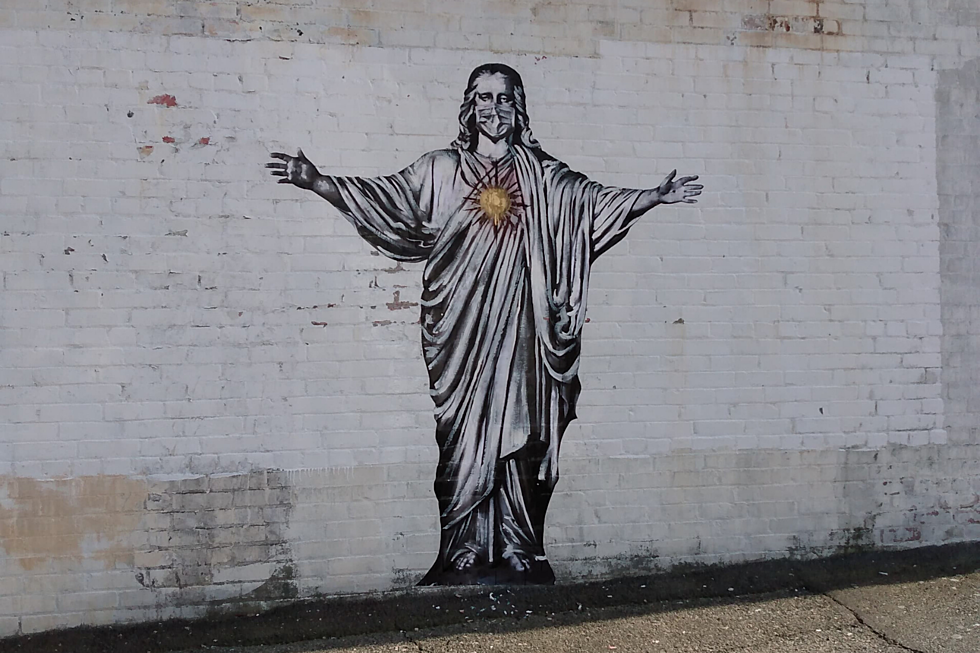 Painting of Jesus with Face Mask Suddenly Returns to New Bedford
Photo Credit: Kyle DeSousa
Right in time for the Easter Season, the mysterious painting of Jesus has once again returned to New Bedford.
If you're on Acushnet Avenue, heading southbound near Ray's Pizza, you just might find yourself face-to-face with Jesus. Well, at least a painting of him.
On the left said of the old Premier Video store, right next door to Ray's, a local artist by the name of Mark Carvalho created a personal painting of Jesus in robes, and yes, a face mask. Carvalho also painted the COVID-19 coronavirus on the chest of the painting of Jesus shown above.
Carvalho had posted on his Facebook page early on Easter morning, around 7a.m., the following:
This is the second time Carvalho has portrayed the religious figure on the same wall, the last time being back in 2009. At first, his identity was somewhat of a mystery as people flocked from all across the city to witness his artwork firsthand until he came forth and confessed that he was the artist.
Now, 11 years after his first creation of Jesus covering his eyes with his hands (take that interpretation however you please), Carvalho has returned to the same scene of the cross with his take on the coronavirus pandemic through the eyes of the Lord.
Perhaps it's a sign to take social distancing a little more seriously and if that's the case, then I couldn't agree more with this painting.
Carvalho was unavailable for questioning at this time, but his artwork is a spectacle to see in person to say the least.
"He is risen....again"- Maki Mark Carvalho
READ MORE: Here are 10 ways to help others who are struggling right now
Enter your number to get our free mobile app
More From WFHN-FM/FUN 107