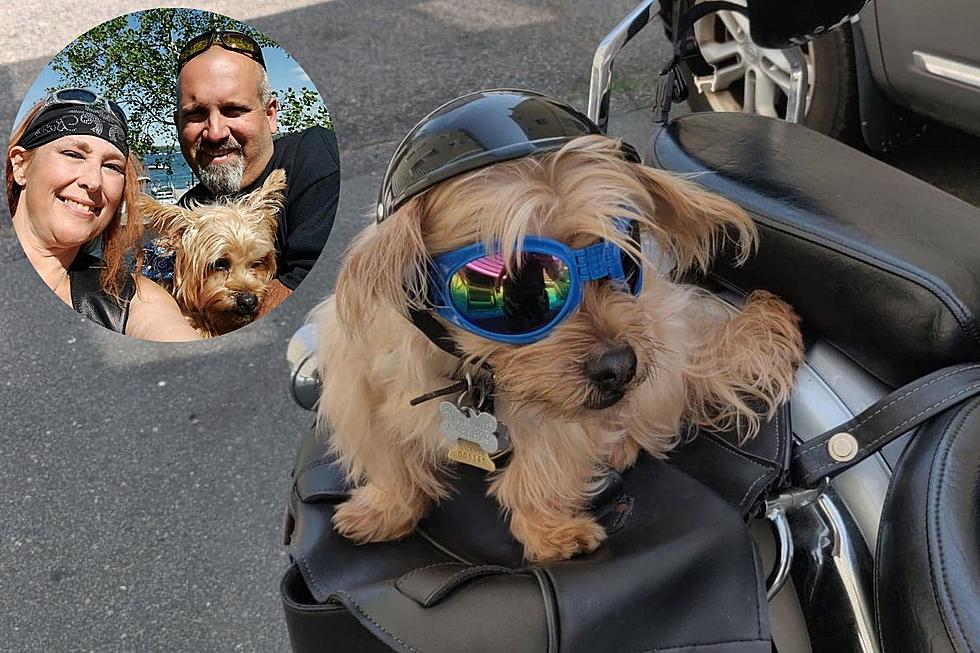 New Bedford Yorkshire Terrier Has a Need for Speed
Courtesy of Nadine Wainio
This dog is bad to the bone and has a need for speed.
Rocky, the Yorkshire terrier from New Bedford, is turning heads with his owners. Riding on their motorcycle is one of his favorite pastimes.
When I saw Nadine Wainio's post about Rocky, I needed to know more about this five-pound daredevil. Turns out Rocky got his grit after a traumatic situation.
"Rocky was found chained to a radiator with two other dogs after the owner passed away," Wainio said. "The owner was an older woman who passed away in the apartment, and the daughter did not like dogs, so she left them chained up."
When Wainio got word about the dogs through her daughter's congregation, she knew that this was the dog she wanted to take home to her fiancé.
Rocky has a brother, a mini boxer named Apollo Creed, but Rocky is the more adventurous of the two.
"We noticed that he wasn't afraid of the rumble," Wainio said. "So, I said, 'Let's put him on (the bike) and see what happens.'"
They started by sitting in the driveway, and that quickly turned into riding up and down the street, then up and down the block, then around town, and now Rocky is a frequent rider with his own riding attire.
Rocky has been riding since he was a puppy and has gone on several long treks, even partaking in the ride to New Hampshire for Laconia Bike Week. The family plans on going again next month.
Rocky's love for adventure doesn't stop at motor sports. He loves to kayak, hike, swim, and even goes sledding. He may be tiny, but he's full of enthusiasm and full of life.
Wainio said that people tend to look twice when the trio pulls up to a red light or stop sign on their Yamaha V-Star, but if you spot this gang in town, don't be afraid to give them a wave and snap a picture of one the coolest dogs on the SouthCoast.
LOOK: Here Are 30 Foods That Are Poisonous to Dogs
To prepare yourself for a potential incident, always keep your vet's phone number handy, along with an after-hours clinic you can call in an emergency. The ASPCA Animal Poison Control Center also has a hotline you can call at (888) 426-4435 for advice.
Even with all of these resources, however, the best cure for food poisoning is preventing it in the first place. To give you an idea of what human foods can be dangerous, Stacker has put together a slideshow of 30 common foods to avoid. Take a look to see if there are any that surprise you.
KEEP READING: Here are 6 foods from your cookout that could harm your dog
More From WFHN-FM/FUN 107