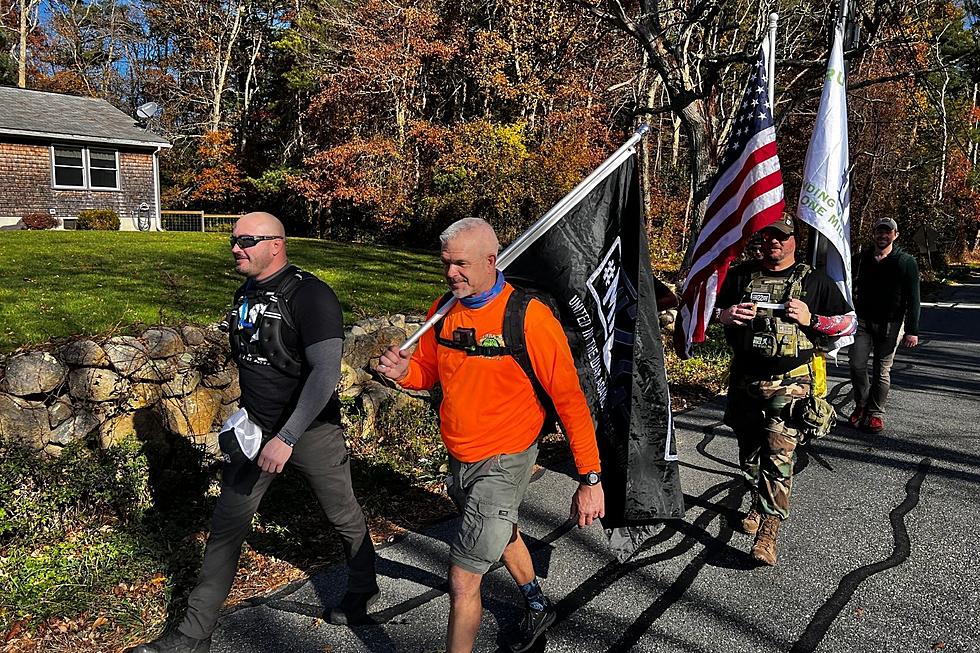 Veterans, Supporters Ruck 22 From New Bedford to Westport for Suicide Awareness
Gazelle/Townsquare Media
On Veterans Day 2021, the backroads of the SouthCoast were lined up with veterans, friends, and supporters who walked 22 miles for an important cause.
The "22" was in reference to the 22 suicides each day by men and women who served our country. Let that sink in for a moment: every single day, 22 veterans commit suicide due to Post Traumatic Stress Disorder. Adjusting after returning home can be extremely difficult for our servicemen and women, and that's where Mission 22 of New Bedford and Rucking for Veterans stand on the front line to help.
More than 50 people kicked off the hike around 7 a.m. this morning from the Pour Farm Tavern on Purchase Street in New Bedford and began their trek towards a halfway point at Westport Vineyards Winery off of Hixbridge Road in Westport with backpacks and rucks filled with upwards of 40 pounds of weight. Volunteers had lunch waiting for their arrival at the vineyards, where they took a few moments to stretch and get off their feet for a bit. Once fed and recharged, the group rallied together and took off once again back to New Bedford where the 22-mile finish line awaited their arrival.
We tend to forget the sacrifices that were made to be able to live a life of freedom and prosperity. The thanks owed will never amount to the pain our Marines, soldiers, sailors, pilots, and military have endured throughout history. That's why it's imperative to address the silent killer that is the mental health amongst our veterans.
Something as simple as checking in or grabbing a beer or a bite to eat goes a long way. A lot of times, all they ask for is a simple ear willing to listen. Let them know that they are not alone and that it's okay to not be okay. We all battle something throughout our lives, so being there for each other is the key to ending this war against mental health.
Veterans may question their own service and whether or not they did the right thing. Certain triggers can spark depression easily and quickly. My message to those who are going through the motions is to reach out. It doesn't matter who it is you're reaching out to, if you're in a bad place, just start by picking up[ the phone. Call a friend, call a family member, call 9-1-1.
To every single veteran out there who has fought for the freedom of our country and is still fighting the good fight, I thank you from the bottom of my heart. You are far from alone.
Rucking 22 Miles From New Bedford to Westport for Veteran Suicide Awareness
A group of veterans, friends and supporters walked 22 miles from New Bedford to Westport and back again on Veterans Day to increase awareness of veteran suicide.
LOOK: 100 years of American military history
More From WFHN-FM/FUN 107