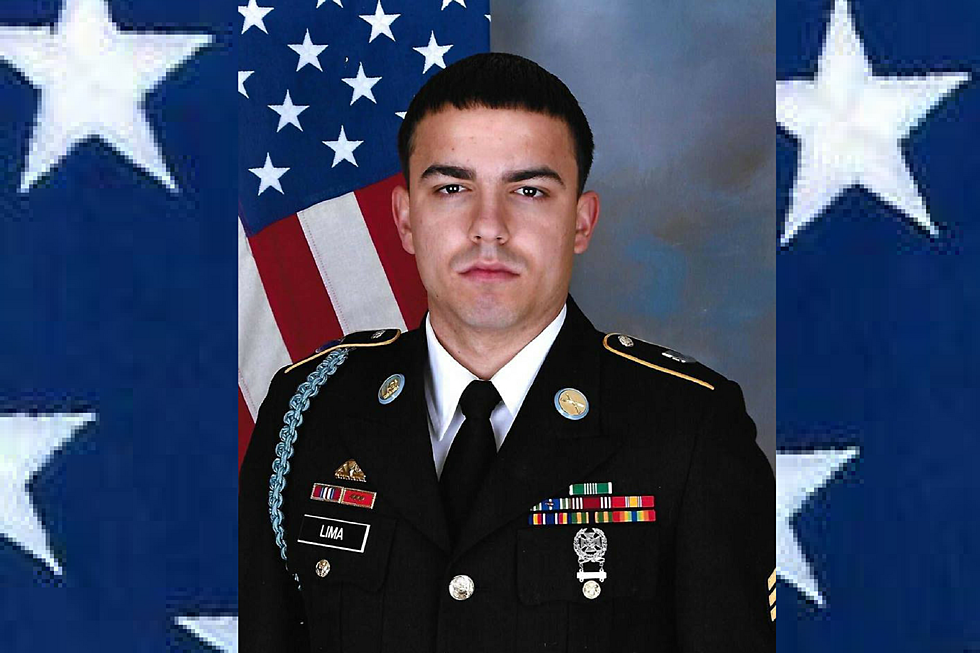 New Bedford Soldier Gets Shout-Out from President Trump [VIDEO]
Courtesy Spc. Michael Lima
It's not every day that a soldier from New Bedford gets to hear his name called out by the Commander in Chief—even if he does pronounce it incorrectly.
President Donald Trump was at Fort Drum this afternoon in upstate New York, and mentioned Spc. Michael Lima by name. Lima is an infantryman for 3rd Squadron, 71st Cavalry Regiment, 1st Brigade Combat Team, and is the 10th Mountain Division Soldier of the Year.
"Michael Lima," the president said, pronouncing it lie-ma, like the bean, as opposed to its proper pronunciation, lee-ma. "Where is Michael? Where is Michael? Soldier of the Year, Michael, pretty good. That's Soldier of the Year, Michael, out of how many? How many? That's a lot of soldiers, 18,000. You want to work for me? Thank you, Michael, great job."
Lima tells Fun 107 he was surprised President Trump mentioned him while pointing out some of the top military leaders that were in attendance.
"He definitely messed up the pronunciation, but it's all good," Lima said with a laugh. "I wasn't expecting him to give me a shout-out during his speech, but that was probably one of the coolest things that's happened to me, and I was super excited when it happened."
President Trump was at Fort Drum today for an event marking the signing of the John S. McCain National Defense Authorization Act, a $716 billion bill that will boost spending on military equipment and weapons, as well as increasing pay for service members, in the 2019 fiscal year.
Lima also got to meet the president one-on-one and shake his hand as he disembarked Air Force One in preparation for the speech.
"It was really awesome to meet him, a great honor," Lima said. "Not many people get to say they shook the president's hand, and I am pretty excited that I did."
Lima was born and raised in New Bedford. Although he was homeschooled throughout high school, he took part in the JROTC program at New Bedford High School all four of his high school years.
From there, he enlisted in the U.S. Army and went to basic training in November 2013.
He was chosen as Soldier of the Year following a big week-long competition back in May.
"Each brigade sends their top soldier, and the competition lasts a week with events ranging from land navigation, obstacle courses, marksmanship competitions, physical fitness test, six-mile ruck march, medical testing and various other soldier tasks," he said. "At the end of the week, I was chosen as the winner."
With such solid credentials, it's no wonder the president asked Lima if he wants to come work for him.
"Haha, I technically already work for him now," Lima said, "But if the right opportunity arises, I'll take it."
President Trump mentions Lima 51 minutes into the video:
More From WFHN-FM/FUN 107