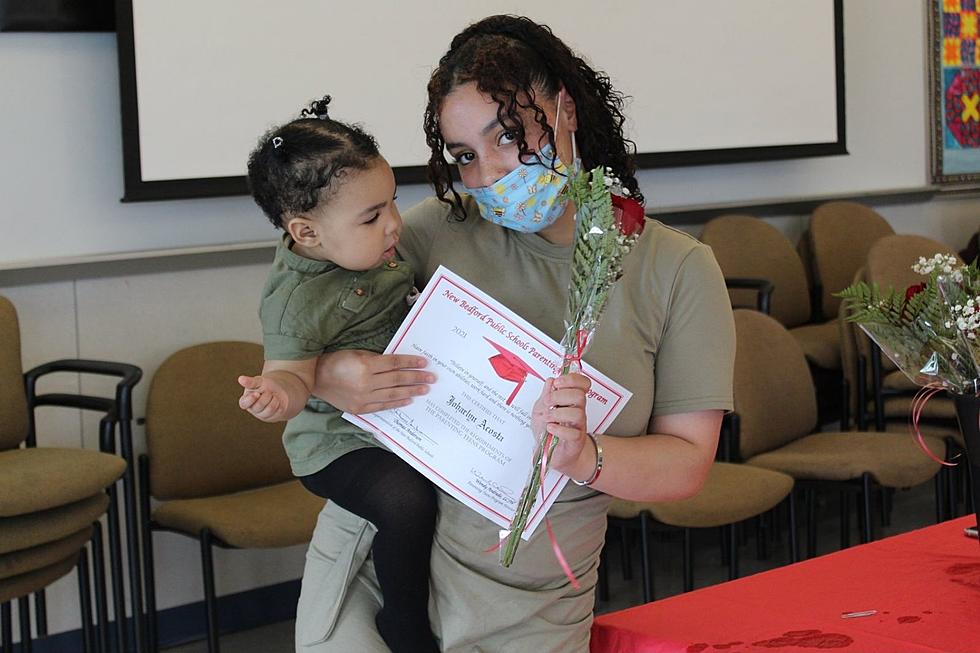 New Bedford Program Helps Teen Parents Graduate
New Bedford Public Schools via Facebook
It's New Bedford's best-kept secret, and if you are or know someone who is a student that is a new parent, this program could change their life.
The New Bedford Public Schools Parenting Teens Program is a year-long program that provides academic and child education, as well as childcare during school hours. Its mission is "to educate, advocate and support teen parents, and their young children, as they develop into lifelong learners by providing a nurturing and rigorous learning environment where academic and personal excellence can be achieved." This program is offered every year, but due to the pandemic, there are even more chances to enroll.
Wendy Andrade, Director of New Bedford Public School Teens Program, explained how the program helps ease the stress of being a young parent.
A school bus pus picks up the students and their babies and brings them to their facility on Hillman Street. The students drop their children off at daycare, then reports to class, and are free to check in on their children during lunchtime or whenever they see fit. The reduced timeframe schedule better assists young parents and allows them to complete their education safely, knowing their children are safe.
"We have a small class size, so it's lots of individual attention," Andrade said. "We also offer parenting classes with hands on parent learning."
The program even helps you apply for financial assistance for young parents that are interested in receiving a college degree.
This program has been changing the lives of young parents for the past 30 years, providing these students with the necessary tools to obtain their general education and giving them a chance to earn their high school diploma when it may have not been possible in a typical school setting.
"The students are so committed to education, that even though at times they hit barriers and obstacles, they do what they need to do," Andrade said. "We just had nine students graduate. This year was extra special."
Imagine being a young parent trying to go to school during a pandemic? This program made that possible.
The New Bedford Public School Parenting Teens Program is currently accepting applications for its summer 2021 program. To apply, call (508) 997-4511 ext. 34500, or email Wendy Andrade at wandrade@newbedfordschools.org.
Being a teen parent is difficult, but you don't have to do it alone.
Top 10 SouthCoast Public High Schools
U.S. News and World Report
has released its
high school rankings
. Here are the Top 10 on the SouthCoast.
Check Out This Tiny House in the Trees
Put an end to the great tiny house vs. treehouse getaway debate with a stay at this
South Kingstown Airbnb
that combines the best of both worlds.
More From WFHN-FM/FUN 107