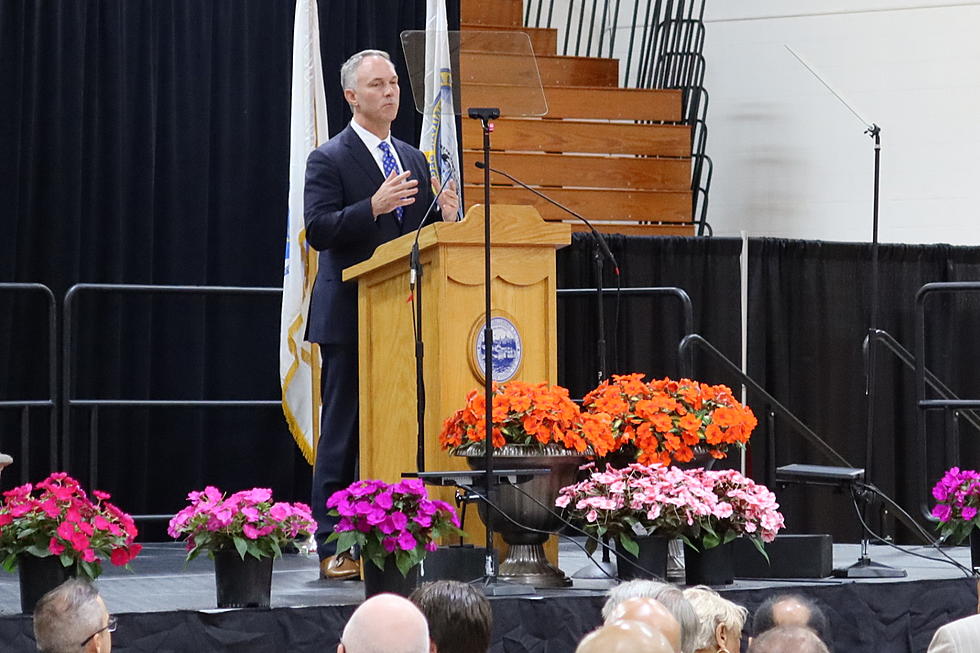 New Bedford Mayor Mitchell Touts Plans in State of City Address
Marcus Ferro/Townsquare Media
NEW BEDFORD (WBSM) — In his annual State of the City Address, New Bedford Mayor Jon Mitchell described a city able to accomplish big projects and ready to complete more.
"We should keep doing what we are doing," Mitchell told a large crowd at the New Bedford High School's Beardsworth-Gonsalves Gymnasium on Wednesday. "Together, we are building a city we've envisioned."
The room was filled with elected officials from the city and state.
Mitchell, who has not announced whether he will seek re-election this year, used his speech to highlight the progress of decades-long projects such as the cleanup of New Bedford Harbor and the creation of an offshore wind deployment site at the former Eversource location on MacArthur Drive.
"We have worked tirelessly over the last decade to position New Bedford to become a leader in the industry because I believe it could create jobs here the way it has in port cities in Northern Europe," Mitchell said. "And it's just getting started."
Mitchell also used his address to announce a Standard of Appearance for the Public Realm, a set of policies focused on removing litter and other items in the city streets and open areas.
The mayor said residents in the city will be able to call a 311 number to request non-emergency public realm services for fallen tree branches, potholes and graffiti.
"Our goal is to make New Bedford the cleanest center city in New England," Mitchell said. "I believe we can do it, and we're already pretty far along as is."
The issue of housing was also addressed in the mayor's address. Mitchell, who recently revealed a blueprint designed to attract developers to the city, acknowledged there are 250  projects in the planning pipeline and more needs to be done to increase housing stock in the area.
"The housing crunch in Greater New Bedford is a region-wide problem," he said. "New Bedford's suburbs need to do their part, as virtually all the rental housing in the region is situated in the city."
Read the City of New Bedford's Complete Housing Plan
One policy Mitchell only briefly talked about in his speech was the passenger rail service between New Bedford and Boston known as South Coast Rail, which is expected to be finished by the end of the year.
In recent days, lawmakers on Beacon Hill expressed concerns over the Mitchell administration potentially suing the MBTA about land takings for the project.
After his speech, Mitchell told reporters South Coast Rail would still come to New Bedford regardless, and any lawsuit filed is only focused on the city receiving what he described as a fair share of money for the land takings. He added the city has not decided if it would file the suit as officials for both parties are in negotiations.
"The MBTA has been in this business of low-balling property owners in taking of lands," he said. "I've been a strong advocate for South Coast Rail from the start and it's going to happen no matter what, but I also don't want the city to get short changed."
Top News Stories for April 2023
There's always a lot happening on the SouthCoast, but April really took it up a notch. From illegal plants to Fenway Park raising the price of beer, here's a list of the most-viewed (and most-talked-about) stories last month.
Photos of the Bristol County House of Correction Damage
An
uprising by the inmates
in the Bristol County House of Correction on April 21, 2023 caused an estimated $100,000-$200,000 in damage.
More From WFHN-FM/FUN 107