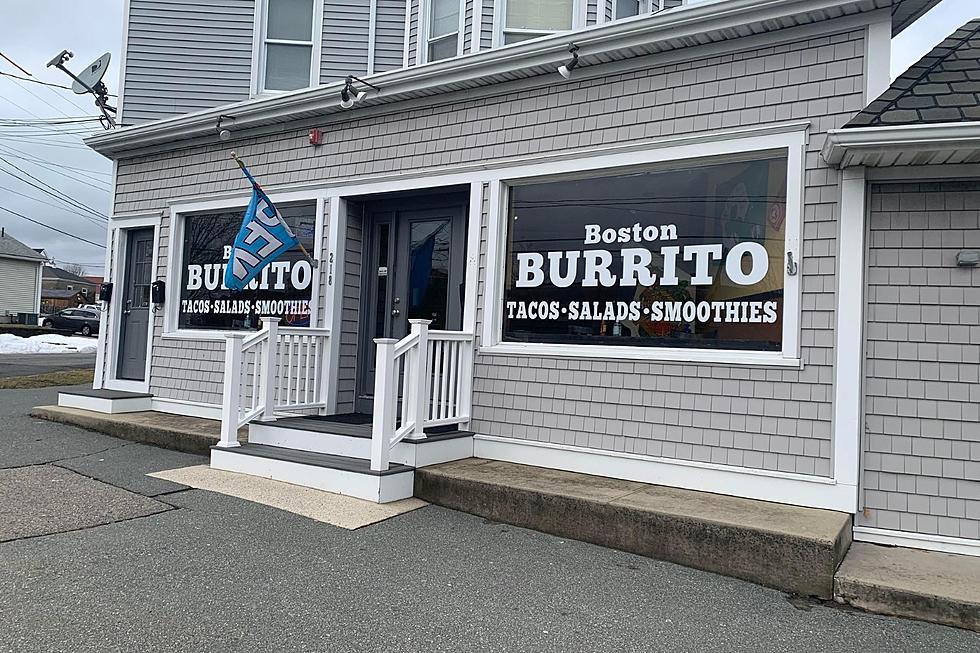 Let's Taco 'Bout the New Burrito Joint That Just Rolled Into New Bedford
Kasey Silvia / Townsquare Media
New Bedford's newest Mexican restaurant, Boston Burrito, brings authentic flavor to the SouthCoast. Michael Moujabber and Jack Fernandes, both 20 years old, are two New Bedford residents who love Mexican food and wanted to kick things up a notch when it came to the options locally.
My husband and I live nearby and decided to stop in for lunch one day this week. We ordered a quesadilla because it's our favorite, but also got the Boston Burrito since it is the namesake menu item. We could both see that it is the signature menu item for a reason. It was delicious and filling.
Although this is the first restaurant that Moujabber and Fernandes own together, they are no strangers to the industry. Fernades' parents own Lolly's Cafe in Dartmouth and Moujabber has two uncles who each own established restaurants in the area. One owns The Lebanese Kitchen in Mattapoisett and the other owns Nancy's on Martha's Vineyard.
"I would say that the restaurant life was unavoidable," Fernandes said. "We couldn't escape it, but in a good way. It's just in our blood."
In fact, the name "Boston Burrito" pays homage to 'Boston Coffee and Bagel,' a business that one of Fernandes' parents operated when he was growing up. The Boston Burrito logo also includes the image of Paul Revere for those missing the neon sign on 195.
By opening their own brick and mortar at 218 Rockdale Ave in New Bedford, they're realizing a dream that is two years in the making. They first operated as a ghost kitchen out of Lolly's Cafe in 2020.
"Some customers at Lolly's would ask us what a burrito was," Fernandes said. "We knew we wanted to make the menu more accessible for everyone, even those who have no clue what or how to order."
While the COVID-19 pandemic delayed plans to open their own physical location, they are feeling right at home now. Boston Burrito just celebrated its grand opening on Friday, January 28 and both owners proudly stated that they sold out of food that day.
"As busy as we were with only three of us on staff, everyone was just so kind and understanding as we worked hard to get the orders out," Moujabber said. "There was even a customer walking over to tables asking if anyone needed napkins or anything. He just jumped in to help and support us in a way we didn't expect and it was incredible."
Boston Burrito has even seen a blast from the past since opening in January.
"The names that are ordering from us on Doordash now are the same ones who were ordering from us in 2020 when we were just a ghost kitchen," Fernandes said. "It's awesome to see these customers loving what we have to offer."
Boston Burrito is filling a lot of takeout orders right now, as expected with the pandemic still in play.
"When we initially started, we were only trying to think of a business model that could adapt and make it easier for the customer to get the food," Moujabber said. "COVID is a serious disease and people are still scared and nervous about going out. So, trying to make our food as accessible as possible with takeout, Doordash and things like that made all the difference."
"The industry is different, but people still want to eat," Fernandes said. "We weren't too scared about it impacting us negatively because the need will always be there."
While takeout accounts for a large portion of activity right now, Moujabber and Fernandes hope to bring events to the space in the near future. The plan is to hold a charity event modeled after the breakfast buffets at Lolly's one Sunday each month.
"It's one thing to make a monetary donation to a noble cause, but there's just something about seeing where that money goes and how it directly impacts someone in our own community that will always mean so much to us," Moujabber said. "Our efforts could seriously help a neighbor have a lifesaving medical procedure or something like that."
Karaoke nights and other benefits could soon be happening on Rockdale Ave in 2022.
Surprising SouthCoast Spots for Groceries
When the supermarket shelves are bare where do you turn to get the foods you love? There are some spots you may not be thinking of across the SouthCoast that also keep their shelves stocked with snacks, staples and more.
More From WFHN-FM/FUN 107