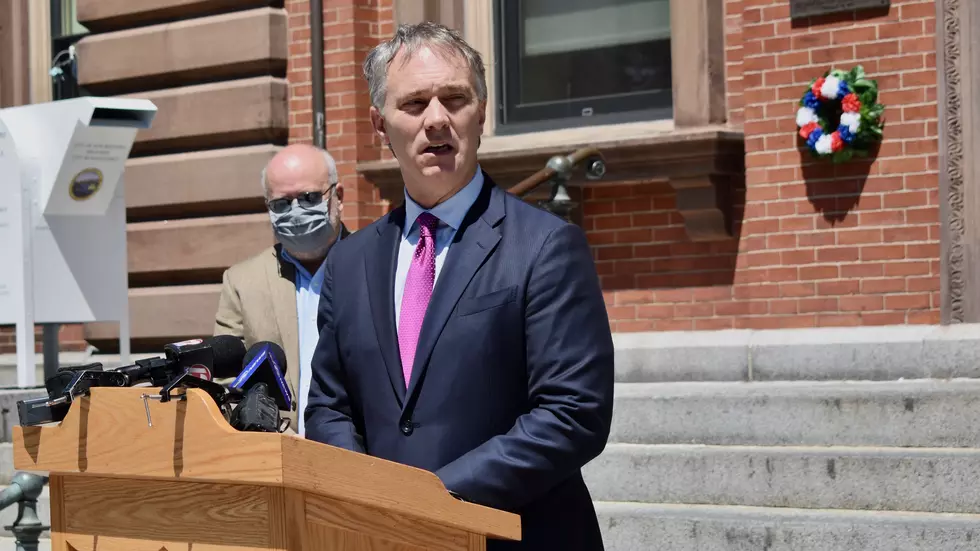 New Bedford Mayor Mitchell Assesses Overall COVID Response
Mary Serreze/Townsquare Media
Mayor Jon Mitchell is generally satisfied with how his administration handled the COVID-19 pandemic. Mitchell believes, however, that "there's a lot that could have been done differently at every level of government."
Mitchell said it is a "big relief" to have schools back in session this week after a couple of rough years due to the COVID outbreak, which he said was "largely disruptive" to the learning process. He said the students he met at Carney Academy last week are "really happy" and ready to learn.
Mitchell said New Bedford Public Schools were "more forward-leaning" than most other Massachusetts school districts "in getting kids back to school" rather than "relying on remote learning."
"We pushed really hard to get our kids back," he said.
Mitchell said there will be "no universal mask mandate" for returning students and staff this year, but anyone testing positive for COVID "should stay home for five days of isolation" and wear a mask for five days upon returning to school.
He said "we strongly recommend" that anyone coming in close contact with someone testing positive for COVID wear a mask for five days.
Mitchell said early in the COVID crisis, "we were doing what we did just to sort of slow stuff down." Before the vaccines, Mitchell said the hospitals were overwhelmed, and we didn't yet know "who was vulnerable and who was not."
"We saw a lot of people dying in other parts of the world, including the U.S.," he said.
"I think we did a pretty good job with that under more difficult circumstances than most places because we have the kind of workplace that is still extensively industrial," he said.
Those types of jobs, he said, require people to "show up" and cannot be performed on Zoom.
"I think the relationship with the state could have been a little bit better," he said. "There were times along the way when we in Southeastern Massachusetts kind of got lost in the shuffle a little bit."
Mitchell said there was often a "concentration of effort on Greater Boston," which "forced us to step up a little bit more." He said that forced his administration to take bold action.
"We commandeered those two nursing homes (as overflow facilities) because the state wasn't about to (act)," Mitchell said. "That troubled me."
Mitchell said "there has to be a whole lot of examination" now that the worst is over.
"I don't begrudge the CDC or the Biden and Trump Administrations," Mitchell said, stating that would be "Monday morning quarterbacking" and noting that it was a hundred years between the Spanish Flu and COVID-19 pandemics.
Mitchell said one regret was not ending the vaccine mandate for city employees sooner.
New Bedford continues to join weekly COVID update calls with state health officials and test wastewater samples for trends twice weekly.
Answers to 25 common COVID-19 vaccine questions
Vaccinations for COVID-19 began being administered in the U.S. on Dec. 14, 2020. The quick rollout came a little more than a year after the virus was first identified in November 2019. The impressive speed with which vaccines were developed has also left a lot of people with a lot of questions. The questions range from the practical—how will I get vaccinated?—to the scientific—how do these vaccines even work?
Keep reading to discover answers to 25 common COVID-19 vaccine questions.
KEEP READING: Learning From Mistakes During the Spanish Flu
More From WFHN-FM/FUN 107