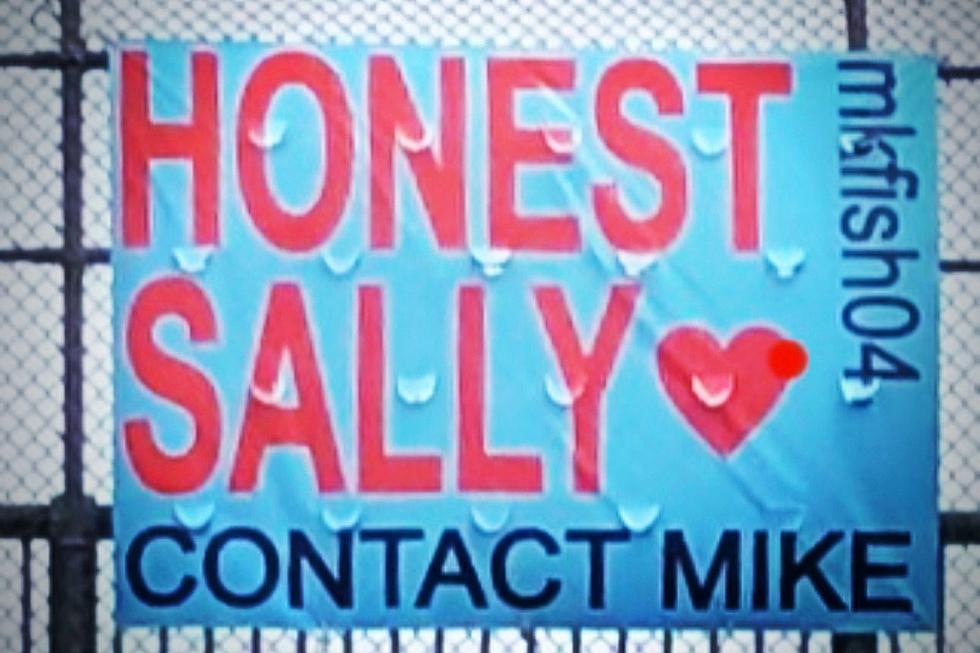 New Bedford 'Honest Sally' Highway Banner Mystery Finally Solved
Gazelle/Townsquare Media
If you've lost hope that true romance still exists, then buckle up for this one. In a time full of darkness, this SouthCoast story of chivalry is lighting up the world.
After countless hours of researching and digging in every corner of the internet and social media, I finally found the answers that everyone, including myself, has been waiting for.
The banner on Route 195 that was once located on the 195 East Shawmut Avenue overpass was taken down this morning around 8:30 a.m. by the transportation officials, but that didn't stop me from continuing on with the search for Sally and Mike.
Just after 9 a.m. this morning, I received a Facebook message request from someone who knew exactly where to lead me in my investigation. She had told me that her mother, Stephanie Whalen – who owns Savage Advertising Solutions, Inc. in New Bedford – was the person who created the sign for a customer.
That customer's name just so happened to be Mike.
Mike is a gentleman from Tiverton, Rhode Island in his late 50s-early 60s who, like many of us, is looking for true love. He reached out to Whalen in search of a helping hand after he had lost contact with a local Fairhaven resident who went by the screen name "Honest Sally" on a dating website.
According to Whalen, Mike had given his e-mail address to Sally but forgot to get hers before the conversation between the two went radio silent.
"He called me up and said 'Do you do banners?'" Whalen told me. "Yes I do. 'Big ones?' he asked, to which I replied, 'Of course.' He said he had this weird request for me and that I probably never had this asked for before, but here's what I'm looking for."
Mike continued to tell his story about how he was on this dating app and met this wonderful woman. The two were talking back and forth and getting along really well. Unfortunately, her brother got sick and they lost contact when she went to care for him. Due to the coronavirus, Mike and Sally never got a chance to meet because of the quarantine.
With only her online dating username handle, Mike went searching for her with the help of Whalen's printing company, and together the two designed the banner.
"We need to find her," Mike told Whalen. "We hit really it off and this is it, she is the one."
Mike told Whalen that Sally is a teacher in Boston, but resides in Fairhaven.
"She's really smart," Mike told Whalen.
Whalen took the design and got right to work to get the banner printed as soon as she could. As soon as it was wrapped up and ready to go, the sign was shipped out, but almost never got to Mike.
"We had it drop-shipped to his house, but it was delivered to the wrong house," Whalen said. "Luckily, an elderly man who received Mike's package called to let us know that it was dropped off at the wrong address, or else it never would have been delivered."
Once the banner was in the hands of Mike, he went right to work, looking for the perfect overpass to hang it on so she would see it on her way to and from work when traveling to and from Boston.
"He actually hung it up on the wrong overpass," Whalen said. "His intentions were to get it over to the Fairhaven overpass where Alden Road crosses but ended up using the Shawmut Ave one."
It's been about one month since Mike began his journey to seek out and find "Honest Sally," but he has not received any response quite yet. In the midst of the most heartwarming "Missed Connection" of the year, this romantic from Tiverton is keeping the faith in hopes that she just might find her way into his inbox once more, even it is just for closure.
Lastly, I'll say this: Mike, if you're reading this, I hope that whatever comes of this particular situation, that you find love in all the right places, even it does result from the most confusing banner the SouthCoast has ever witnessed.
I saw the sign, and yes, it opened up my eyes, too.
Celebrity Couples Who Secretly Got Married
Enter your number to get our free mobile app
More From WFHN-FM/FUN 107