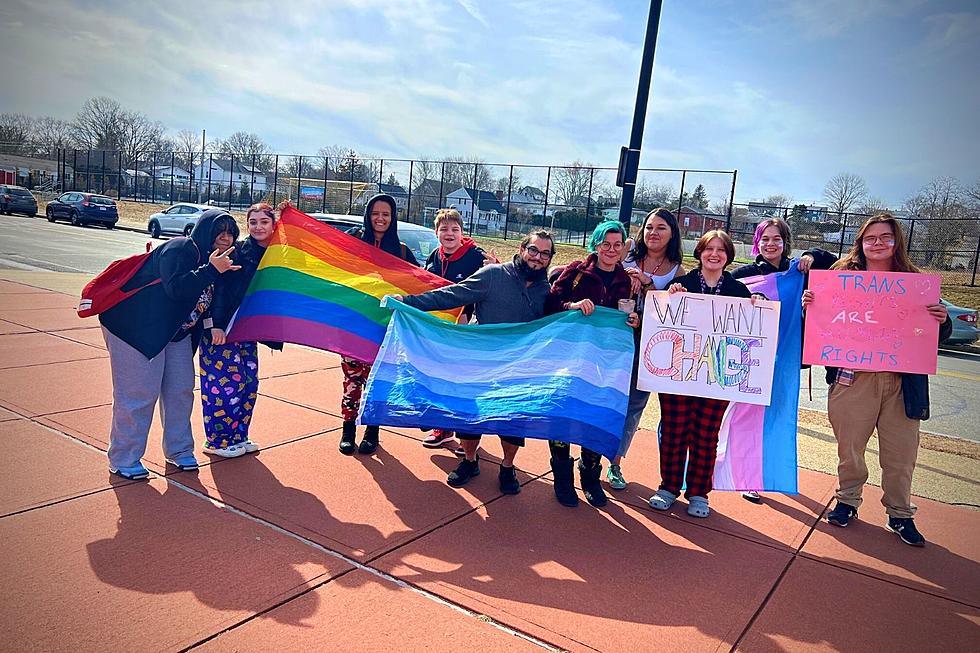 'Think Before You Post': New Bedford High Students Reflect on Social Media Bullying
Gazelle/Townsquare Media
In light of a controversial Facebook post from New Bedford's newly elected Ward 3 Councilman Shawn Oliver, an emotional yet peaceful student protest was held at New Bedford High School.
A large group gathered outside of the school by Hathaway Boulevard to voice their opinion and feelings toward Oliver over a bullhorn and as a collective entity. Posterboards and pride flags were raised high as cars beeped to show support as they passed by. One by one they chanted for change and their cry for respect was transparent and well-received by all who attended.
As I spoke with the students, I could hear the anger in their voices. Bullying comes in different forms and I could tell they were fed up and hurt. Today I utilized my platform to give others a chance to speak their mind on the effect that negative and disrespectful social media posts can have on someone.
"As 'Gen-Zs' we're on social media every single day constantly going on TikTok and Facebook, we deserve the respect we deserve and shouldn't be told how to live our lives. Respect is earned not given. We are who we are and we're not going to be ashamed of it. You never know someone's mental health, you never know what they're going through. The moment you speak on behalf of someone's well-being, sexual orientation, or about anything that has to do with the way they represent and love themself, make sure you can relate and be trustworthy." -Amari Fernandes and Karina Garcia (Seniors, New Bedford High School)
"People should think about what they're posting first, everyone's a human being with feelings. Social media doesn't take it as seriously, I think they should ban and remove the person. I have reported many social media posts, but nothing has been done claiming it wasn't bullying when it was. Words mean something, words can hurt people. Words are very harmful to people and a lot of people are in their heads and they think a lot about that. Before you post something or say something to someone, think about what you will say. If you were in that position, would you like someone to discriminate against you? No matter what you are or who you are, you would not want anyone to discriminate against you. Think about what you say, post, and act." -Heaven Robles, Grade 11
"It's 2023 and we're still fighting for people to have the same rights, it's unacceptable. Just seeing this type of injustice when it comes to social media bullying makes me angry. We're human, we're not going to hurt anyone, and we're not bad people. We have rights, we have skin, we bleed the same way you bleed, and we cry the same way you cry. We have feelings, too. -J.J. Greene (Junior, New Bedford High School)
One of the simplest yet most difficult questions I asked the students was- How do we end cyberbullying on social media? As humankind progresses and technology advances, discrimination, sexism, homophobia, misogyny, and racism are very well present with little to no sign of dissipating from the internet. So how do we fix this?
"We can't completely fix it, but what we can do is start by respecting everyone as individuals and their choices. We can respect the way we speak to people and how we represent our opinions. If you say something, you have some type of meaning behind it. Take accountability for your actions. When it comes to posting hurtful content- If you typed and posted it, there are no excuses for your actions. Ignorance is not ok, it's never going to be ok." -Amari Fernandes
My only hope for the future generations to come is that we learn from all-to-common mistakes and misconduct when it comes to social media. It should be a way of connecting the world, not dividing it.
Think before you post. Negativity ends when love overcomes- read that again.
More From WFHN-FM/FUN 107