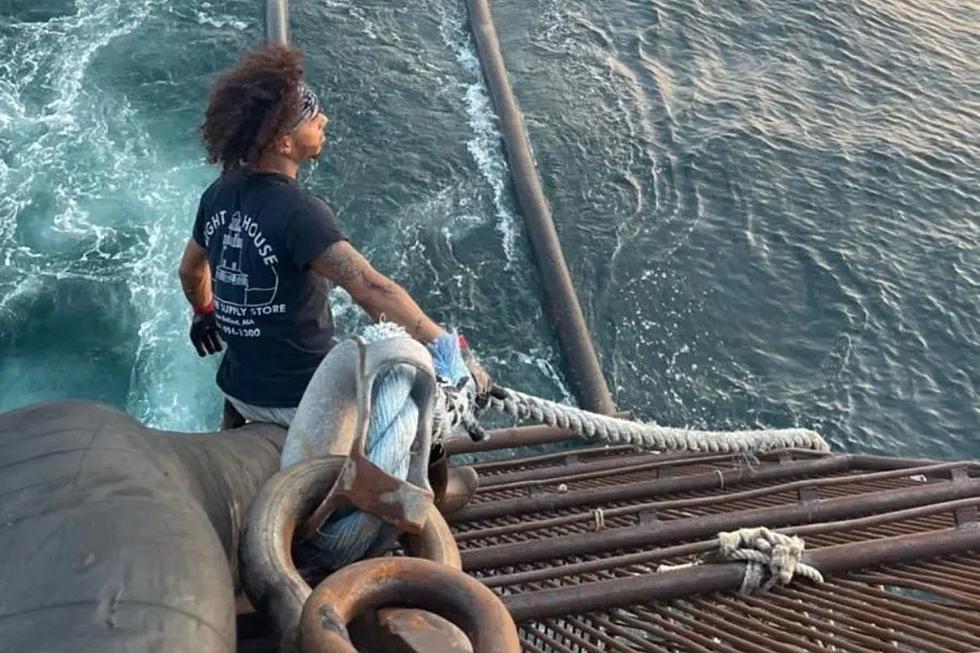 New Bedford Fisherman Captures Creepy Mermaid Screams on TikTok
Courtesy of Ryun Coleman
The beauty of TikTok and social media overall is the ability to learn and witness new things on a daily basis. Today was the day that I started believing in mermaids, and it's all thanks to one local TikToker from New Bedford.
With about a half million followers, New Bedford's Ryun Coleman has earned his way to top as the face of the waterfront on TikTok under the alias Sauce90.
"I was born and raised in Fall River and moved to New Bedford five years ago back in 2016," Coleman said. "I spend around 200 days on the ocean per year and I've been home only eight days in the last four months."
Coleman is the deck boss and task assigned aboard the E.S.S. Pursuit, the largest boat on New Bedford's shores at a whopping 182 feet in length. His tasks include head checks, creating a daily schedule, and reporting back to the captain as well as the boat's engineer tech when needed. On top of constantly making sure the fuel levels are in order, Coleman keeps track of how full the cages are where the seafood is kept after being caught.
'There are 19 rooms and the best part is that everyone has their own room," Coleman said. "There's no sharing needed, it truly feels like a house on the water. It's a good paycheck, but don't be fooled, it's hard work, very demanding, and most certainly not for everyone."
Now that you can get a taste of Coleman's daily life aboard the Pursuit, I need to address his creepy mermaid TikTok where screams were heard coming from the dark waters below the ship.
Make sure your volume is all the way up for this one:
"Being a fisherman, you're out there with the elements of the ocean, you hear the whales, you hear the dolphins. This was nothing like I've ever heard before," Coleman said. "Whales only come to the surface to breathe and give birth and there was no 'air sound.' Whatever this was, the noise was loud and close."
Coleman's capture seems to defy explanation, although it does harken back to the mythological siren of ancient Greece, which would lure sailors with its song to rocky shores, causing shipwrecks.
Only a few hours after posting the video, Coleman accumulated a few thousand views; then, an Austrian TikToker with millions of followers shared and dueted the video and her platform shot him right up.
"I'm grateful for the shares," Coleman said. "That's when TikTok started paying me and I'm thankful for the experiences I've gained from fishing. I've witnessed crazy things out in the ocean, but this one takes the cake."
While his TikTok capture may be creepy, he's using the exposure to spread his message of positivity.
"If you're not happy with your life, you can change it," Coleman said. "Don't surround yourself with negativity. It's ok to be upset in life, but take time to move forward. Stop worrying and set goals, a lot of people can learn from that. Smile more, all you have to do is smile. I woke up today, nothing told me I had to, but I did. A lot of people lose sight of that, so take a step back, breathe and watch your problems melt away. Keep the positivity, man."
25 New Bedford Bars That Are No Longer Here, But That We'll Never Forget
From 908 to the Regal Beagle on Acushnet Ave, these are the bars that are no longer with us but never forgotten.
More From WFHN-FM/FUN 107