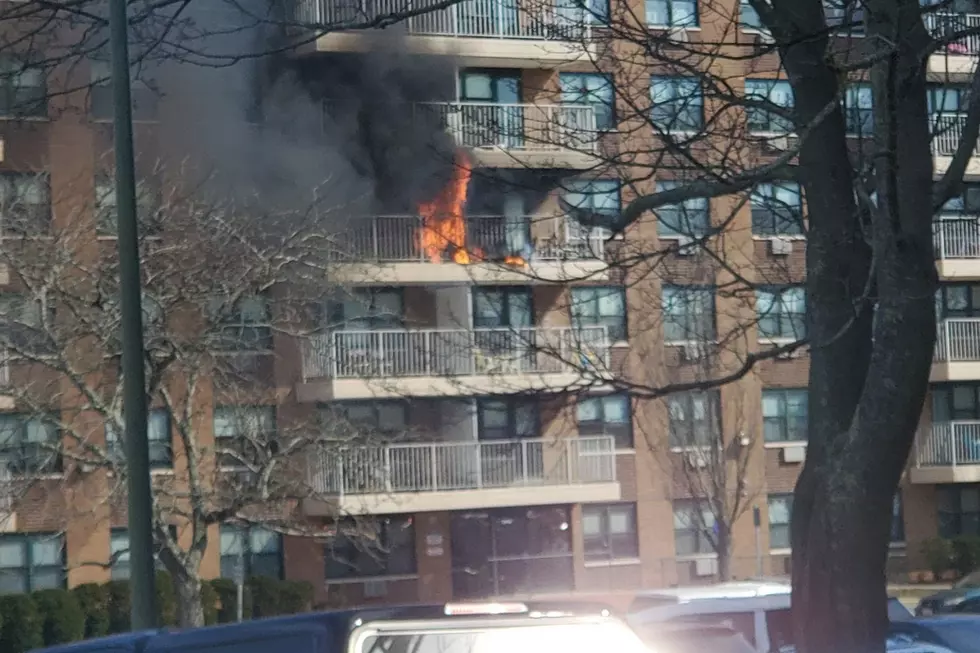 New Bedford Fire Crews Battle Blaze at Harborview Towers
Courtesy Kenneth Linhares, Jr.
UPDATE: The following was posted to Facebook by the New Bedford Fire Department:
"At 1:23 pm this afternoon multiple 911 calls were received reporting a fire at Harborview Towers East. Communications simultaneously received a fire alarm activation as well.
Upon arrival, District Chief Michael Dandurand reported a working fire on the fourth floor and a second alarm response was called. Crews fed and tied into the building standpipe in the north stairwell and advanced two hose lines to attack the fire. Crews were able to confirm the apartment door to the hallway was closed. While crews were preparing for interior operations, Ladder 1 used a master stream to prevent the fire from extending vertically to the fifth and sixth floor.
Multiple crews were tasked with checking nearby apartments and assisting with tenant evacuation. One tenant was transported to St. Luke's Hospital by NBEMS for smoke inhalation.
The cause of the fire was investigated by the NBFD Fire Investigation Unit and determined to accidental electrical. The American Red Cross assisted the occupants of this apartment. One adult and three children were displaced. Two cats located by firefighters were deceased.
NBPD, NBEMS, NBEMA, and the Providence Canteen provided on scene support. Mutual aid was provided by Dartmouth Fire District 1, Fairhaven, and Acushnet Fire Departments."
NEW BEDFORD — New Bedford fire crews knocked down a structure fire at the Harborview Towers apartment building Thursday afternoon.
The fire was reported at 60 South Second Street sometime around 1 p.m. and a second alarm was called just after 1:30 p.m. The fire appears to have been on the fourth floor of the six-story, 72-unit structure.
Shortly thereafter, rescue operations were underway, with every fire apparatus in the city at the scene, according to the New Bedford firefighters union Facebook page.
Mutual aid has been called in from surrounding communities.
How Many in America: From Guns to Ghost Towns
Can you take a guess as to how many public schools are in the U.S.? Do you have any clue as to how many billionaires might be residing there? Read on to find out—and learn a thing or two about each of these selection's cultural significance and legacy along the way.
More From WFHN-FM/FUN 107