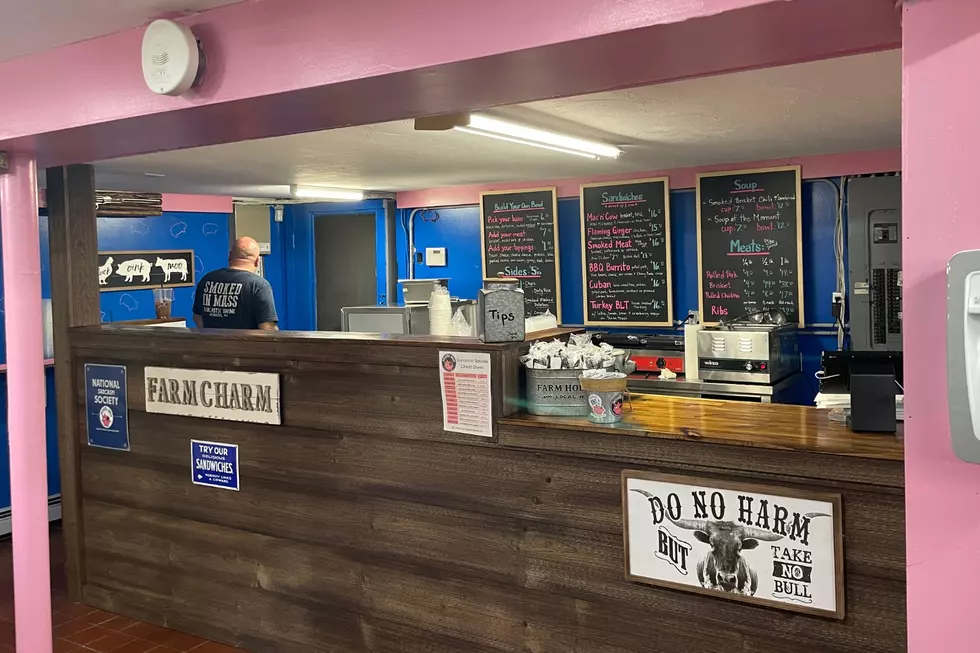 Middleboro Is Getting Some Serious BBQ With New Sarcastic Swine Spot
Courtesy Sarcastic Swine BBQ South
Get ready to go hog wild, as one of Southeastern Massachusetts' favorite BBQ restaurants is expanding to a second location. Abington's Sarcastic Swine Restaurant & Catering is opening a satellite location in South Middleboro.
The new Sarcastic Swine BBQ South will be located inside of the Capeway Convenience Store located at 578 Wareham Street (Route 28).
"It honestly kind of fell into our laps," Catering Manager Mari Kilmain said of the new location. "I've always said some of the very best BBQ I've ever had came from a gas station in East Texas, so for me personally, having a little tiny spot like this felt perfect."
When Will the Sarcastic Swine BBQ South in Middleboro Be Open?
The Middleboro location will officially open on Thursday, January 26. The hours of operation will be Thursdays through Sundays, 11 a.m. to 7 p.m. It will only be available for take out.
Capeway Convenience is located just near the South Middleboro Fire Station and the South Middleboro Cemetery.
"We're very lucky in that it's a really easily accessible spot with plenty of visibility and not a whole lot else around it, but it's on the way to a lot of places, making it great for people in the area or people just passing through," Kilmain said.
Who Is the Team Behind Sarcastic Swine in Middleboro?
Sarcastic Swine BBQ South is owned by Mike Crooks and his business partner Erik Dutcher.
The pit master is Joe Manley.
The manager and person in charge of daily operations is Tristen Brown. Since she's out recovering from knee surgery, Crooks and Kilmain will take the helm to start and get things cooking in Middleboro.
What Will Be on the Menu at Sarcastic Swine in Middleboro?
"We'll be serving our old standbys, like our famous Mac and Cow sandwich, along with some new sandwiches and soups that make it perfect for picking up a quick lunch on your break, or grabbing an easy dinner on your way home," Kilmain said.
The Mac and Cow features brisket, mac and cheese, American cheese and BBQ sauce on grilled Texas toast. Other sandwiches include the Flaming Ginger (chicken, mac and cheese, American cheese and Buffalo sauce on grilled Texas toast), a Cuban sandwich and a BBQ burrito, among others.
You can also build your own bowl, with options such as mac and cheese, dirty rice, housemade chips, smoked mashed potatoes or cornbread topped with brisket, pulled pork or chicken.
There's also the option to order their meats by the pound, as well as ribs by the full rack, half rack or even by the bone.
Sarcastic Swine also offers 11 different BBQ sauces to choose from, starting with "not hot" sauces like honey or hickory, all the way up to "really hot" sauces like "Cherry Bomb" (a mixture of Cherry Pepsi and ghost peppers) and "Blue Beast" (blueberry and ghost chili). For the really brave, there's the "super hot" "Kokua," a pineapple habanero sauce.
There are also plans to offer picnic packs once the weather warms up to pick up on your way to the beach or other outings.
"We'll have our full takeout catering menu available for pickup with 48 hours notice in the new location as well," Kilmain said.
How Will Middleboro Embrace Sarcastic Swine BBQ South?
"We really don't know exactly what to expect with the new location, but one of my favorite things about Sarcastic Swine is that we're so easy going and adaptable. We're happy to see how it goes and respond to the needs of the area," Kilmain said.
"We're all about making people happy with good BBQ, so we'll do it however we can, even if we have to change things up a bit," she said. "Whether that's focusing more on grab and go meals, call ahead pickup orders, partnering with delivery services, or catering, we're willing to do whatever it takes to spread the BBQ joy."
The SouthCoast Hot Wing Project
WBSM's Tim Weisberg and his son Adam spent six months touring the SouthCoast area from New Bedford to Fall River to Dartmouth to Norton and beyond, trying some of the supposed hottest wings around – and also gave some other unique wing flavors a shot, too.
The Dishes to Try Most at Over 100 SouthCoast Restaurants
From the freshest seafood you can find to some of the best dang Portuguese dishes outside of Portugal itself, there are so many dishes to enjoy and love here on the SouthCoast, and we put 'em all into one spot. Check out more than 100 of the SouthCoast's favorite restaurants, and let us know if your favorites made the list.
More From WFHN-FM/FUN 107