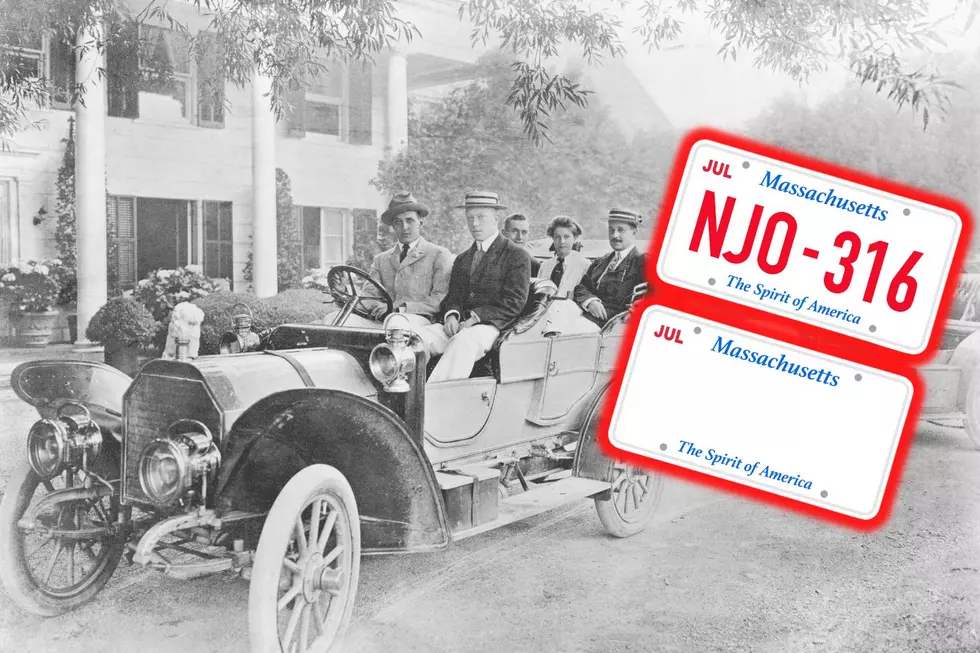 Massachusetts License Plates Have More History Than You Think
Hulton Archive/Getty Images/thinkstock
The license plate has been around for nearly 100 years in America and believe it or not, it all started in Massachusetts.
Though Massachusetts wasn't the first state to require motor vehicles to be registered, it was the first to issue state-created license plates for those vehicles. And it all started with one angry man.
In 1903, the founder of Boston Symphony Orchestra, Henry Lee Higginson, was tired of people speeding on the roads near his summer estate and petitioned for drivers and vehicles to be registered.
A wealthy man with well-connected friends was, of course, listened to and as part of the Acts of 1903, the Bay State created an "automobile department," requiring all drivers to register their vehicles and pay a $2 fee that got them state-issued iron license plates.
Higginson's connection to the license plate wasn't through, however. His nephew, Frederick Tudor of Brookline, held a job with the Massachusetts highway commission. When it came time to ceremoniously present the very first license plate, Tudor was the guy that got it.
In fact, the Tudor family still has license plate No. 1 in Massachusetts and the vehicle they put it on was seen not too long ago in Westport and Dartmouth.
Plate 1 was issued on Sept. 1, 1903, and by the end of the year, 3,241 automobiles and 502 motorcycles were registered and plated in Massachusetts. That meant nearly $18,000 in the state treasury from vehicle registrations earmarked for improving the roads these new cars needed.
But Massachusetts wasn't done adding things to driver's plates just yet.
When cars debuted, basically anyone could drive one. But in 1907 Massachusetts decided that chauffeurs should probably know what they're doing. They passed a law requiring drivers for others to take a chauffeurs exam. Soon after, neighboring Rhode Island became the first state to make all drivers take a test before getting a license.
With all this regulation for all those years, perhaps it's not so surprising that just last fall Massachusetts and Rhode Island were ranked No. 1 and No. 2 respectively for states with the safest drivers.
Though considering the not-so-nice nickname most Massachusetts drivers get called, maybe that is super-surprising after all.
While You're Out There Hitting the Road, These Are the Ones They Say You 'Must-Drive' in Every State
More From WFHN-FM/FUN 107