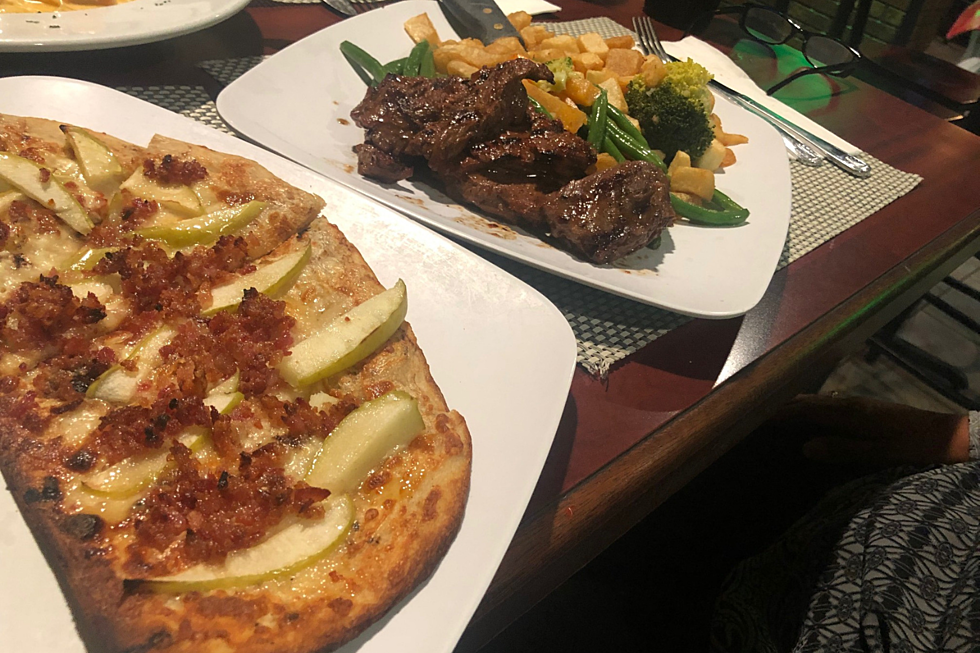 I Finally Grabbed a Bite at Top Shelf Bar and Grill
Jackson/Townsquare Media
There is no doubt that there are tons of great restaurants in New Bedford that I need to drop in and try. My goal is to visit one new spot a week.
This week I decided to head to my old neighborhood and try the spot that Michael Rock had been raving about since I moved that to the area, Top Shelf Bar and Grill. I grew up just a few blocks from there, near Brooklawn Park, so I took the opportunity to drive through my old neighborhood, too.
Back to the food, though. I brought some family with me because I wanted to get more than my taste buds on everything.
First, I was pleasantly surprised at the prices. Very affordable. I ordered from the Tapas menu and got goat cheese with garlic bread. My uncle, who doesn't even like goat cheese, actually enjoyed this. I personally love goat cheese and it did not disappoint.
For the main course, I wanted a sandwich but also wanted a pizza. The waitress accommodated my high maintenance needs and said I could do half orders of both. Perfect! I got the Caprese grilled chicken sandwich and prosciutto and goat cheese grilled pizza. Both were so yummy but the pizza was out of this world.
My aunt got the smothered teriyaki sirloin tips while my uncle got the lobster and shrimp ravioli– and he basically licked the bowl, while my aunt had to take home some to savor for lunch the next day.
I almost forgot to mention, I got a side of mac and cheese. It was so perfectly creamy, it tasted like it was made from scratch.
It was a general opinion that the food at Top Shelf was amazing! We will be going back that's for sure. And now you can try it, too, for just half price. This Friday morning at 9 a.m., we'll have your chance to Seize The Deal and get $50 to Top Shelf Bar and Grille for just $25.
More From WFHN-FM/FUN 107