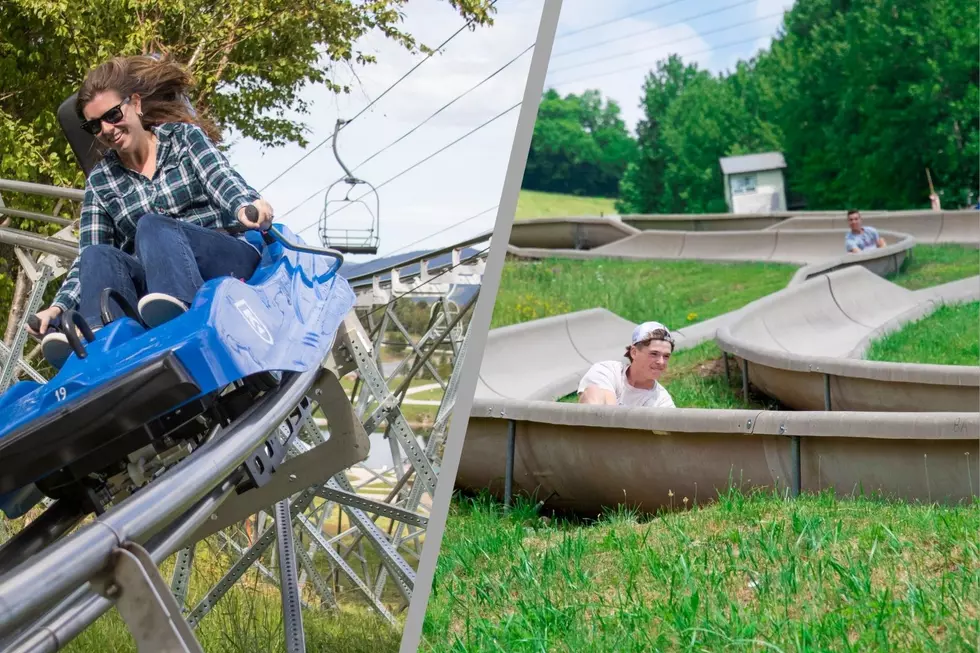 Hit the Slopes on New England's Mountain Coasters and Alpine Slides
Photos courtesy Killington Resort and Bromley Mountain via Facebook
Just because the snow has melted doesn't mean the mountains of New England are no fun. Many mountain resorts in the Northeast offer summertime activities, too. Hiking, biking and ziplining are at nearly all the resorts, but only a handful offer mountain coasters and alpine slides.
If you have never tried a mountain coaster or alpine slide, I can tell you firsthand they are super-fun and can be super-fast. The two rides are completely different, but both offer basically the same thing: a twisty, turny, speedy ride down the mountainside while sitting.
For the alpine slides, the name and the tradition go back to Europe. Made of concrete or fiberglass, these slides allow riders to slide the tracks on plastic sleds with hand brakes created in Germany, but it wasn't long before they were being added to mountainsides in the United States.
In 1976, Bromley Mountain in Vermont built the first alpine slide in all of New England and it is still in operation today.  At the peak of alpine slide excitement, there were nearly 10 such rides across New England, but today there are only three. And just two of them will be in operation for the summer of 2022.
Sadly Attitash Mountain in New Hampshire will not be running its alpine slides or mountain coaster this season. The resort is undergoing some major construction this off-season, including the addition of a new ski lift, so the alpine slides and mountain coaster there will remain closed this summer.
Luckily there are still six mountain coasters operating this season. These rides use tubular steel tracks elevated off the ground to give riders a thrill ride through the trees with sharp turns, big drops and curves where you feel the wind whipping through your hair.
So, if you're ready to try sliding down your favorite New England slope in a totally new way, then keep scrolling to see all the mountain coasters and alpine slides in the Northeast, plus some other summer fun your favorite mountain resort has to offer.
Complete Guide to New England Mountain Coasters and Alpine Slides
Just because the snow has melted doesn't mean there isn't fun to be had on mountains across New England. Many resorts offer off-season activities such as hiking, biking and ziplining.
There are also a handful that use their mountainsides for sliding down in a totally different way. Mountain coasters and alpine slides use gravity to allow riders a speedy descent while seated and these are the mountains you'll find them on in the Northeast.
More From WFHN-FM/FUN 107