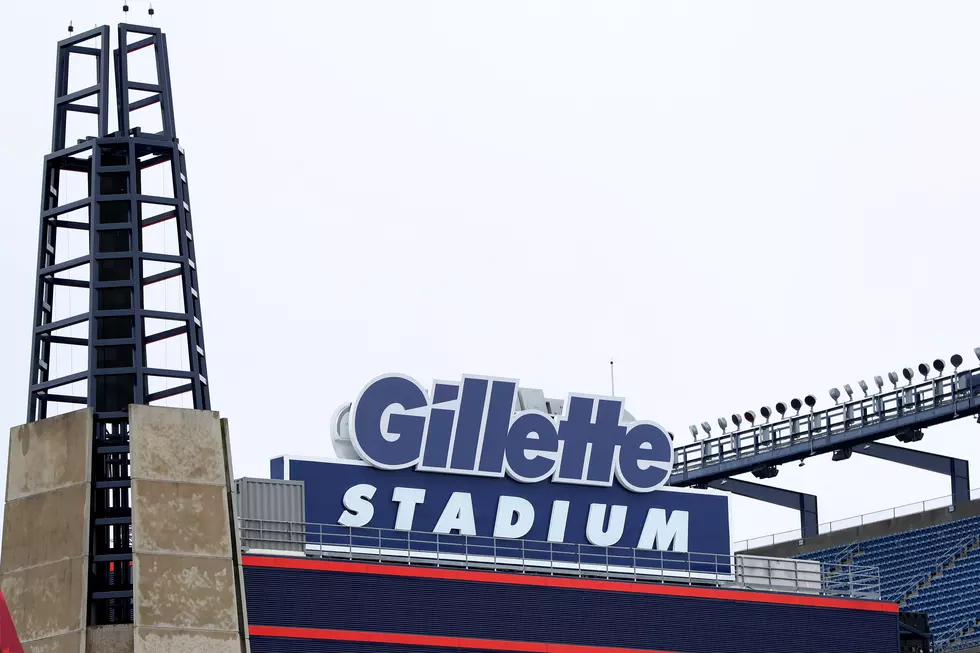 Gillette Stadium Plans on Just 20 Percent Capacity This Season
Getty Images
While it's still unclear if the 2020 NFL season is going to happen, organizations like the New England Patriots are moving forward with potential plans to safely allow fans inside the stadiums, if the current climate of the country allows for it.
If the Patriots and Gillette Stadium can move forward with their new plans, football games are going to look vastly different. Will the allure of Gillette Stadium dwindle with no sold-out games and no Tom Brady?
Here is the official email sent to all New England Patriot ticket holders:
"Thank you for your continued patience as we prepare for the 2020 football season. Today, we are reaching out with new information regarding our expected seating capacity in 2020 and how it will impact Season Ticket Members.
Last week, Gillette Stadium met separately with members of the Massachusetts Reopening Advisory Board and Town of Foxborough officials to present a plan to safely host fans this season. Additionally, we received new requirements and recommendations from the NFL that all stadiums will follow in 2020. Those guidelines include the following stipulations:
Ticketed parties will be required to maintain at least six (6) feet of physical distance from other ticketed groups.
Ticketed parties will be arranged in blocks of ten (10) seats or less.
The first eight (8) rows of the stadium will not be accessible to fans this year.
All ticketholders will be required to wear face coverings inside the stadium.
Most importantly, in accordance with these guidelines – and subject to state and local approvals – should Gillette Stadium welcome fans in 2020 it will operate at approximately 20 percent of its total capacity. Ticket quantity and game availability will be extremely limited and it is unlikely that Season Ticket Members will have the opportunity to attend every home game in 2020. Additionally, Season Ticket Members should expect that if tickets are available, they will be given access to locations within the stadium that are different from their existing seating assignments.
We know these constraints will impact your membership and stadium experience. However, Season Ticket Members who retain their accounts in 2020 will be given priority access to available tickets pending state and local approvals to operate with fans. We are currently working on an updated seating manifest and we will communicate forthcoming details about ticketing inventory, pricing, refunds, and the allocation process as soon as the final number of available seats is confirmed. Tickets will then be made available on a single-game basis to account for adjustments that may need to be made as the season progresses. Please also understand that the impact of our stadium capacity reductions due to physical distancing requirements will prevent us from accommodating any requests for seat upgrades or relocations this season.
We recognize that this information may prompt you to reconsider your commitment to attending games this year. If you have decided you do not wish to retain your Membership in 2020, you are welcome to defer your Season Ticket Membership. Your existing seat location, regardless of whether you retain or defer your membership in 2020, will be protected and available for you to renew in 2021.
If you wish to defer, please let us know prior to Friday, July 31 by completing the 2020 Deferral Agreement on your Patriots Account Manager. Your recent payment will be applied as a credit toward the 2021 season, or we will be happy to offer you a full refund. You will receive a confirmation email within 48 hours of submitting your signed Agreement."
To recap, for the 20 percent of fans allowed to attend, here would be their guidelines:
Ticketed parties will be asked to maintain physical distancing of at least six feet from other parties
Tickets will be arranged in blocks of 10 seats or less, and the first eight rows of stadium seats will not be used
Face coverings will be required at all times inside the stadium to keep all attendees safe
All tickets will be mobile
So what does that mean for non-season ticket holders? Well, 20 percent capacity at Gillette Stadium allows for 13,000 fans, making it difficult for the average ticket buyer. While that remains unclear, the Patriots have announced that parking for the home games will be free of charge in all Gillette Stadium parking lots.
That's all well and good, but it doesn't face the heartbreaking question of "What will it be without Tom?" The Patriots needed a big year to showcase Cam Newton and prove to New England that he is capable of filling Brady's shoes, but now the organization must juggle key player changes while getting fans in seats.
If you are a season ticket holder, will you be attending 2020 games if possible, or now that Tom Brady and the traditional spirit of Gillette is gone, will you be staying home?
TACKLE THESE: Check Out the Best Uniforms In Each NFL Team's History
Enter your number to get our free mobile app
More From WFHN-FM/FUN 107