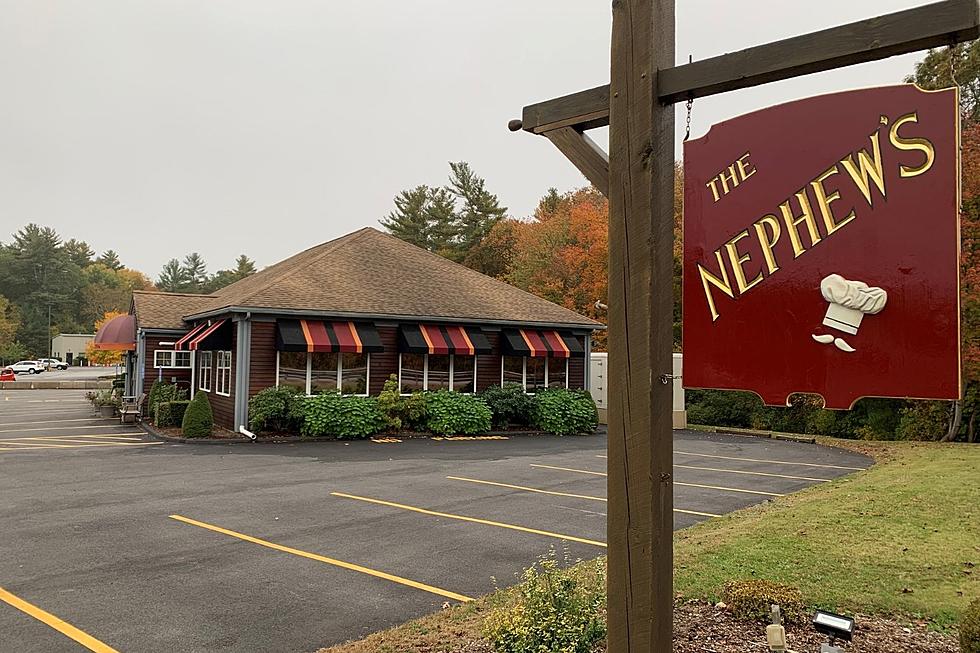 Freetown's Iconic The Nephew's Restaurant Permanently Closed
Michael Rock/Townsquare Media
Some sad news from Freetown. After losing her husband Ron Stapleton two weeks ago, Sandy Stapleton has told her staff at The Nephew's that she has no plans to reopen the popular restaurant.
"She told us that the restaurant is closing permanently," said longtime server Paula Franco. "It's so sad. Ron was a great guy. He worked so hard. It's hard to believe this has happened. I've been there for 13 and a half years, but there are servers who have been there for 20 and 25 years."
"He was the hardest working, kindest, most generous humble man that you could ever imagine."
The lettering on the outdoor sign that usually lists the specials or a witty greeting to customers sat bare last night. The restaurant was locked up tight on a night that it would normally be busily serving dinner.
Michelle Agrella has worked as a server at The Nephews off and on for the past nine years.  "It just feels like home.  It's just weird that it's not there anymore, because you just always expected it to be."
Michelle says she adored working for Ron.  "He ran that whole place.  He would be there for any of us, and he was there for all of us if we needed him."
While Google still lists the restaurant's normal hours, The Nephew's website has been disabled and taken off the internet.
In a post on The Nephew's Facebook page, Sandy Stapleton pointed out Ron's unmatched work ethic that made the restaurant a town favorite.
"He worked tirelessly seven days a week, 12-14 hours a day over the last 26 years to make Nephew's what it is today," she wrote. "He was the hardest working, kindest, most generous humble man that you could ever imagine. We worked side by side, and our children and their friends grew up learning from a great man what it means to truly make something out of nothing."
Stapleton said in a follow up Facebook post this week that she and her family have been overwhelmed by the outpouring of love and support for her family.
19 Festive Corn Mazes in RI, Mass. to Weave Through This Fall
Do you love slipping on your rain boots, getting hopelessly lost in a maze full of corn, and celebrating your successful exit with a warm cup of apple cider? Well seat your butt on a bail of hay and get ready because you're in for quite the treat. 2021 has been a tumultuous year for farmers so far, and although some farms aren't opening their corn mazes this year thanks to the immense amount of rain Mother Nature brought us this summer, there are still some great mazes prepping the corn for the big debut.
More From WFHN-FM/FUN 107