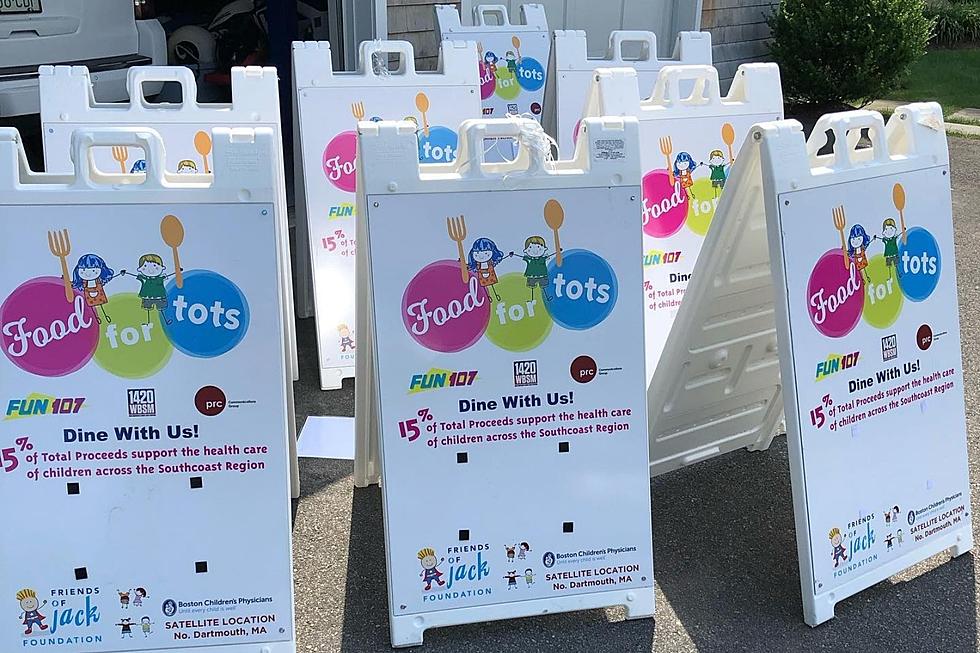 Food for Tots Returns Without Restrictions This Thursday
Friends of Jack Foundation via Facebook
Fun 107 and the Friends of Jack and thrilled to announce the first Food for Tots without restrictions since September of 2019. It's absolutely incredible to think how it's been nearly two years since we've been able to conduct a Food for Tots night without taking COVID-19 restrictions into consideration for the restaurants.
The foundation has also been sensitive to the struggles that our restaurant partners have had (and still have) with respect to COVID. From the limits on capacity to the severe labor shortage that is still happening, these restaurants are still committed to helping the Friends of Jack Foundation help our children here on the SouthCoast.
The Friends of Jack Foundation provides and supports overlooked programs that enhance the physical, mental and emotional health and well-being of children across the SouthCoast.
Here is a list of participating restaurants for this month's Food for Tots.
Riccardi's in Fairhaven
Cask & Pig in Dartmouth
Frontera Grill in Fairhaven
Tropical Smoothie Café in Fairhaven
Little Village Café in Fairhaven
Flour Girls in Fairhaven
If you'd like to help the Friends of Jack Foundation, simply eat and drink at any of these restaurants at any time of day on Thursday. Each of these restaurants have agreed to graciously donate 15 percent of Thursday's sales to the Friends of Jack Foundation.
You don't have to show anything, do anything, or say anything to help. Just show up, eat, and pay your bill normally, and the restaurants will automatically donate 15 percent of what you paid. Food for Tots includes breakfast, lunch and dinner on Thursday.
Fairhaven's Historic Henry Huttleston Rogers' Potting Shed for Sale
See pictures of
18 Cedar Street
, the site of Henry Huttleston Rogers' former potting shed for his greenhouse that could actually be your dream home in Fairhaven Village.
Take a Look Inside This Pristine Fall River Mansion from 1901
The Robert Marshall House is a mansion in Fall River that will transport you back to the early 1900s with its embellished and elegant interior design, and it's currently on the market.
More From WFHN-FM/FUN 107