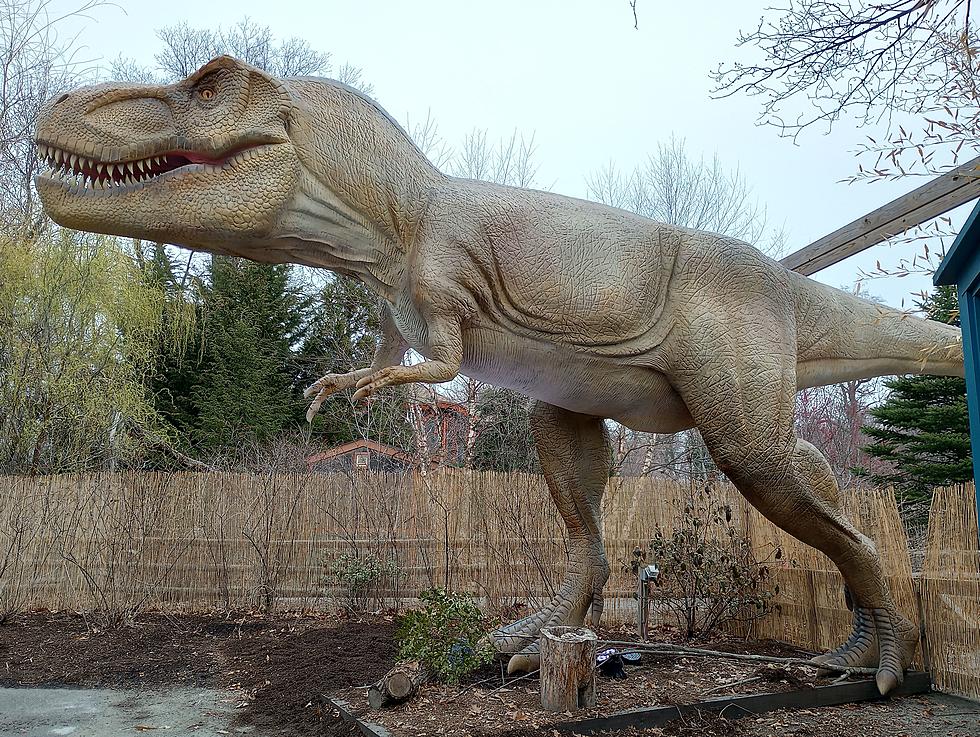 First Look At Providence Zoo's Remarkable New Dinosaur Exhibit
Nancy Hall/Townsquare Media
Dinosaurs have officially arrived at Roger Williams Park Zoo. The Dinosaurs Among Us exhibit is running from April 7 to August 13 and it's a prehistoric sight to see.
Of course, huge life-size dinos are the ones people think of when they see this event, but there is so much more happening at the zoo and throughout the entire park.
Families can explore the Wetlands Trail filled with dozens of dinos, most of which move their arms, heads and mouths. Many even make realistic noises, breathing life into this epic exhibit.
Dinosaurs big and small are moving and making realistic noises throughout the trail, so make sure your little one is ready for big teeth and roars. If not, there will be sensory-friendly days for Dinosaurs Among Us on April 29, May 20, June 17 and July 8.
A food truck night is planned with the Dinos on May 17 and the second Saturday of every month Dinos at Dusk will take over the zoo.
But the fun doesn't stop when the trail does.
Just outside the Big Backyard area is a young dinosaur lover's dream. Huge sandboxes with bones for digging up, a massive T-Rex head where you can pose for pictures, even dinosaurs kids can ride and dinosaur ATVs for racing.
For older dinosaur fans, the zoo is adding bird shows and encounters throughout the summer to discuss their connection with dinosaurs and get zoo guests up close with falcons, cranes, owls and more.
Zoo staff also revealed that an authentic T-Rex skull will be on display at the zoo starting in May.
Outside of the zoo, the Natural History Museum, the Botanical Garden and other spots throughout the park will get in on the dinosaur fun, too. You can learn about species of dinosaurs that lived in Southern New England during the Mesozoic Era as well as the types of plants that would have been growing locally for herbivores to eat.
The project has been a huge undertaking for the zoo and the results are simply stunning.
Keep scrolling for a sneak peek at the dinos big and small wandering the wetlands at Roger Williams Park Zoo.
See the Dynamic Dinosaurs Wowing Guests at Roger Williams Park Zoo
If you're wondering what the Dinosaurs Among Us exhibit at Roger Williams Park Zoo is like, these pictures may help you out.
From towering T-Rex to toddler Triceratops, the new walk through the Wetlands Trail has over 60 animatronic dinosaurs of all sizes hanging out.
Here are a few you can see for yourself through August 13, 2023.
20 Things To See at Roger Williams Park (Other Than the Zoo)
There are over 427 acres of beautiful landscaping, historical buildings and family friendly spaces at Roger Williams Park in Providence. Gifted to the city in 1872 by the last descendant of Roger Williams, Betsey Williams, the park has become primarily known for its amazing zoo. But throughout this historic district listed on the U.S. National Register of Historic Places, there are plenty of other stunning things to see.
More From WFHN-FM/FUN 107