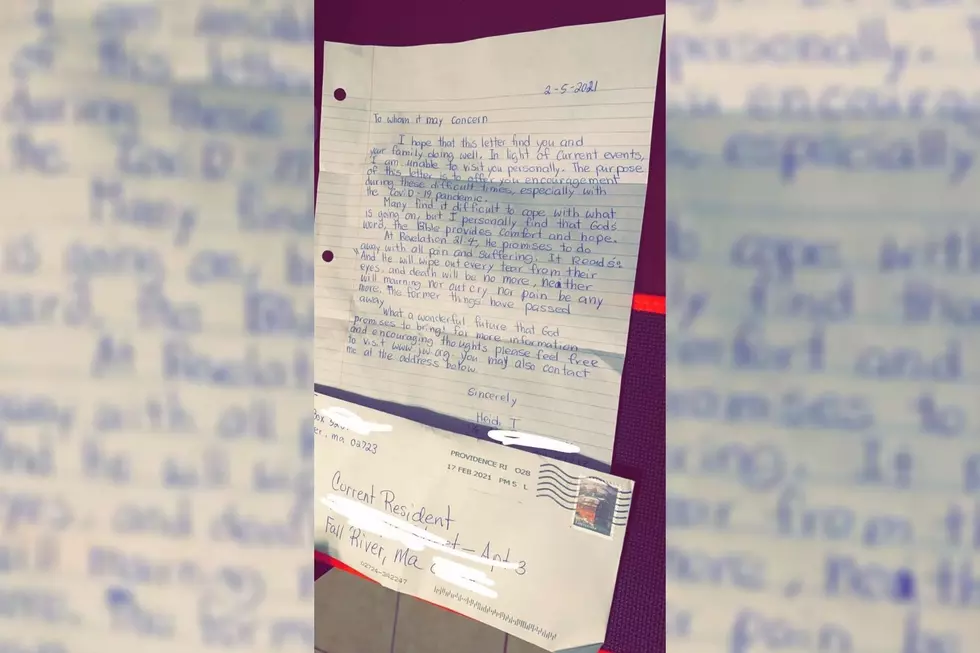 Fall River Resident Receives Random Message When Needed Most
Contributed Photo
On Tuesday evening, a friend of mine who lives in Fall River received a random letter in her mailbox that ended up helping her.
Two things I'd like to address before carrying on with this story:
First, for privacy reasons, I've decided to keep this person anonymous. They were nice enough to let me share the story, so I'm grateful and don't want to cause them any grief as a result.
Second, yes, religion is involved and in no way are my thoughts or intentions blasphemous. As a Catholic person myself, I simply find this letter intriguing and heartfelt.
The story goes like this: after going through a bit of a rough patch with life in general, my friend – who would give the shirt off their back to anybody – was feeling down and out. Although they don't show it, it was weighing heavy on their shoulders, so this letter was the pick-me-up needed at the time.
This was their reaction to finding the hand-written note:
"God works in weird ways. I grab my mail tonight and saw I had a random letter. I just had a conversation with one of my best friends on what I was dealing with and, bam, this letter relates very well in some very odd way."
What intrigues me the most is the fact that this letter was handwritten – a dying trend these days. The pandemic has certainly brought out some of the best of things we had forgotten before.
I also noticed that the letter appears to have a neutral tone to it as if it could have been written to anyone. However, it was more than just luck to my friend, it was a sign of hope.
"I don't know who sent it, I just know I needed it," my friend explained.
These days, it shouldn't matter the context of certain things, but perhaps the meaning behind it or the hidden message between the lines. We are so quick to judge the bigger picture when it's the underlying little things in life that a majority of us are blind to.
Whoever you are, Heidi T, you may not have captivated an entire audience, but you most certainly affected the life of one individual and to that one person, you've made the world of a difference. Even if it is just a random letter, the kindness was well received.
Goosebumps and other bodily reactions, explained
More From WFHN-FM/FUN 107