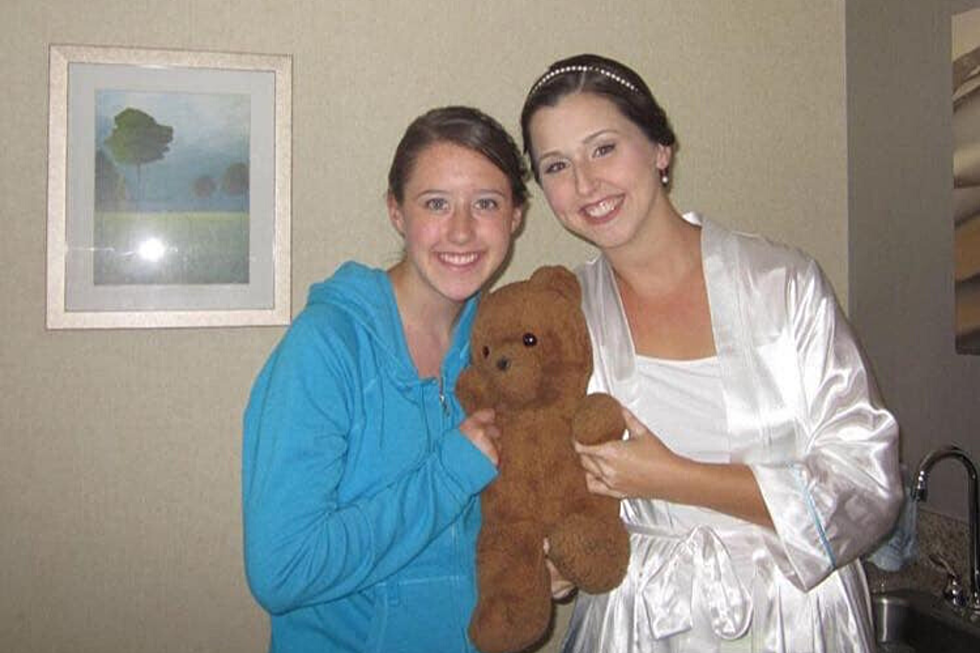 Facebook Rallied Behind a Massachusetts Woman's Lost Teddy Bear
Carlie Brainard via Facebook
Carlie Brainard posted about a lost sentimental item on Facebook on Saturday, February 22.
"I need help tracking down a lost item! On Friday, February 21st, I took the #170 train (Northeast Regional headed to South Station) from New Rochelle, NY at 8:56 am to RTE 128 Westwood, MA arriving at 12:32. When leaving, I left my bag, a Vera Bradley Duffel, in the overhead compartment. I couldn't care less about all the replaceable items in the bag, but as childish as it sounds, my teddy bear, Mr. Brownies was in that bag and has irreplaceable sentimental value. The bear has been passed down in my family for over 30 years, and I've had him since I was about 3 years old. Mr. Brownies has truly been there for me through it all (nightmares, sleepovers, deaths, stay away camps, depression, breakups, fights, divorce, college, deaths) and I don't think I've ever loved a possession more. He is a 1985 Vintage Dakin Fun Farm Honey Jo Teddy Bear, 22 inches, wearing a Patriots baby onesie cut into a T-Shirt (pictured) I've filed a missing items claim with Amtrak, but am so anxious I decided to take matters into my own hands via the Internet. I cannot stress this enough: whoever has the bag can keep literally everything else, all I need is my Teddy Bear back!"
Every single one of her Facebook friends turned into a Portuguese grandmother and prayed to Saint Anthony in hopes that this woman would be reunited with her beloved stuffed animal. The post was shared 270 times, including to several news outlets and #SaveMrBrownies became a thing.
Thankfully, this story has a happy ending. Brainard posted an update to the thread on Monday, February 24.
"THE BAG HAS BEEN FOUND AT SOUTH STATION! Thank you to everyone who's had any part of sharing this whole fiasco with me! Never thought 200+ people could ever care about my Teddy Bear in a dead serious way for the whole internet to see!"
My faith in humanity has been restored after reading this thread. All this woman wanted was to be reunited with her faithful Mr. Brownies and it will come true due to so many people praying for it to happen. A sweet way to start the week.
Enter your number to get our free mobile app
More From WFHN-FM/FUN 107