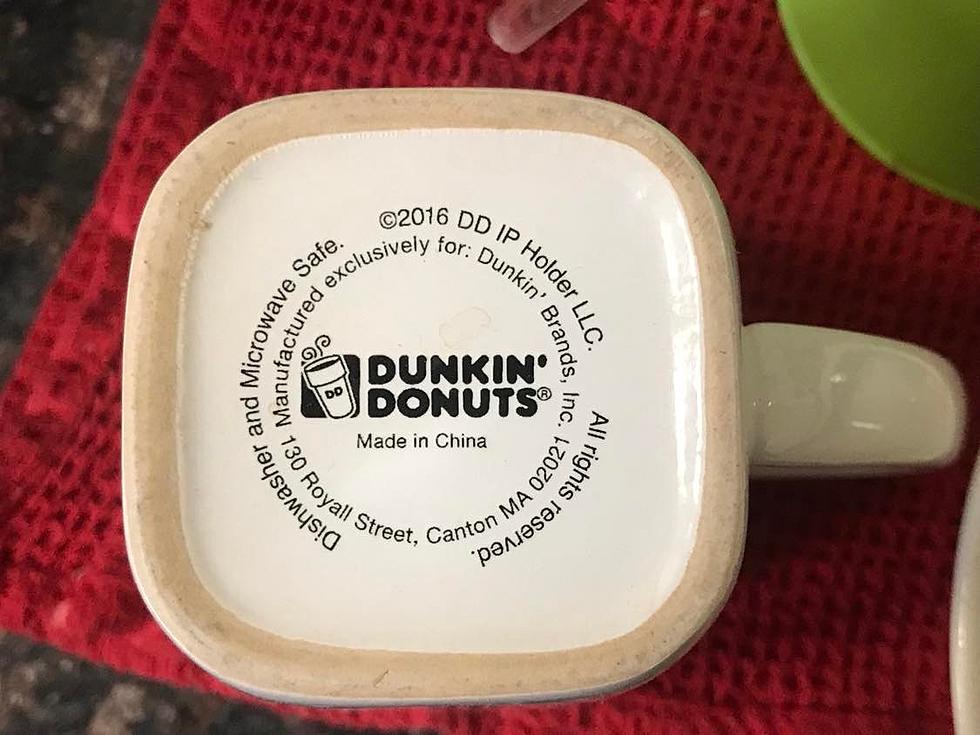 America Runs on Dunkin' With Mugs Made in China
Barry Richard/Townsquare Media
One of the greatest mom-and-pop business success stories of all time is that of the Massachusetts-based Dunkin'. According to Wikipedia, it all began with a single shop opened by Bill Rosenberg in Quincy, Massachusetts, in 1950 and has exploded into a multinational operation with an estimated 12,900 locations in some 42 countries.
That's a lot of coffee.
When I was a kid, what was then called Dunkin' Donuts was primarily a donut shop. You might grab a dozen donuts for a family gathering or a special treat, but that was about the only time you would visit Dunkin' Donuts. In fact, I can only recall one or two locations in New Bedford.
There was no coffee craze back then, and certainly no Salted Carmel Cream Cold Brew, macchiatos, or Coolattas. No one sat in line at a drive-through window to have their app scanned to claim their Frozen Matcha Latte. The drink menu is impressive.
That all came about through a series of acquisitions and rebranding campaigns which led to Dunkin' Donuts becoming simply Dunkin' or DD, a "beverage-led company." Dunkin' is currently headquartered in Canton, Massachusetts, and is owned by Inspire Brands.
Walk into a DD location and be greeted by a wall of coffee-themed merchandise. There are t-shirts, coffee mugs, canisters, Christmas ornaments, gift cards and more.
You can even buy a pound of two of Dunkin' coffee beans to bring home and brew yourself. They also have an arena sponsorship in nearby Providence in the Dunkin' Donuts Center, affectionately known as "The Dunk."
Without a doubt, Dunkin' is a success. An American success story. The company sells American-themed mug sets, a different mug for each state. They actually have several sets based on the same theme.
I just wonder why can't they find an American company to manufacture those mugs, because the entire line is made in China.
Suggestions For Dunkin Donuts Center's New Name
The Dunk may need a new name this spring. Fun 107 has a few suggestions of some other iconic Rhode Island businesses that could step up and get their name on the former Providence Civic Center next.
Tour the World With Barry's Mug Collection
Barry Richard collects two things from the places he's visited: hooded sweatshirts and coffee mugs. He likes to use the mugs when he's home or at work so that he can remember the places he's been and keep those vacation feelings alive. He shares just some of his collection with us.
More From WFHN-FM/FUN 107