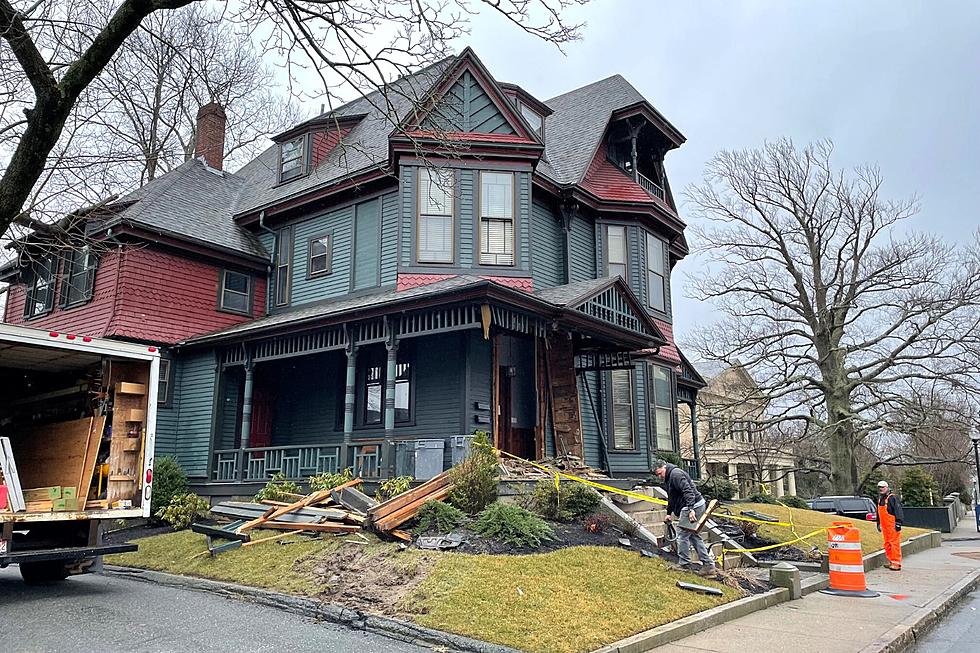 Charges Sought After Historic New Bedford Property Damaged in Crash
Kate Robinson/Townsquare Media
NEW BEDFORD — Police are seeking charges against the juvenile driver of a stolen vehicle that crashed into a historic New Bedford property — while allegedly fleeing from a fight — early Tuesday morning.
Known as Barristers Hall and located on County Street next to the historic Rotch-Jones-Duff House, the building was constructed in 1825 as a home, but now houses office spaces on the first two floors along with a third-floor apartment.
On Tuesday, the wreckage from the front porch could be seen as workers tried to tidy up the mess.
New Bedford Police spokesman Lt. Scott Carola said units responded to a group fight near Court and Emerson streets at around 1:30 a.m. Tuesday.
Before officers arrived, a vehicle fled the scene and was later spotted speeding south on County Street, Carola said.
According to police, the vehicle crashed into the historic 398 County St. property and its occupants were seen fleeing on foot.
The vehicle was later found to have been stolen out of Brockton.
Both the driver and another occupant, also a juvenile, have been identified by police and charges have been requested, Carola stated.
He did not specify if both juveniles will be charged, or what the charges will be.
Barristers Hall had recently been renovated, after it was sold for $250,000 in the spring of 2019.
A Google Maps image from October 2019 shows the work being done.
Peek Inside New Bedford's Historic Rodman Mansion
This 1833 granite mansion on County Street was designed by architect Russell Warren in the Greek Revival style. It now houses office condo spaces, but some of its former glory is still visible!
Hilarious Google Reviews of the New Bedford-Fairhaven Bridge
We've all been there. You think you've made it with a couple of minutes to spare, only to get caught at the red light as the bridge closes. Some of us turn around. Others wait. What most of us don't do, however, is take our anger to the internet — but apparently, several people have, and the results are both hilarious and relatable.
With an average rating of two stars on Google, our love-to-hate-it SouthCoast landmark proves that it's at least slow enough for those stuck waiting to grab their phones and pour out their feelings online. From glowing to glowering, here's what people have to say about the New Bedford-Fairhaven bridge.
More From WFHN-FM/FUN 107