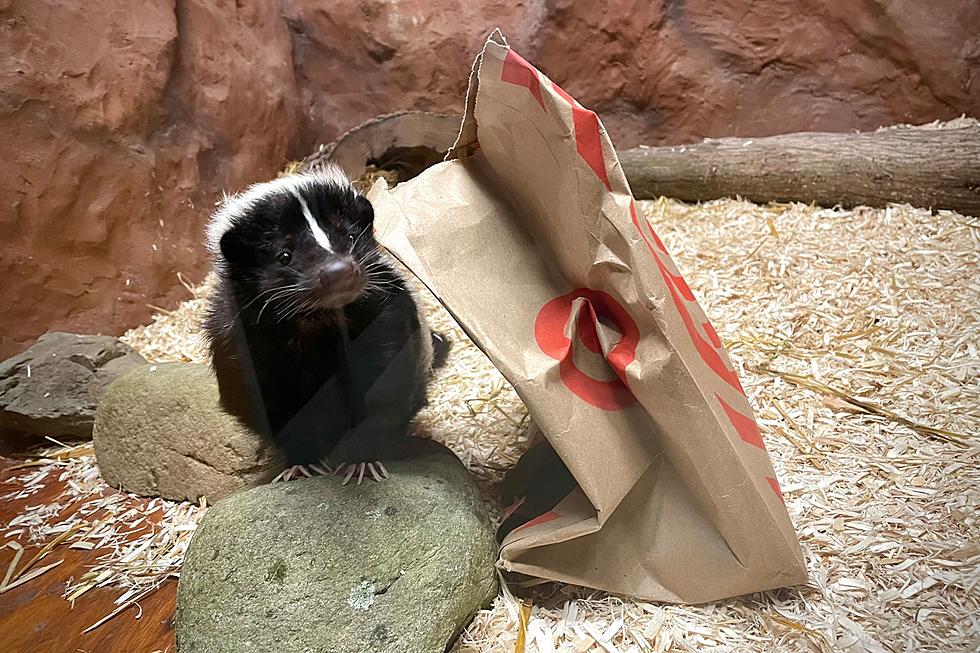 Capron Park Zoo Introduces New Skunk With the Sweetest Eyes
Capron Park Zoo
Capron Park Zoo in Attleboro just introduced its newest member, and boy, he sure is a cute lil' stinker.
Pepé the skunk, paying homage to "Looney Tunes'" Pepé Le Pew with his name, came to the Capron Park Zoo from Jacksonville this past spring, and is finally making his debut in the zoo's Nocturnal Building. Because of his nocturnal nature, zoo visitors might not always be able to catch Pepé while he's up and about, but the zoo recommended visiting his exhibit either in the morning or later in the day for the best possible chance to catch him while he's awake.
Capron Park Zoo Curator of Education Melanie Fernandes gave us a little peek into this adorable guy's unique personality.
"His personality is pretty easy going, but he does have poor vision so that can make him a little cautious and occasionally a little nippy," Fernandes said.
But who could blame him? When it comes down to it, Pepé is still a wild animal. It just so happens he is living in captivity with the folks at the Capron Park Zoo. And with a name as perfect as Pepé and those sweet, inquisitive eyes, how could you possibly not love this little guy?
Speaking of the Capron Park Zoo, did you catch all of the brick animals on display throughout the park earlier this year? In case you missed it, take a look through these photos. The masterpieces these artists can create with plastic bricks never cease to amaze.
Attleboro's Capron Park Zoo Is Crawling With Brick Animals
Check out all the amazing animals made of plastic bricks on display this summer at Capron Park Zoo in Attleboro – and try to imagine how many bricks it took to make these things.
Longplex Family and Sports Center in Tiverton Is Finally Complete
After years of construction, Tiverton's Longplex Family and Sports Center is complete. Here's a look at the newest and most up-to-date sports complex on the SouthCoast.
Embrace Your Inner Child on These Light-Up Swings at a Boston Playground
Bring on the lawn games, cold beverages and the coolest swings we've ever seen!
The Lawn on D
is a must-visit spot in Massachusetts, and we've got your peek inside before you make the trip into the city.
More From WFHN-FM/FUN 107