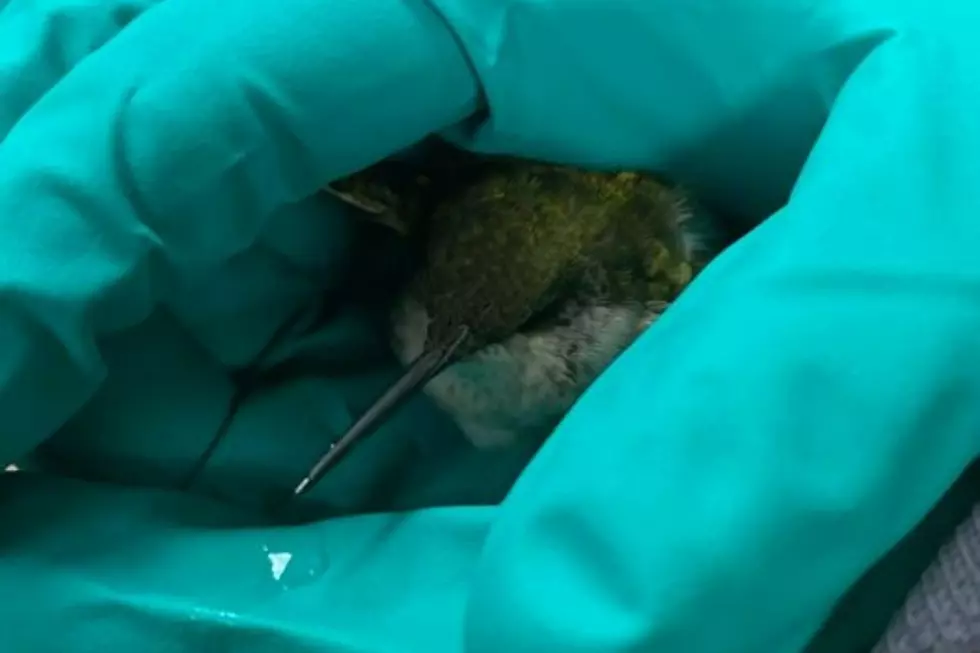 Buttonwood Park Zoo Rescues and Releases Sick Hummingbird
Kristy Kaeterle / Buttonwood Park Zoo
Buttonwood Park Zoo staff members and zookeepers take excellent care of their in-house residents, but they recently had to extend their services to a tiny hummingbird.
According to Sarah Henry, Acting Executive Director of the Zoological Society, the hummingbird was found on zoo grounds on Wednesday, May 11 near the butterfly garden.
"It had some material wrapped around its beak, potentially a spider web," said Henry. "It was weak, lethargic, and dehydrated."
Henry explained that caretaker Steph Durette-Medeiros was easily able to scoop up the small bird and bring it to our veterinary clinic. There, the hummingbird received fluids and was fed glucose with a syringe by Buttonwood's veterinarian, Dr. Lipanovich.
BPZoo shared a photo of the patient on Facebook as a "Part One" of the rescue story. It was not long before they were able to share "Part Two."
"Luckily, it began to perk up and eat," Henry said. "It was kept overnight for observation and released on Thursday morning."
Thanks to the quick thinking of caretaker Steph Durette-Medeiros and the excellent care provided by Buttonwood's veterinarian, Dr. Lipanovich, the hummingbird was able to be released the very next day.
Although he or she was never given a name, the hummingbird found a special place in the hearts of all the staff members as several gathered around to witness the release after rehabilitation.
No doubt that it was a rewarding experience to be able to care for an animal in need.
Massachusetts Laws You Don't Even Know You're Breaking
There are a lot of strange laws still on the books in Massachusetts, many that also carry actual punishments and fines. Though we're pretty sure no one has been arrested for the crimes we're about to list, we're also pretty sure you have violated at least one of these laws in the last month or so.
25 Successful SouthCoast Women Whose Hard Work Paid Off
Women's History Month has come and gone, but these SouthCoast women deserve recognition all year long for their hard work and success. We know there are many, many more out there, and we hope these ladies, in their own words, honor the local network of female entrepreneurs that grows stronger by the day.
More From WFHN-FM/FUN 107