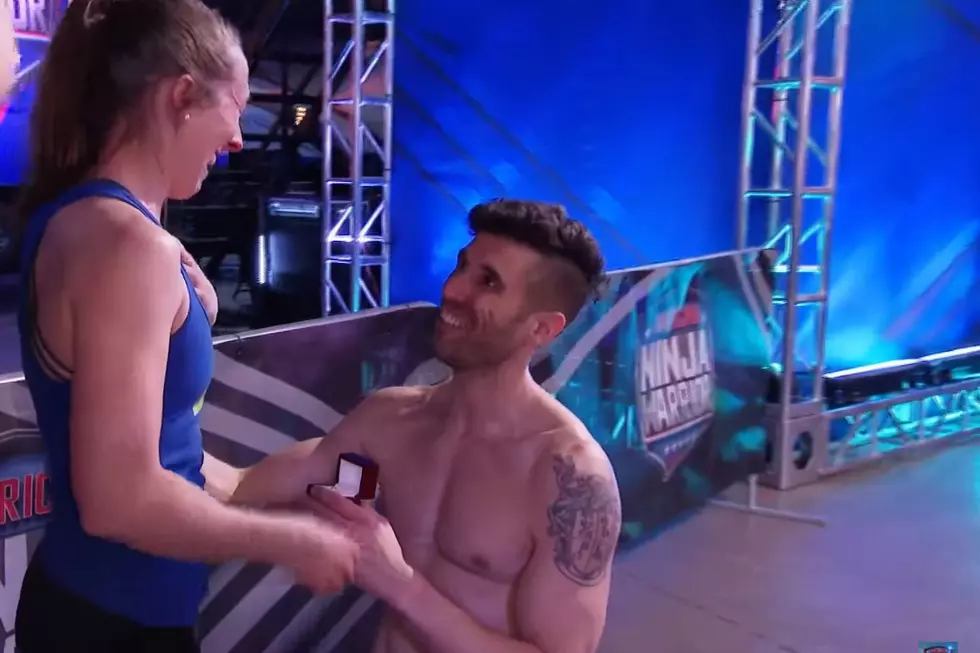 Obstacle Course Leads New Bedford 'Ninja' Couple to Tearful TV Proposal
American Ninja Warrior via YouTube
James McGrath is still getting used to the lay of the land here in New Bedford.  He's still learning the names of the city's parks and wasn't entirely sure of the name of the old factory next to his apartment.
McGrath is a transplant from Seattle, but moved to the SouthCoast after meeting New Bedford native Allyssa Beird on the hit NBC show "American Ninja Warrior." The two of them have been in competition for multiple seasons and ended up falling in love.
During his latest appearance on the show, McGrath had a plan. He decided that he would propose to Beird in front of the cameras, but it hinged on one thing. He'd only propose to her if he successfully made it through the obstacle course and hit the button to win $10,000.
His adrenaline must have been running sky-high because seconds after crushing the course, McGrath dropped to one knee and asked Beird to marry him on national television.
Beird immediately said yes.
During his visit to Fun 107 Thursday morning, we asked McGrath if he was serious.  Would he have really not proposed if he failed the course?  Surprisingly, he insisted that he wouldn't have done it.
Where on the SouthCoast does an athlete of his caliber work out?  I may be biased, but after seeing McGrath's stamina on TV, I assumed he was a Crossfitter, but he is not.
"There are dedicated ninja gyms," McGrath said  "If you want to get on obstacles like you see on the show, you can go to a ninja gym. In fact, there are more ninja gyms packed within a three-hour radius around here than in just about anywhere in the country."
James told us that he gets his endurance from running. He is an avid runner and you'll see him jogging several times a week around different parks in the city.
With McGrath's latest successful completion of the course, it sets him up for an appearance in the semi-finals in Los Angeles, to air on NBC some time in July.
"I have never felt better going into a competition," said McGrath.
McGrath says that he and Beird are still unsure about where or when they want to get married.
Watch the proposal here.
SouthCoast's Fittest Crossfit Athletes
Using the results from the 2022 Crossfit Open, here are the SouthCoast's Fittest Crossfit Athletes.
30 famous people you might not know were college athletes
Stacker
dug deep to find 30 celebrities who were previously college athletes. There are musicians, politicians, actors, writers, and reality TV stars. For some, an athletic career was a real, promising possibility that ultimately faded away due to injury or an alternate calling. Others scrapped their way onto a team and simply played for fun and the love of the sport. Read on to find out if your favorite actor, singer, or politician once sported a university jersey.
More From WFHN-FM/FUN 107