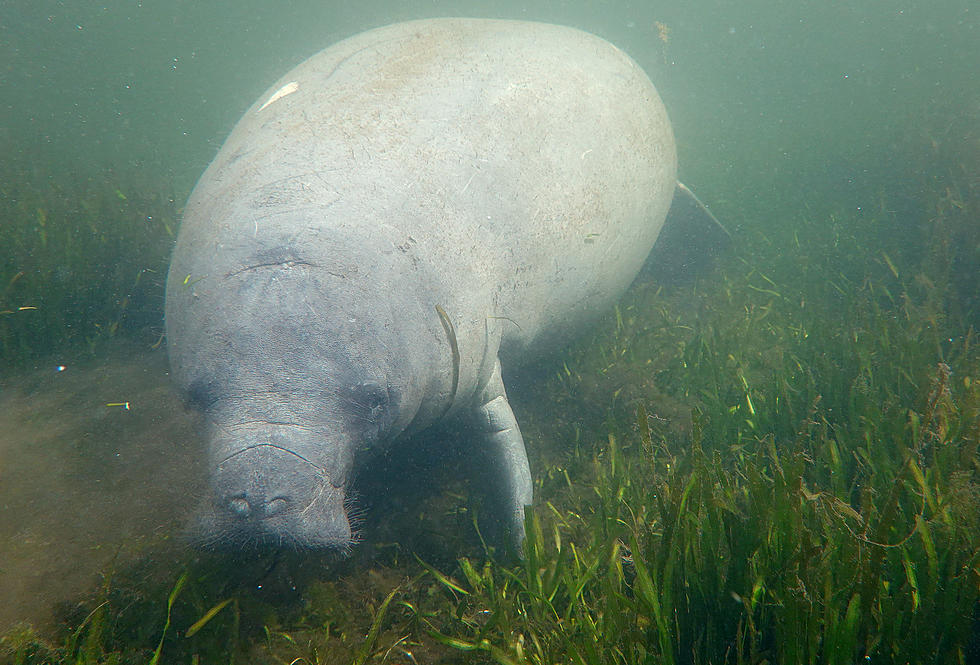 Amazing Manatee Sighting in Rhode Island Shows How Warm Waters Are
Joe Raedle/Getty Images
If you were wondering how warm the waters around Southern New England were these days, a recent marine animal sighting in Rhode Island will tell you.
The Rhode Island Department of Environmental Management (RIDEM) reported the spotting of a West Indian manatee in Charlestown's Quonochontaug Pond.
Now the public is being warned about the dangers on attempting to interact with this endangered marine animal.
Yesterday, RIDEM shared a photo of a pretty big manatee just hanging out by a dock in Quonochontaug Pond.
They wanted to let boaters, kayakers, paddleboarders and more aware of the endangered marine animal in our area not only because it is so rare, but because the laws protecting manatees are so strict.
Manatees are protected by the Endangered Species Act and Marine Mammal Protection Act. Violating either of these acts can get you a year in jail or fines ranging up to $50,000.
So they are no joke.
Boaters are being reminded to adhere to no-wake speeds when the manatee is in the area and the public is being urged to maintain a safe distance as well.
Though the rare manatee in Rhode Island is sure to draw crowds to Charlestown, people should not try to get anywhere near the animal. Just touching a manatee could cause you to be fined. RIDEM says a safe distance to keep is 150 feet away.
How Did a Manatee Get into Quonochontaug Pond?
This manatee is the first to be spotted so far north since 2016 when one was seen swimming off the coast of Cape Cod. Getting into a pond seems much trickier though, right?
Quonochontaug Pond is actually more of a lagoon that is directly connected to the ocean via Quonochontaug Breachway. The manatee likely swam up this breachway to get into the warm, salty waters in search of sea grass and other food.
Manatees, also known as sea cows, love living in shallow, slow-moving bodies of water with plenty of sea grass and fresh water vegetation around. They also prefer warmer water, which is why you typically find them in Florida in the U.S.
Currently the Southern New England waters are warm enough to support this manatee, but things will be changing. That's why the Mystic Aquarium, DEM and the U.S. Fish and Wildlife Service are monitoring this manatee and making sure it heads back south in time to stay happy and healthy.
However your sightings can be reported to the Mystic Aquarium Animal Rescue Hotline at 860-572-5955 x107. Their animal rescue team is definitely trained in saving sea creatures of all kinds and releasing them back where they need to be.
Endangered Sea Turtles Released Back into Atlantic Ocean
The Mystic Aquarium Animal Rescue Team saw another set of rehabilitated animals returned to their ocean home recently with the release of five endangered sea turtles down in North Carolina.
One loggerhead sea turtle and four Kemp's ridley sea turtles were the aquarium's part of a 26-sea-turtle release from four different animal rescues across the Northeast. See these endangered animals as they returned to their ocean home after months of treatment for their cold-stunning damage suffered in Cape Cod Bay.
All the Photos from the Grey Seal Release at Blue Shutters Beach in Charlestown
The Mystic Aquarium Rescue Program released a juvenile male grey seal on Tuesday at Blue Shutters Beach in Charlestown, Rhode Island. It was the first public release in two years and the crowd loved watching this seal pup head back home.
More From WFHN-FM/FUN 107