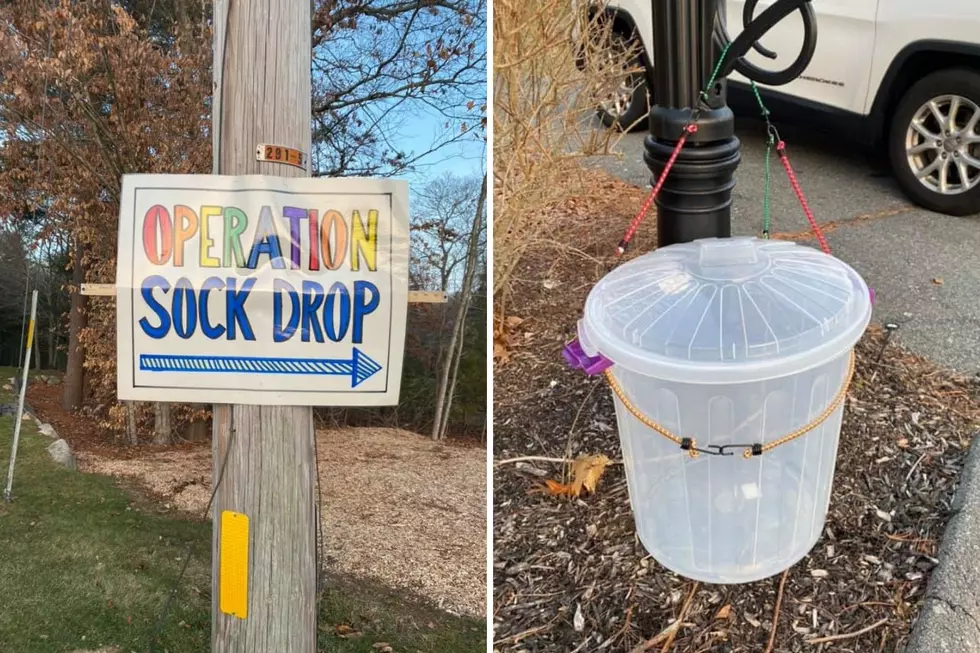 Acushnet Woman Participates in Operation Sock Drop
Courtesy Anne Tavares-Buker
Not many things are guaranteed, but one thing is for sure: January on the SouthCoast is cold.
We have been fortunate to have a mostly mild winter, but when the sun goes down, there is always a brisk reminder that the temperature has dropped. And when I get into my pajamas, put on some slippers, and cozy up under a blanket, I remind myself how fortunate I am to be able to keep myself warm. So many homeless people are struggling to endure the winter temperatures, so one Acushnet woman decided to make a difference.
Anne Tavares-Buker caught my attention when she posted a picture of a clear trash bin to a local Facebook group. Above the trash bin read, "Operation Sock Drop" written out in big, bright colors.
"Operation Sock Drop is up and running!" she wrote. She went on to say that she teamed up with Catching Joy to collect new socks for the homeless, "as they are the most requested item in shelters."
Tavares-Buker shared with me that her good friend Joy Surprenant and her son, Maxwell, started a charity program called Catching Joy. According to its website, Catching Joy is a nonprofit organization that promotes youth volunteerism and acts of kindness and organizes service opportunities to share the responsibility and joy of giving. They host the sock drop every year, and since they are based in Needham, Tavares-Buker saw it as an opportunity to bring the mission to Acushnet.
I love hearing about caring neighbors that go out of their way to help others. I will admit that I can get lost in my own problems sometimes and become oblivious to the world around me, and its initiatives like this that remind me to see the bigger picture and extend a helping hand whenever possible.
You can find Anne's Sock Drop location at 17 Siamese Avenue in Acushnet.
CHECK IT OUT: The best county to live in for each state
Enter your number to get our free mobile app
More From WFHN-FM/FUN 107