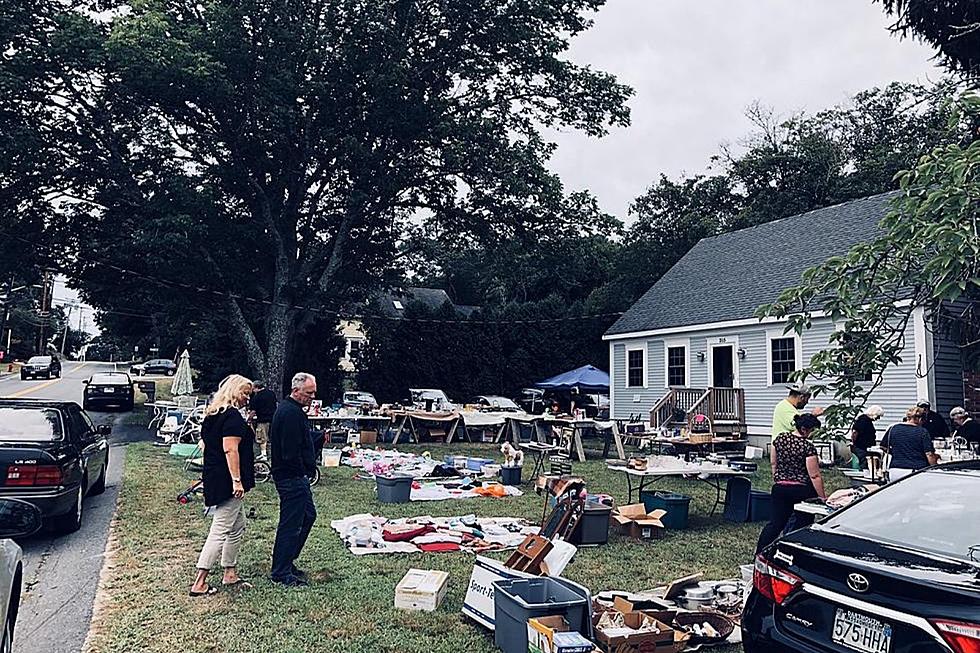 Acushnet's Town-Wide Yard Sale to Feature More Than 100 Households
Michael Rock/Townsquare Media
Acushnet's annual yard sale keeps growing bigger and better every year, and there's now even a guide to make your yard-saling experience more efficient in 2021.
Even after the town's Apple Peach Festival was canceled due to a lack of preparation time, community members decided to continue on with the unofficial town-wide yard sales that have historically accompanied the festival.
"[I] am still relatively new to town, but from what I understand, people [have] always had yard sales the same weekend as the Apple Peach Festival," Kelsey Janak of Spruce Up Acushnet said. "When I asked the All Things Acushnet [Facebook] group if the town ever had a town-wide yard sale –my friends in Carver just had their first one and it was a hit, so I wanted to try and organize one – this was brought to my attention."
The yard sale is quickly approaching, set for September 11 and 12 from 9 a.m. to 2 p.m. each day, and now, shoppers will be able to go in with a better plan and better organization than ever before.
Throughout the past month or so, Janak has been hard at work, putting together a guide of over 100 participating homes and what all they'll be selling. From designer handbags and door signs to Legos and furniture, there's something for everyone, and shoppers will be able to know which sales peak their interest ahead of time. Some sales will be fundraising for local SouthCoast charities and animal shelters, while others will feature lemonade stands, fruit stands and more! Janak even organized the guide into a route of sorts through Google Maps view, in case you're wanting to keep the day rolling in the most logical way.
So go ahead – Take a look and start planning out your weekend at Acushnet's town-wide yard sale. With over 100 sales to pick through, you're bound to bring home more than a few treasures!
How to Come Away With the Best Finds, Deals at Yard Sales
Are you looking forward to hunting through sale after sale this year? Yard sale season is back, and I've got some tips to help you find the items you're looking for while having a blast.
19 Festive Corn Mazes in RI, Mass. to Weave Through This Fall
Do you love slipping on your rain boots, getting hopelessly lost in a maze full of corn, and celebrating your successful exit with a warm cup of apple cider? Well seat your butt on a bail of hay and get ready because you're in for quite the treat. 2021 has been a tumultuous year for farmers so far, and although some farms aren't opening their corn mazes this year thanks to the immense amount of rain Mother Nature brought us this summer, there are still some great mazes prepping the corn for the big debut.
Tour the SouthCoast's Best Attractions, Food and More From A to Z
From decadent donuts to fields of u-pick flowers, there is so much to delight in here on the SouthCoast. Take a tour of some of the area's top spots, and don't forget to sample some signature foods along the way!
More From WFHN-FM/FUN 107