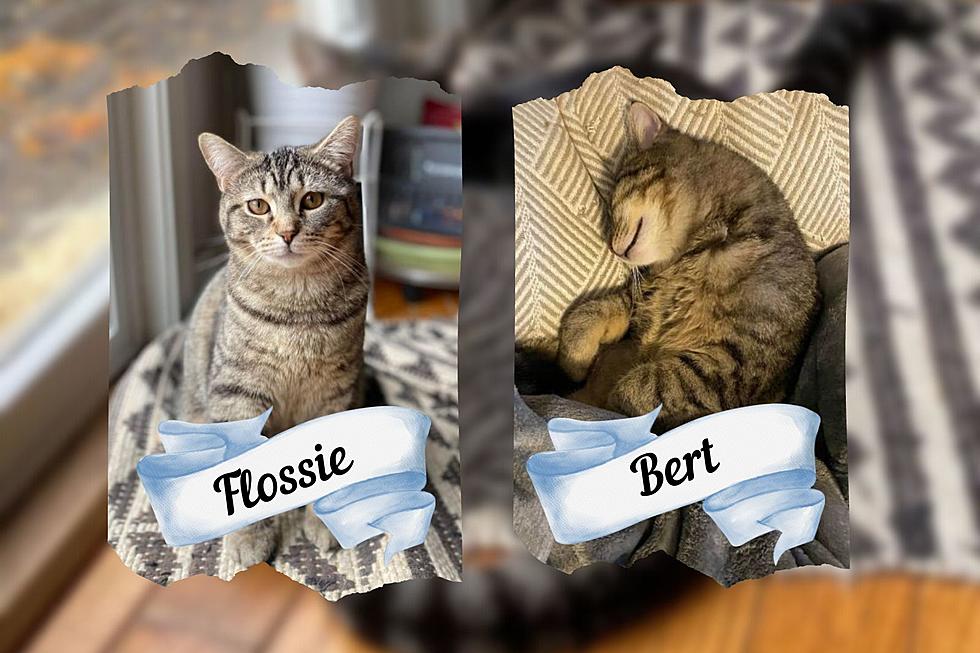 Fall River Felines are the Best of Friends & A Package Deal [WET NOSE WEDNESDAY]
Courtesy of Moby Kit Rescue
Happy Wet Nose Wednesday!
Wednesdays have gone to the animals and we love it. There are hundreds of animals on the SouthCoast waiting to be adopted in local shelters, and thanks to Wet Nose Wednesday, we have the opportunity to give these animals a spotlight.
This week, we head to Fall River where a pair of young felines hope to bring their cuddly demeanor to the perfect home.
Meet Flossie and Bert. These two 8-month-old tabby cats are sisters and completely in love with each other. They are both very playful and love to hang out with other cats, but when it comes to dogs, they are not fans.
"They are looking for a quieter house with one or more confident cats, no dogs and no young kids," said Moby Kit Rescue, an all-volunteer, foster-based, non-profit feline rescue that serves the SouthCoast.
Bert loves to be held and will melt in your arms. Flossie is a little more shy, but once she warms up to you, she will love you forever.
Flossie and Bert are a package deal. They have bonded with one another and will only thrive by staying by each other's side.
Does Flossie and Bert sound like a good fit for you and your family? Contact Moby Kit Rescue online and schedule a meeting today.
These two  can't wait to meet you.
Moby Kit Rescue
P.O. Box 6133
Fall River, MA 02724
Moby Kit is a foster-based rescue and does not have a physical shelter
52 Sleepy SouthCoast Dogs That Will Make You Smile
SouthCoast "pet parents" share their slumbering fur babies for all to see.
More From WFHN-FM/FUN 107